Pasta is the perfect weeknight meal because it's quick, easy, and a real crowd-pleaser. But it also makes a great date night or dinner party meal! From white sauces to red, penne to lasagna, this collection of the best Vegan Pasta Recipes is sure to meet your needs.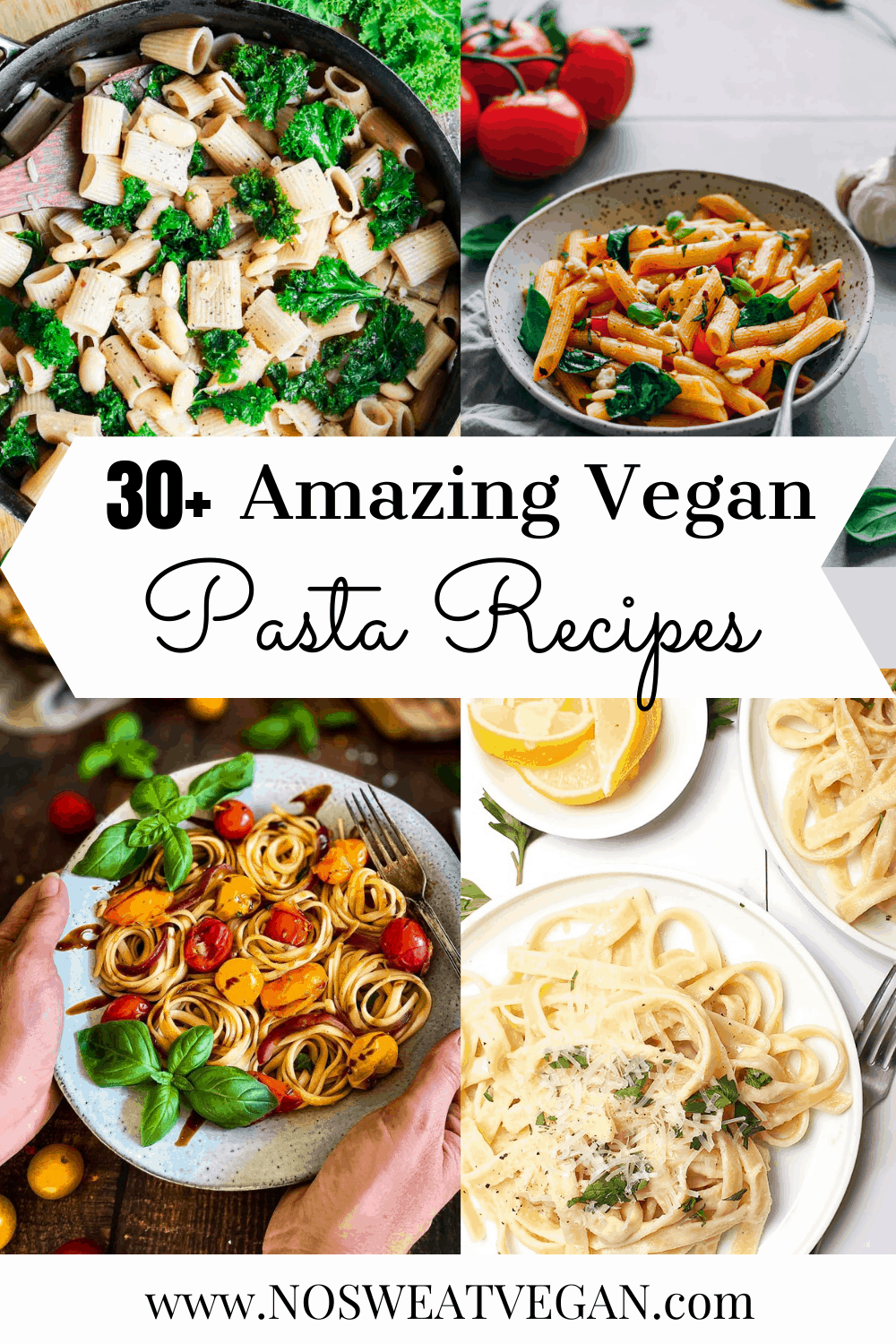 Who doesn't love pasta? At our house, Vegan Pasta Dishes are a weekly (sometimes daily) event. Pasta is quick, easy, and delicious; it's the ultimate comfort food! But eating the same pasta over and over again can get boring, so if you're looking for a little inspiration to up your pasta game, check out this list of over 30 Amazing Vegan Pasta Recipes by some of the best food bloggers around.
You'll love these Vegan Recipes with Pasta because they're:
Quick & Easy
Perfect for Weeknight Meals
100% Vegan / Vegetarian
Easy to make WFPB
Dairy-free / Lactose-Free
Egg-free
Healthy & Full of Flavor
Perfect for Date Night or Valentine's Day
Creative & Delicious
Is pasta Vegan?
The good news for people following a plant-based diet is that most store-bought dried pasta is already vegan. Wide, flat noodles are one exception to this because they often contain eggs. If you're buying fresh pasta, you should also be sure to ask or check the label because they usually contain eggs. Thankfully, eggs are a common allergen, so those packages are usually well marked.
Is pasta healthy?
Despite what the low-carb diet trends would have you think, pasta can be a healthy part of most diets. Like anything, pasta should be consumed in moderation, and when possible we should choose whole-grain or whole-wheat options since they have more fiber and nutrients. But pasta--especially when paired with a healthy veggie-full sauce--can make a quick, easy, and healthy meal that even kids and picky eaters will love.
Why is pasta so good?
I've already covered the reasons why pasta can be part of a healthy diet, but in addition to that, pasta is quick, easy, affordable, and oh-so-comforting. When I'm out of dinner ideas, pasta is one of my easy go-to's. And besides, what's better than digging into a gorgeous plate of pasta!
You'll be happy to know that these are all Easy Pasta Recipes that won't break the bank! They're also family-friendly and picky eater-approved. So without further ado, let's dive in!
---
When you're short of time but don't want to be short on flavor, this quick and easy Tomato & Basil Pasta is just perfect. Bursting with freshness and flavor, this recipe is oil-free, vegan, and needs just a handful of ingredients.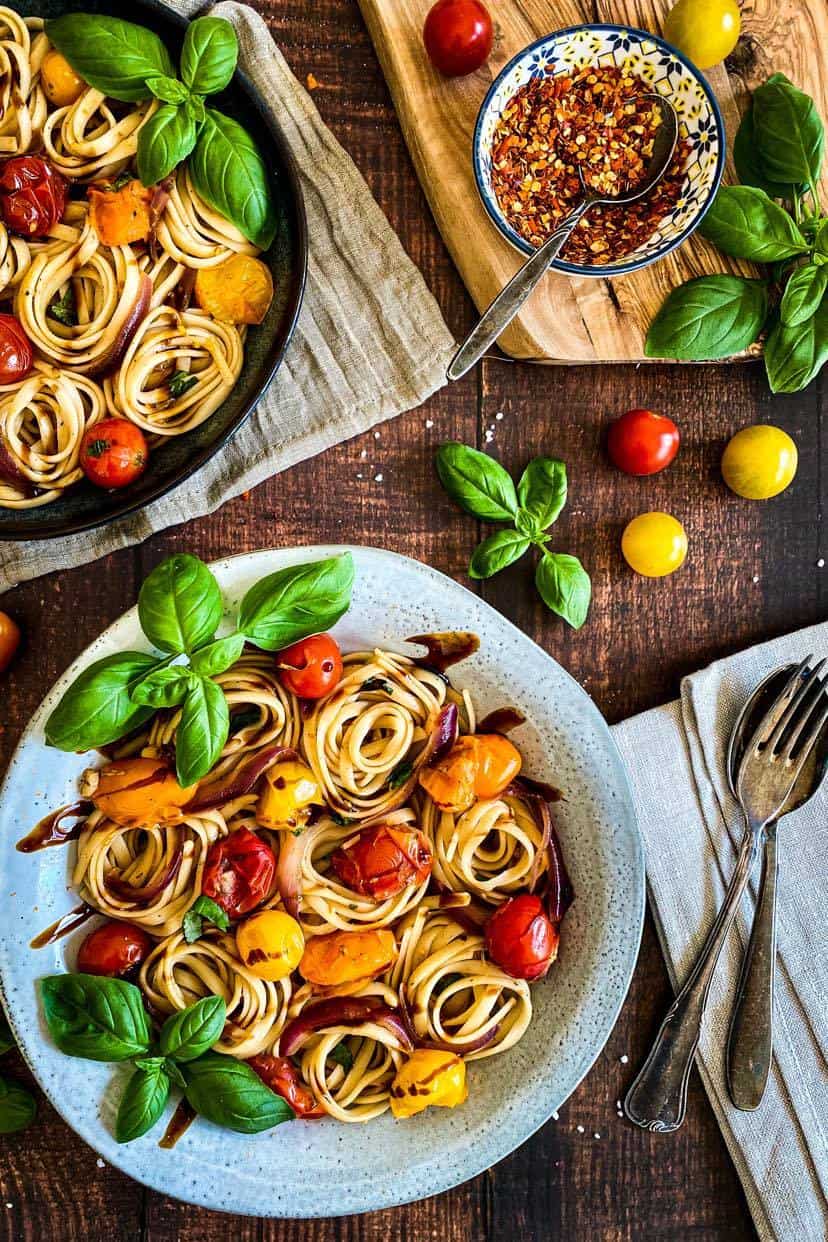 ---
My mom used to make a big lasagna bake during the holidays, when "pasta al forno" (baked pasta) was always a pleasurable main dish. Today I make this easy vegan lasagna. It has a short list of ingredients and is quick to assemble (so you have more time to spend with your friends & loved ones).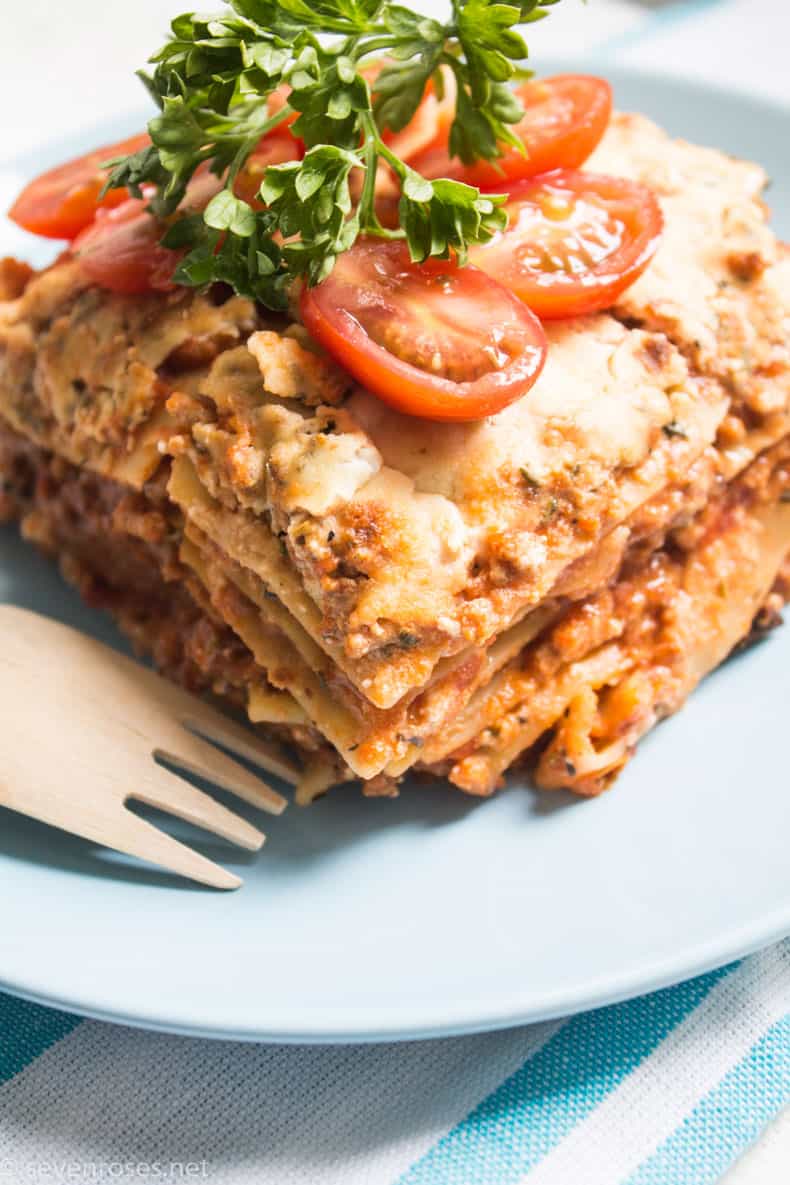 ---
A simple, healthy, and delicious Creamy Sun-Dried Tomato & Kale Pasta.
---
This Vegan Bolognese is made with lentils, mushrooms, and a variety of veggies. Serve over your favorite pasta for a delicious and healthy meal the whole family will love! It takes just 35 minutes and is meal-prep friendly.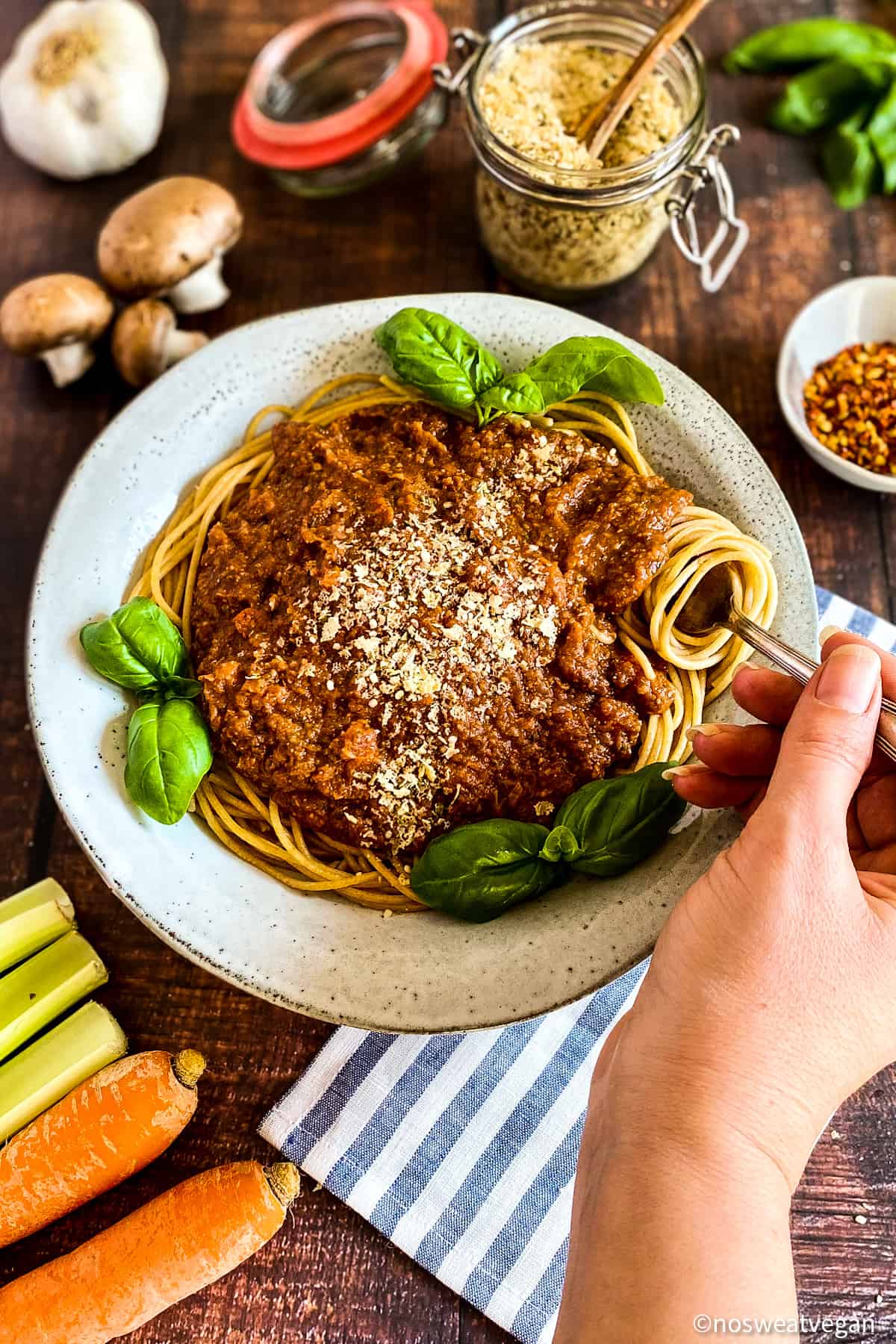 ---
Loaded with colorful veggies, chickpeas, and tangy homemade whole food plant-based feta cheese, this satisfying, easy to make, Greek Chickpea Pasta Salad is a 'salad' that eats like a meal!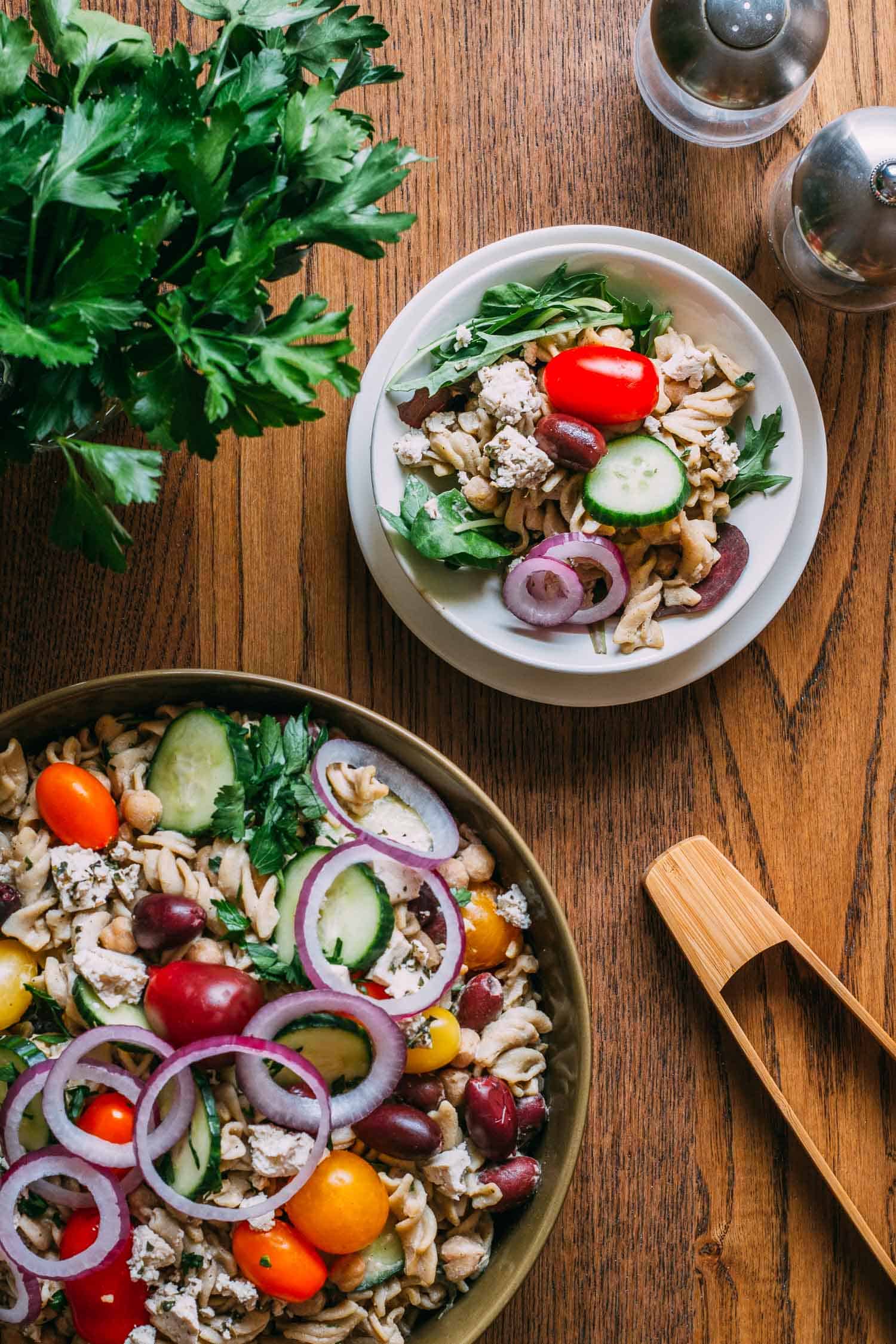 ---
This Vegan Penne Alla Vodka is an easy weeknight meal that will quickly become a family favorite. It's rich, creamy and so satisfying!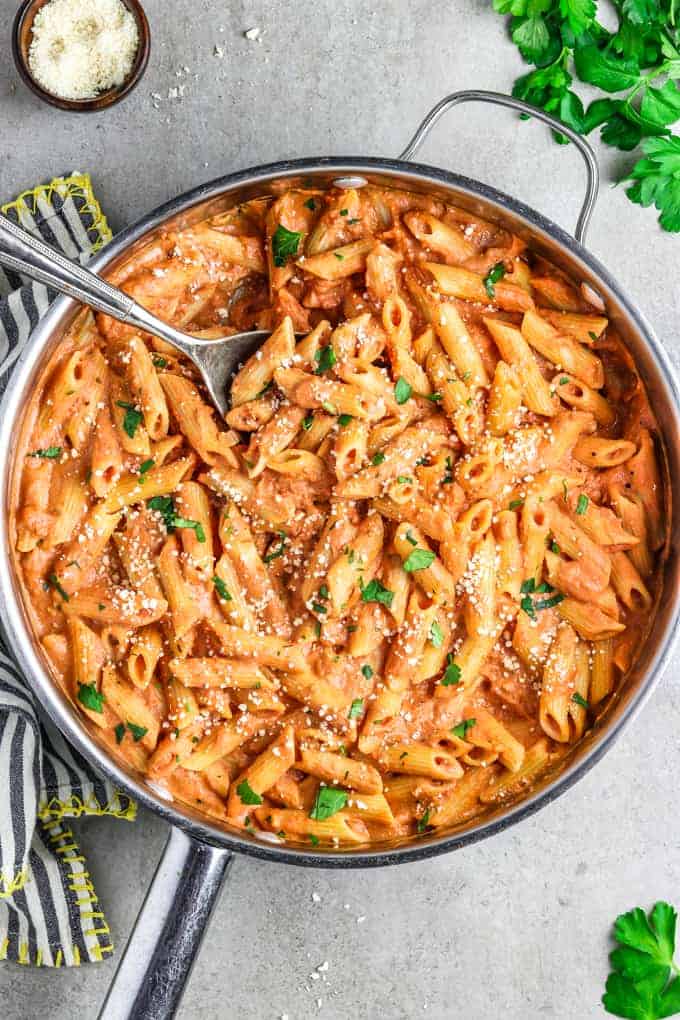 ---
This Vegan Cannelloni is filled with a blend of spinach, basil, and vegan ricotta for a family-friendly meal that's bursting with Italian flavors! Perfect for dinner parties and meal prep.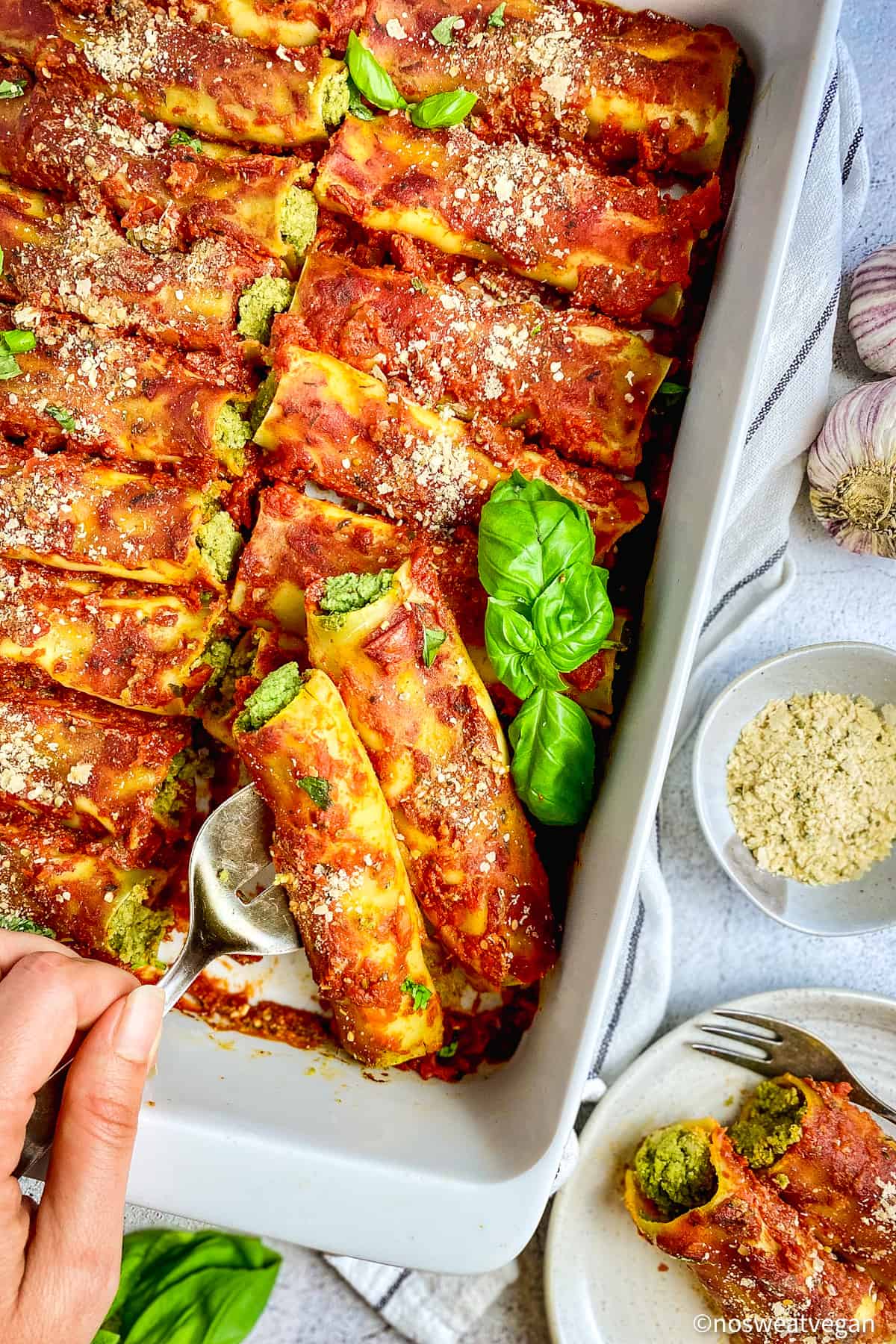 Creamy, delicious, healthy, satisfying vegan pesto pasta is the perfect marriage of comfort food and culinary art that comes together quickly and simply. This dairy-free pesto pasta dinner is flavorful and fast, making it the ideal family dinner or an easy one to use when you are meal prepping for the week.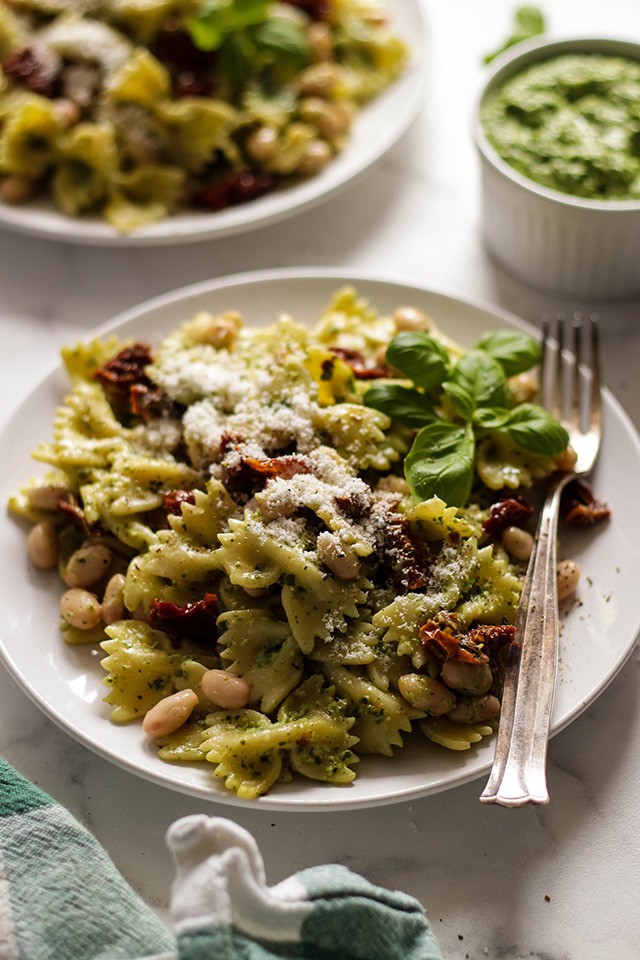 ---
This vegan roasted red pepper pasta requires just 6 simple ingredients and is made within 20 minutes. Creamy, packed with nutrients and so easy even your kids or younger relatives could help make it!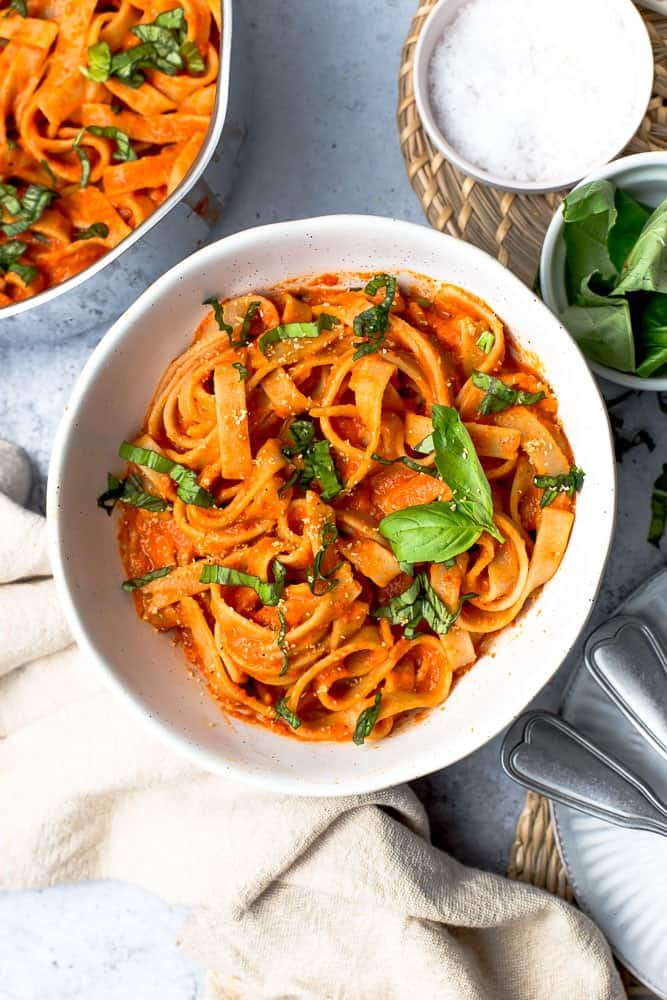 ---
Penne Pasta with Kale & Vegan Italian Sausage is a healthy twist on a classic Tuscan combination. Whole wheat pasta and colorful veggies will make this quick and flavorful dish a family favorite.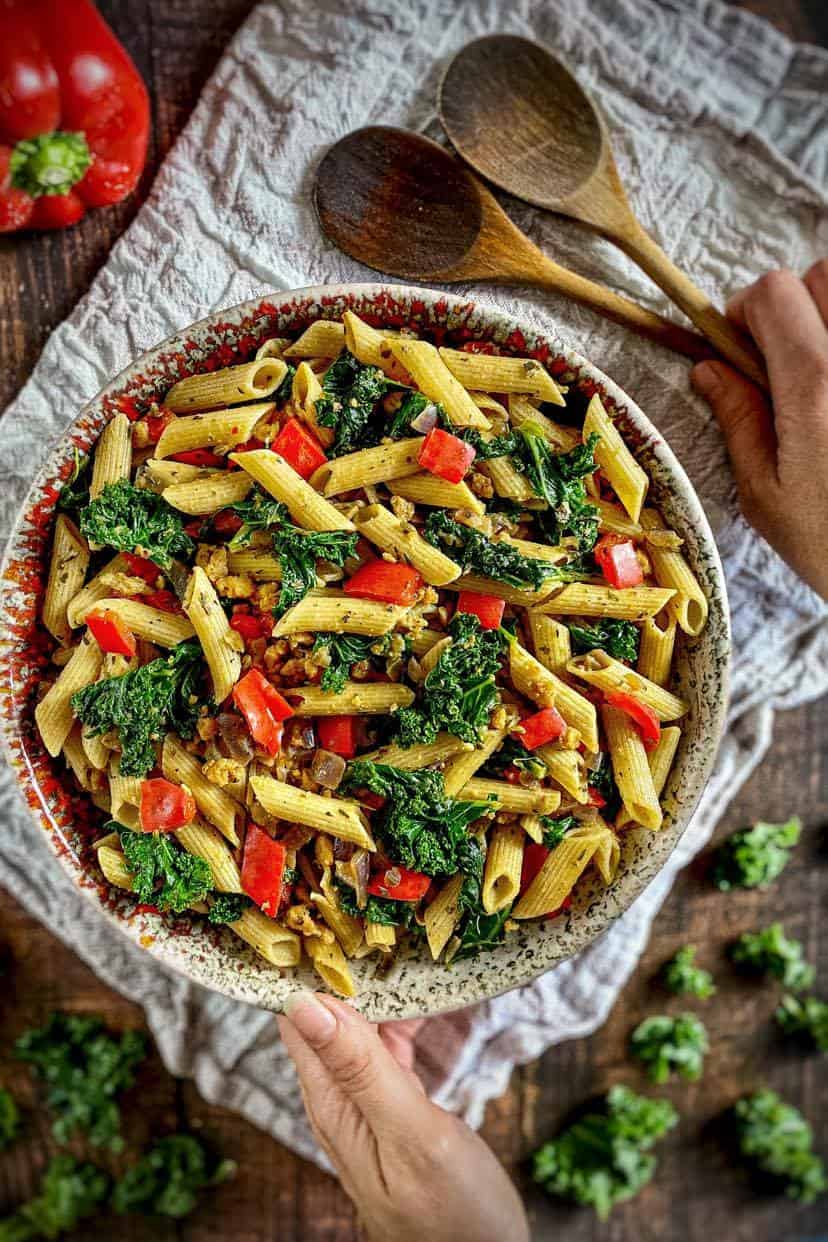 ---
This Thai Curry Pasta is a fusion dish that's full of comforting flavor. It also uses simple, easy to find ingredients.
---
This easy Green Pasta is a tasty way to eat your greens! The sauce has avocados, peas and fresh green herbs. Ready in just 10 minutes with 8 ingredients.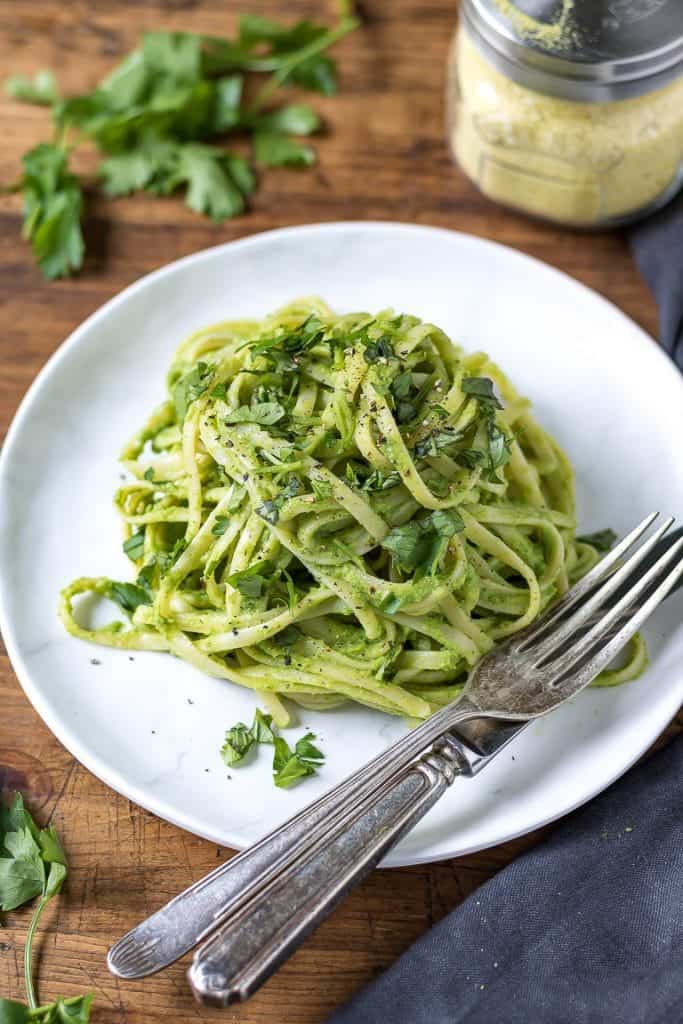 ---
This quick and easy homemade marinara sauce uses simple pantry ingredients and comes together in about 20 minutes. Perfect for pastas, pizzas, or dipping sauces.
---
The easiest noodle recipe ever! A quick recipe for flavorful Asian inspired noodles made right in the instant pot. You can get a family favorite meal on the table even faster on busy nights! Leftovers are yummy, hot or cold!
---
This Garlicky White Beans & Greens Pasta is the perfect combination of easy and uncomplicated, yet delicious!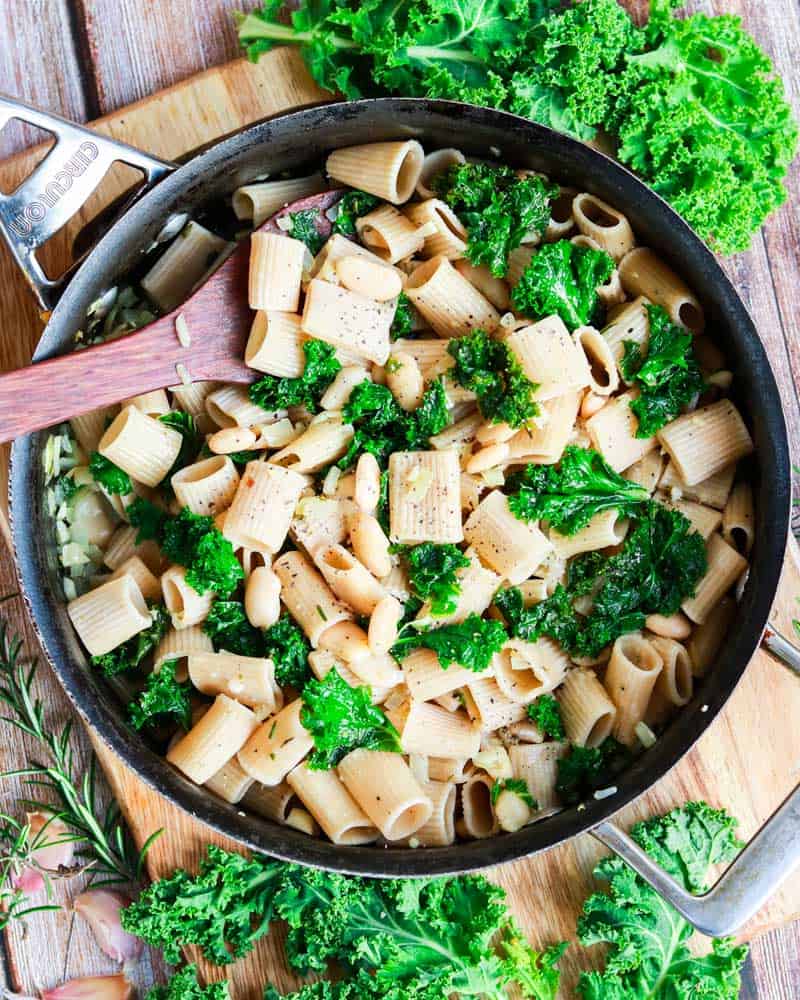 ---
This Vegan Spaghetti alla Carbonara is incredibly creamy and rich, yet it's also light and healthy. With a silken tofu sauce, tempeh bacon bits, and green peas for color and added flavor, this is one protein-packed pasta!
---
One-pot Vegan Italian Sausage Pasta Soup! It's hearty, rustic, and comforting, with a creamy tomato-y soup base, lots of herbs and garlic, vegan sausage chunks, and pasta. Ultimate vegan comfort food!
---
Just 15 minutes and you can have this tasty mushroom and kale pasta ready to enjoy. With fresh ginger for a fiery flavor boost!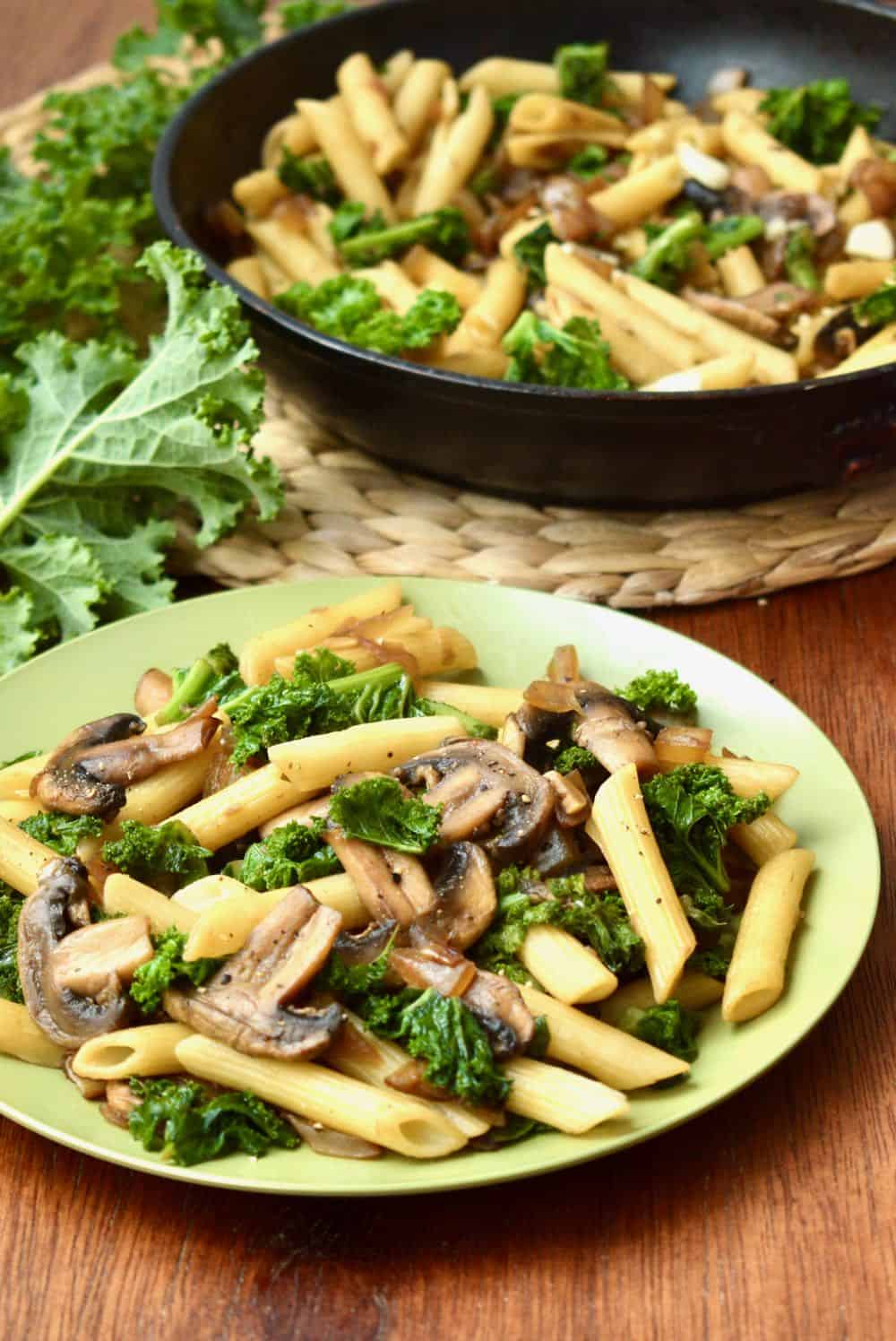 ---
This creamy Vegan Pumpkin Pasta is so easy to make. The sauce highlights the deliciousness of pumpkin & is rich and creamy (without the dairy). This tasty pasta will be a hit at dinner time!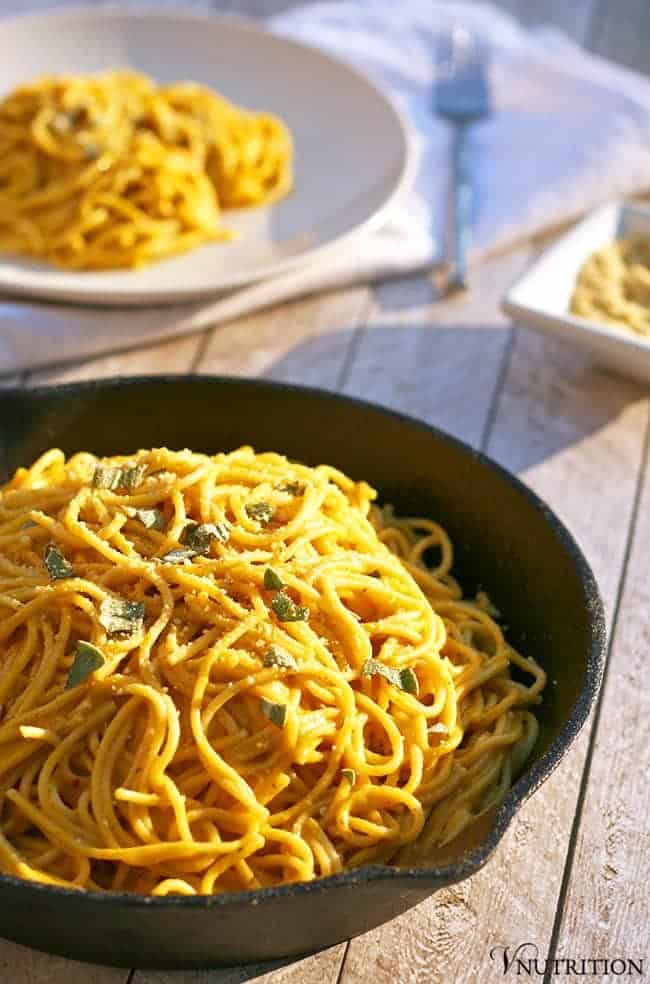 ---
The very first time you stir the quick and creamy 5-Minute (no-cook) Lemon Basil Alfredo Sauce into your beautiful plate of roasted vegetables and pasta, you'll find out why this no-fuss plant-based recipe is a dinnertime dream come true.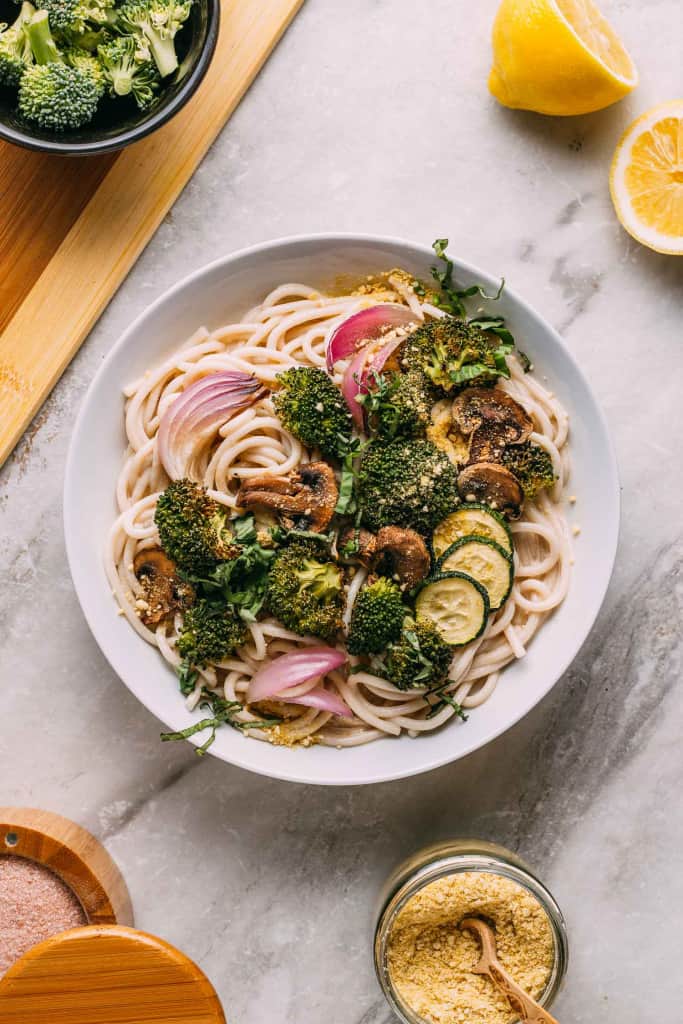 ---
The flavors of a fall harvest in a cozy pasta dish. Roasted butternut squash and red onion, seasoned tempeh crumbles, and sautéed kale tossed with chewy orecchiette pasta and an easy balsamic broth that brings it all together. Easy enough for a weeknight; fancy enough for entertaining.
---
These vegan lentil meatballs are full of Italian herbs and spices. Currants offer a touch of sweetness, pine nuts add earthiness and bite, and red pepper flakes give a little spicy kick. Bake just 30 minutes in the oven and pair with spaghetti and marinara for a nostalgic Italian comfort dish.
---
Healthy & easy vegan one pot pasta marinara made with whole food plant-based ingredients. This oil-free Italian comfort dish is prepared in just 20 minutes total, using the Instant Pot (there's also a stovetop version!). Soy-free & gluten-free possible. A real family favorite and great way to eat more vegetables!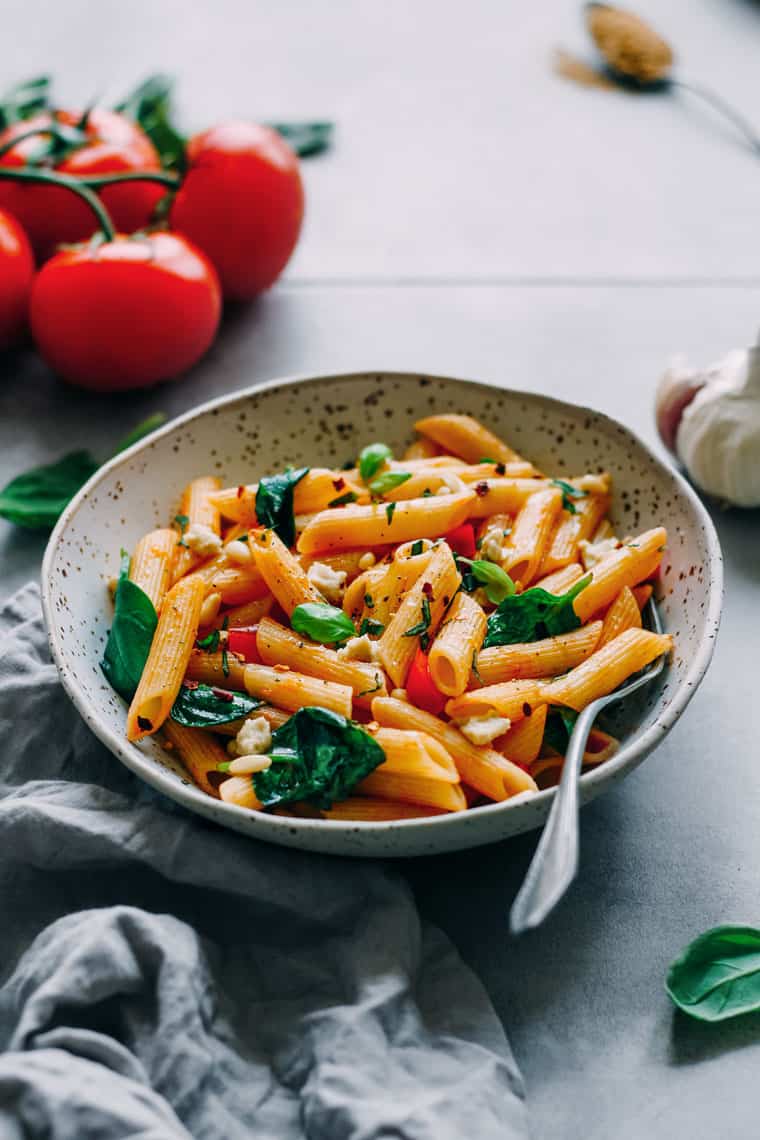 ---
This creamy tahini and chickpea pasta is my go to meal when I'm short on time. It comes together in 15 minutes and it's so delicious!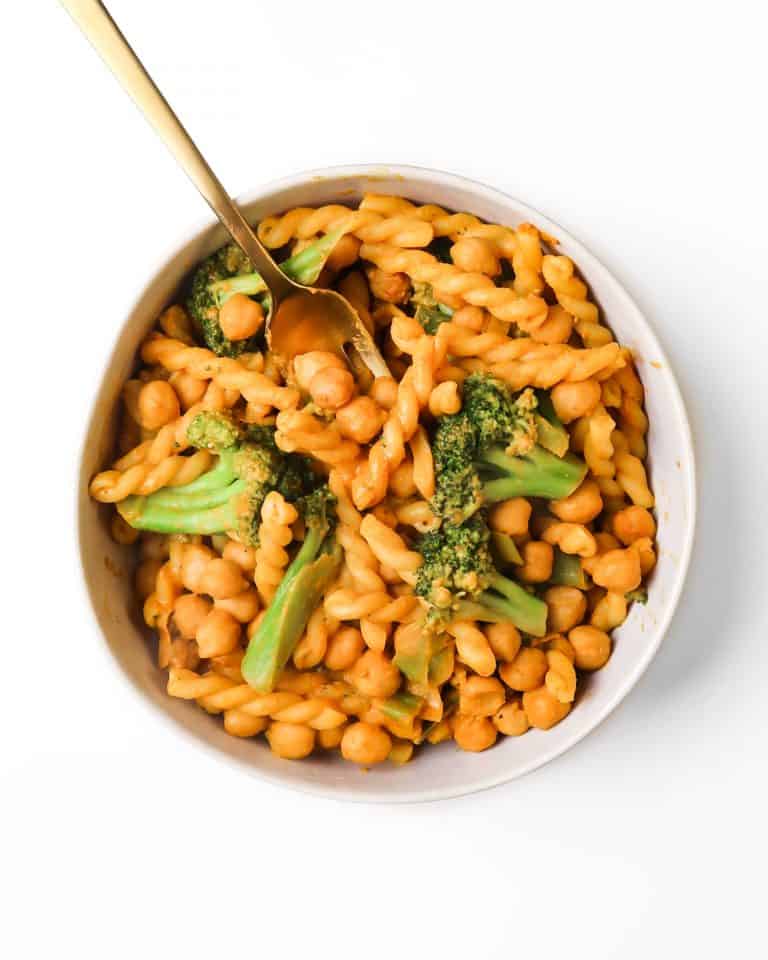 ---
Creamy avocado and iron-rich tahini come together to make a delicious, super-simple, dish! This avocado tahini pasta is great for a quick dinner or make-ahead lunch.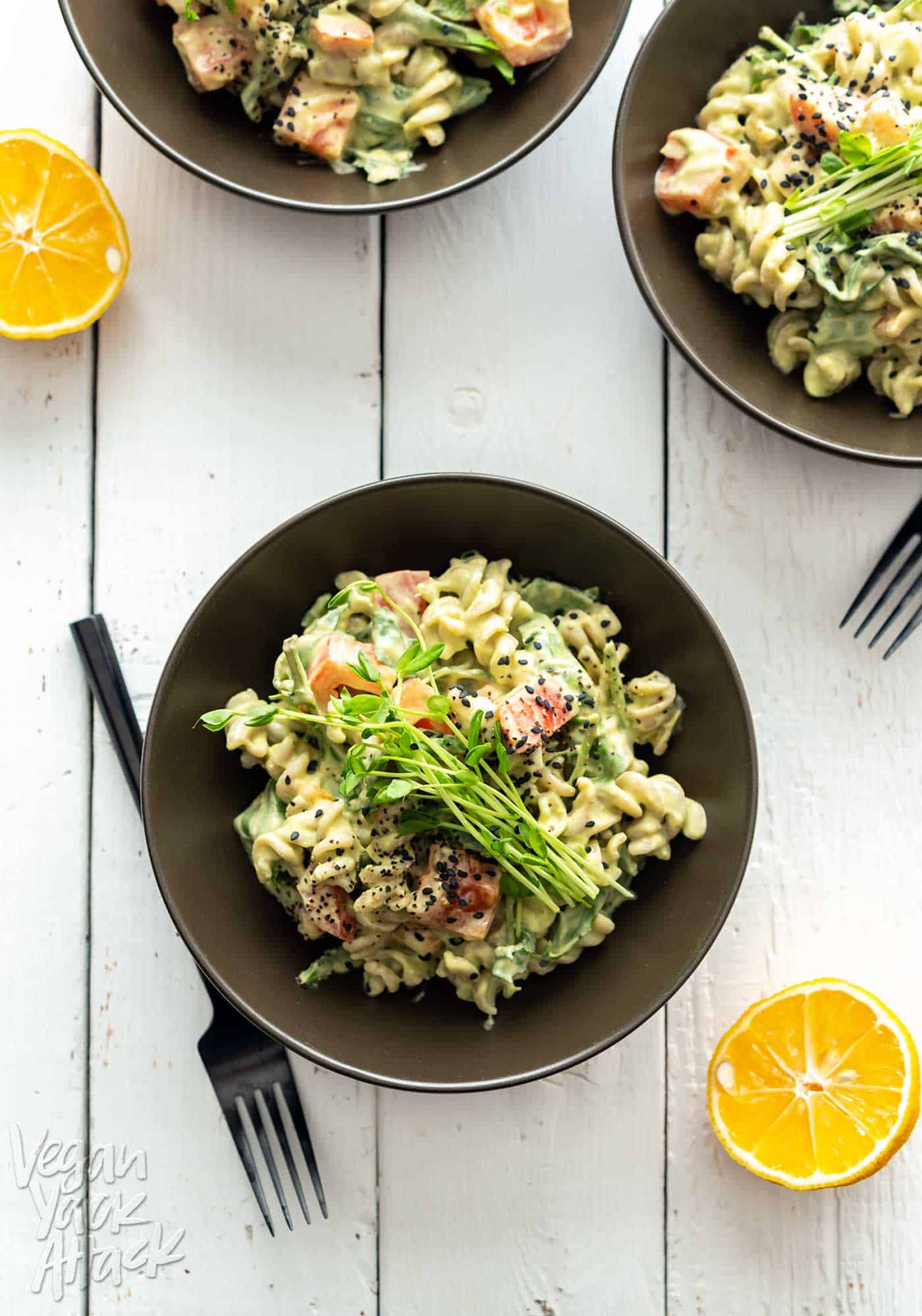 ---
A versatile vegan frittata featuring your favorite pasta and veggies! Perfect for breakfast, lunch, or dinner and a great way to use up leftover pasta.
---
No dairy, no worries! A super easy vegan alfredo which uses a few common pantry staples. The sauce doesn't need any preparation and is gluten free!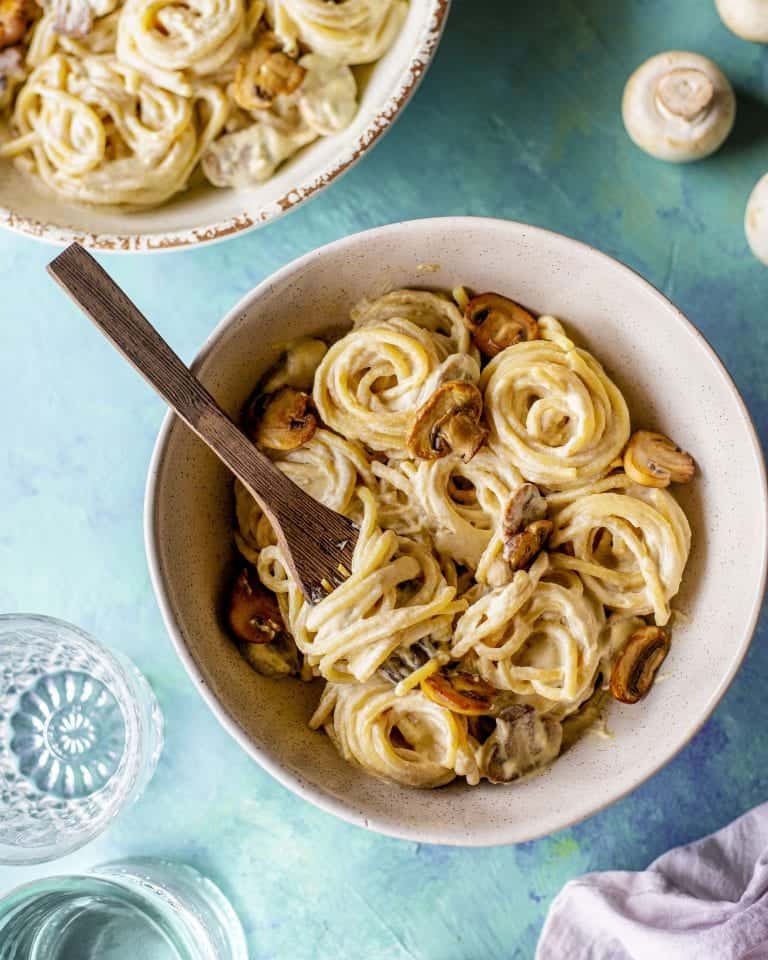 ---
Fast, Fresh Tomato Spinach Fettuccine is the ultimate vegan comfort food when you're in a hurry and are craving carbs!
---
The mac and cheese with beer cheese sauce and vegan "lobster" is proof anything can be veganized!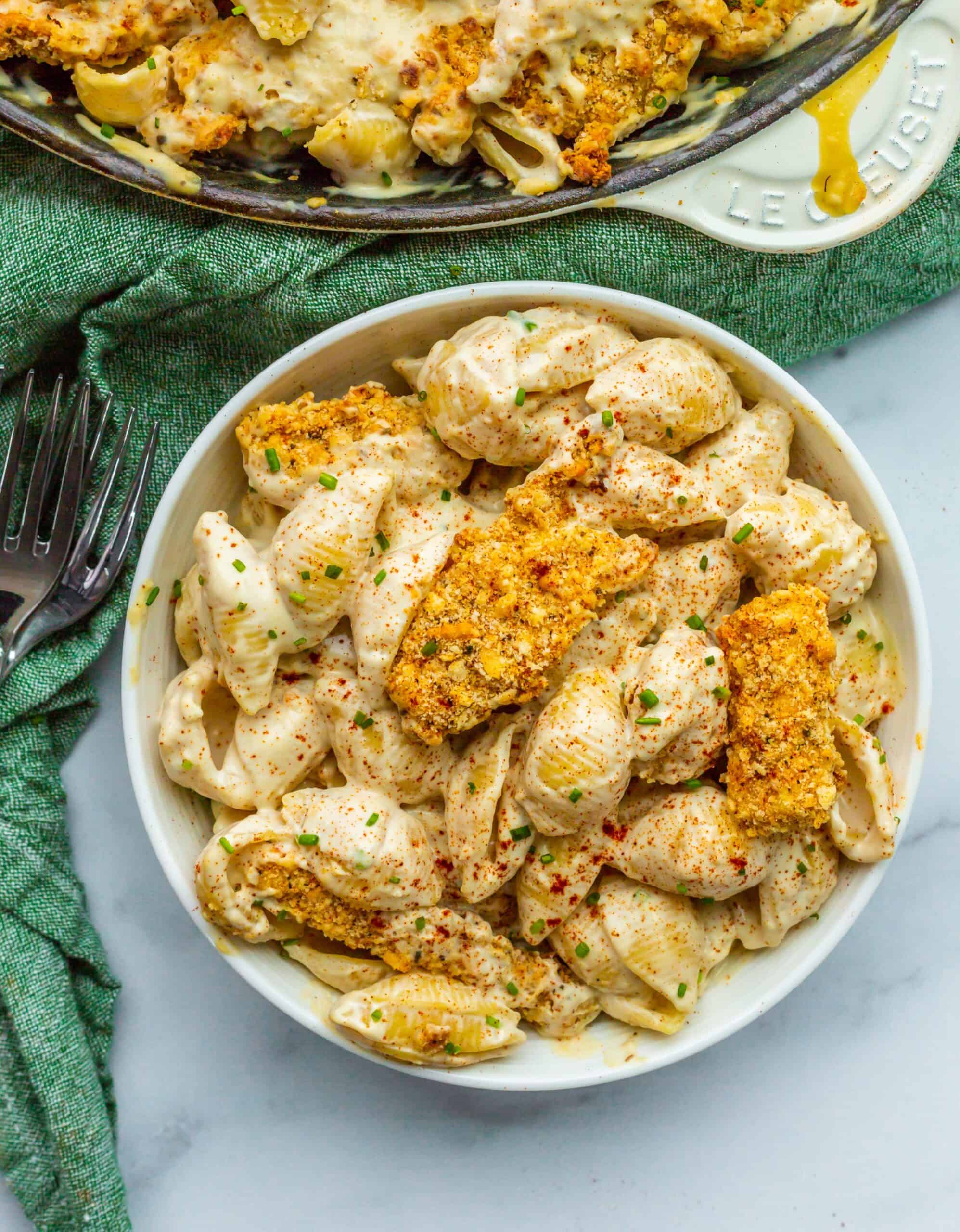 ---
This easy Vegan Coconut Curry Tofu Stir-Fry is also dairy-free, gluten-free and lightened-up. It's full of protein, vegetables and healthy fats, not to mention delicious curry flavors.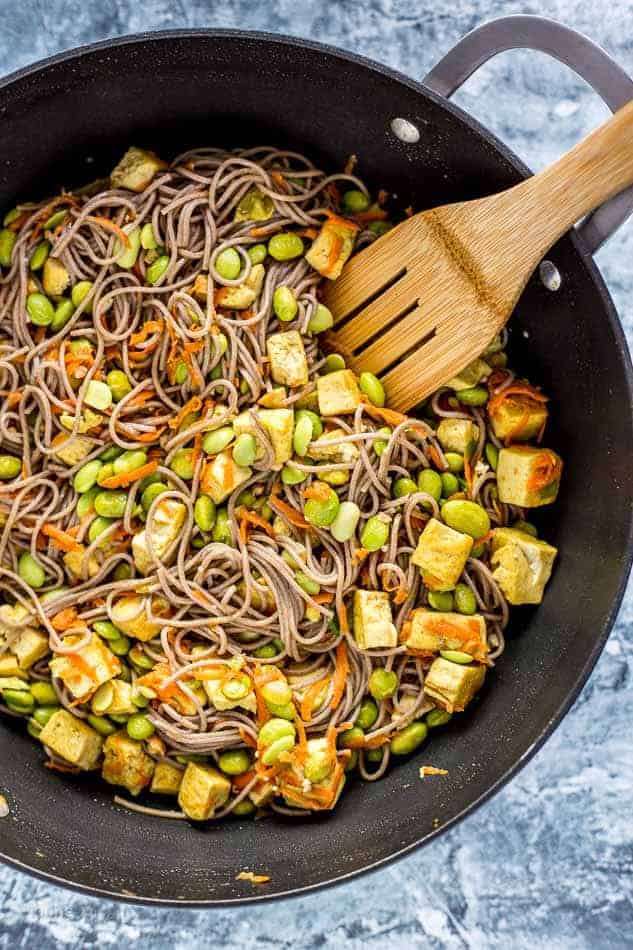 ---
Creamy and decadent, this vegan Fettuccine Alfredo has a secret healthy ingredient that makes it a meal the whole family will love. Made in just 30 minutes for a quick, delicious, and surprisingly veggie-packed dinner.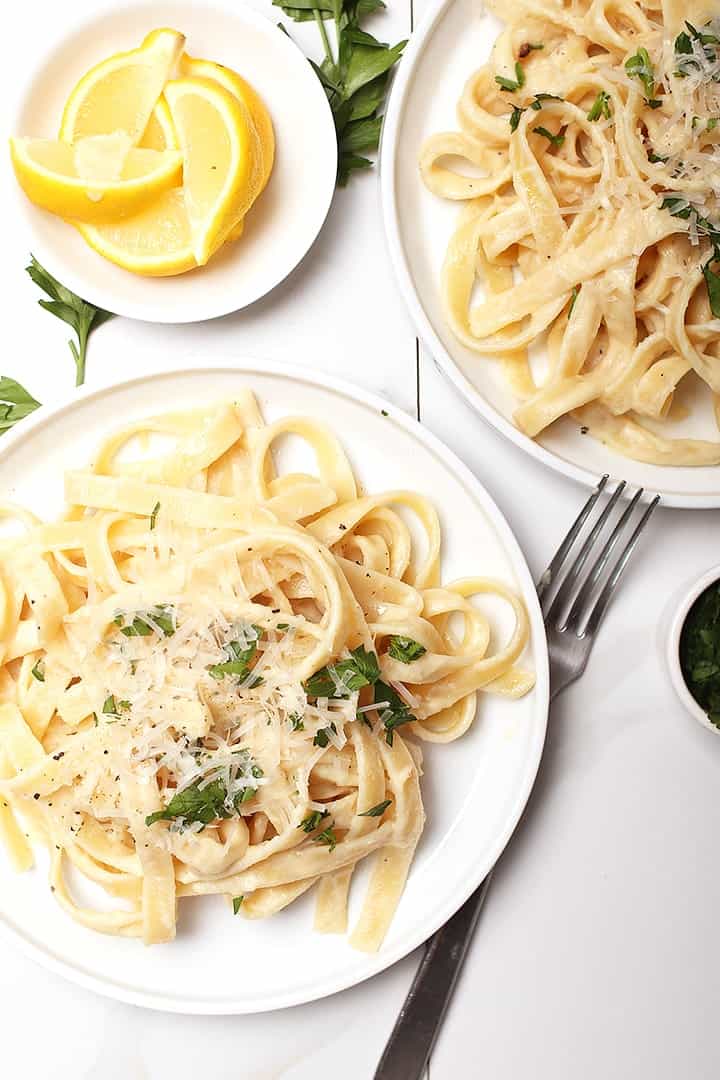 ---
These Vegan White Mushroom Lasagna Rolls with meaty sauteed mushrooms, flavor-packed pesto, smoky walnut sausage, and a dreamy roasted garlic sauce are the best vegan dinner for when you REALLY want to impress. They can be made ahead of time and are perfect for date-night-in, paired with a glass of wine and candlelight!
---
This classic Italian dish is filling and comforting, yet loaded with wholesome ingredients. Made using pantry staples for an easy family dinner.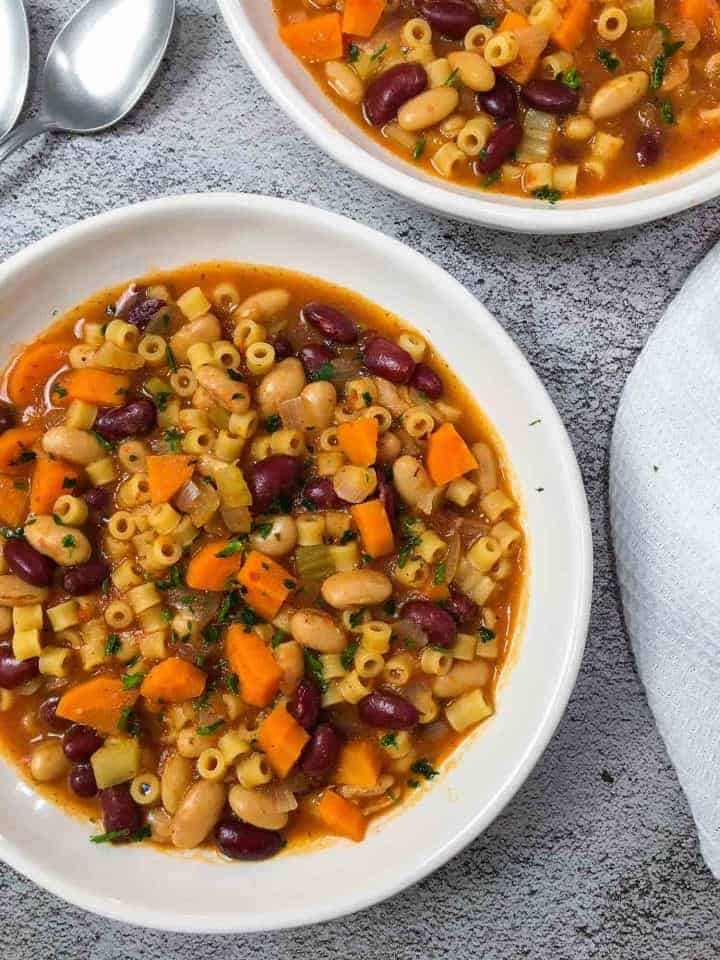 ---
This super easy vegan basil cashew pesto recipe only requires 10 minutes of your time. This is a great recipe for anyone who loves aromatic pesto with pasta, salad or slice of bread.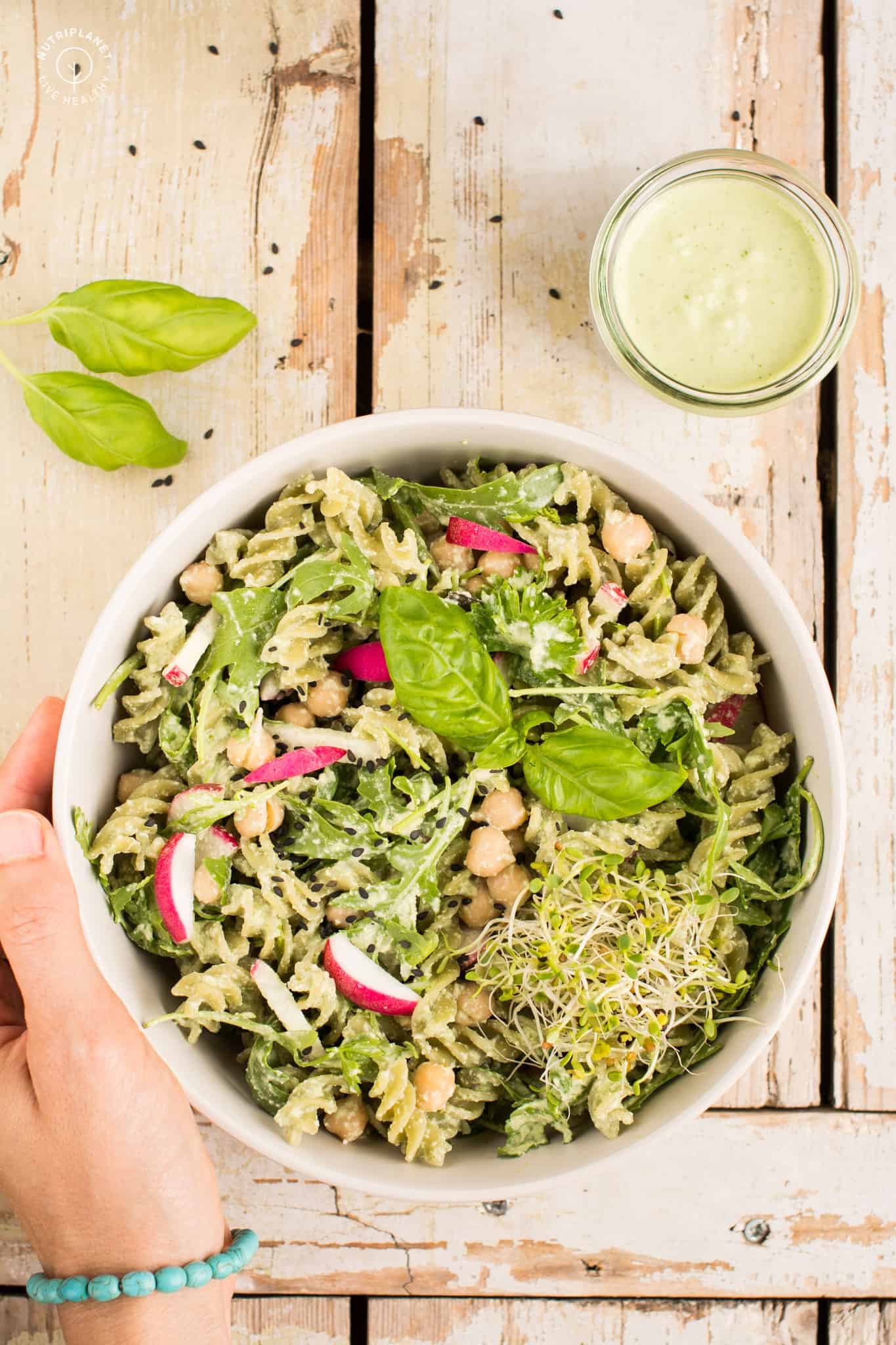 ---
So there you have it! 30+ Amazing Vegan Pasta Recipes to get your creative juices flowing and change up your normal pasta routine. If you liked these Easy Recipes for Pasta, be sure to let me know in the comments.
More Recipe Collections