This Air Fryer Tempeh Bacon is the perfect meatless substitute. Just marinate your tempeh, pop it in the air fryer, and you'll have a big batch that you can use anywhere you'd use vegan bacon, including sandwiches, salads, wraps, and more!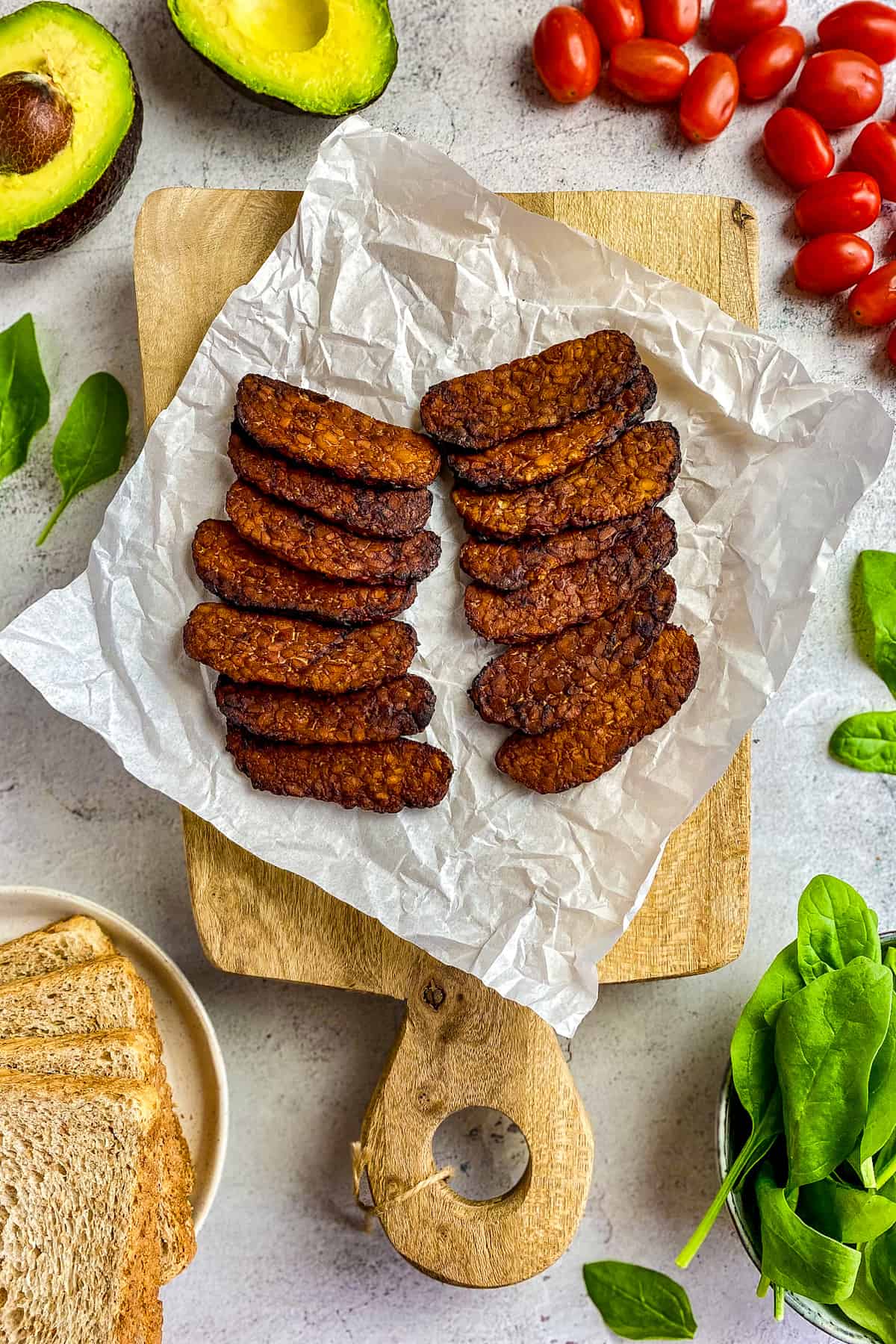 If you've been craving a BLT or a salad topped with bacon, then I've got you covered with this easy Air Fryer Tempeh Bacon. The flavor comes from a distinct combination of saltiness, sweetness, smokiness, and umami.
Making vegan bacon in the air fryer is simple. You start by steaming the tempeh to remove bitterness (this step is optional but recommended). Then you marinate the tempeh for at least 10 minutes (but up to overnight). Finally, you cook the tempeh in the air fryer.
The result is this crunchy and flavorful tempeh bacon that tastes amazing on a sandwich, wrap, or salad. You can even eat it on its own as a breakfast side.
If you thought going vegan meant giving up bacon, then think again! Give this Air Fried Tempeh Bacon a try and see what you think!
Jump to:
---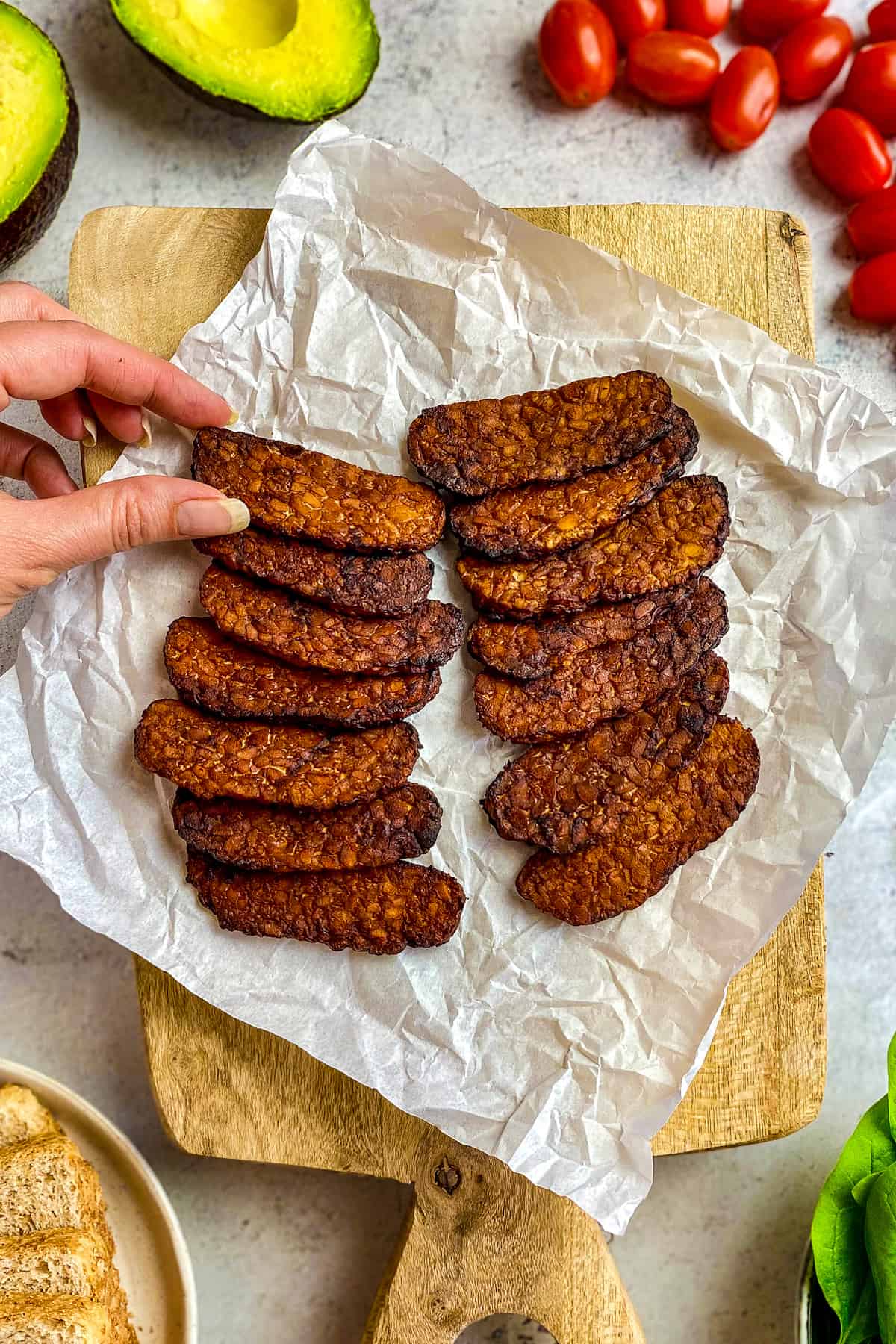 What type of Air Fryer should I use?
The air fryer you choose should be the one that best meets your needs for budget, capacity, and storage space. Some air fryers also have other functions like grilling and dehydrating. I ended up buying the Ninja Foodi Grill 4-in-1 because it has a large capacity to feed my family of four.
If you wanted a smaller and more economical air fryer, check out this Farberware 3.4 quart or 4.2 quart Air Fryer. For even more possibilities, take a look at this list of the Best Air Fryers of 2021.
---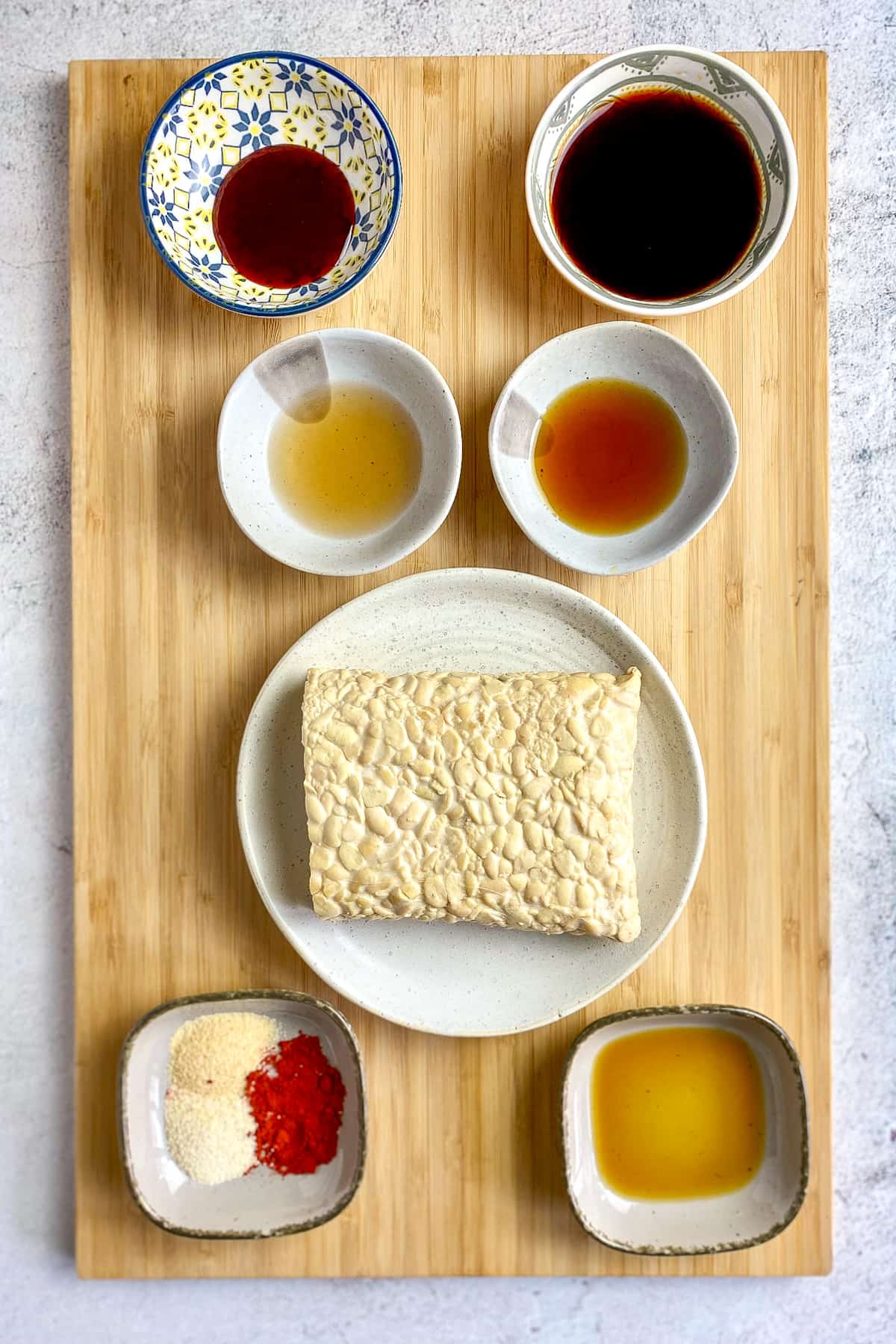 ---
Instructions
I recommend steaming the tempeh first to remove any bitterness (optional but recommended). To do this, simply place the log of tempeh in a pot with about ¾ inch of water. Put the lid on the pot and steam over medium-low heat for 10 minutes.
While the tempeh is steaming, mix up the marinade ingredients and set aside.
When the tempeh is done steaming, remove it from the pot and let cool for 1 minute. Then wrap the tempeh in a paper towel. Gently press to remove excess liquid.
Slice the tempeh into strips. For this amount of tempeh, you should have about 14 to 16 strips.
Place the tempeh strips into a shallow baking dish and pour the marinade over top, making sure all of the strips touch the marinade. Marinate for at least 10 minutes, or up to 24 hours (overnight).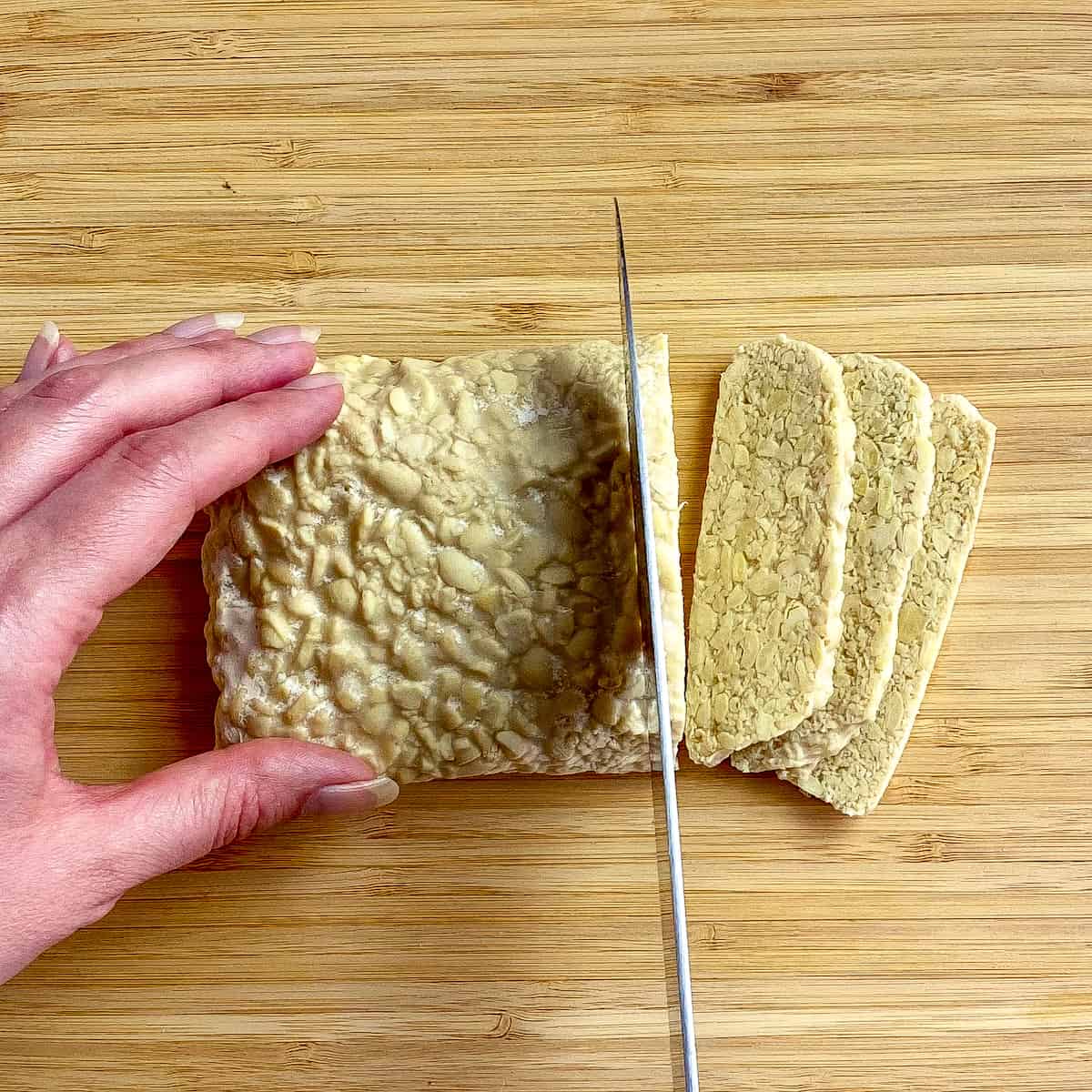 While the tempeh is marinating, preheat the air fryer to 375F or 190C.
Place the tempeh in even rows inside the air fryer (for smaller air fryers, you might need to do this in batches). Brush any leftover marinade over the top of the tempeh.
Air fry for 15 to 17 minutes, stopping to flip the tempeh strips halfway.
Serve and enjoy right away or save for later.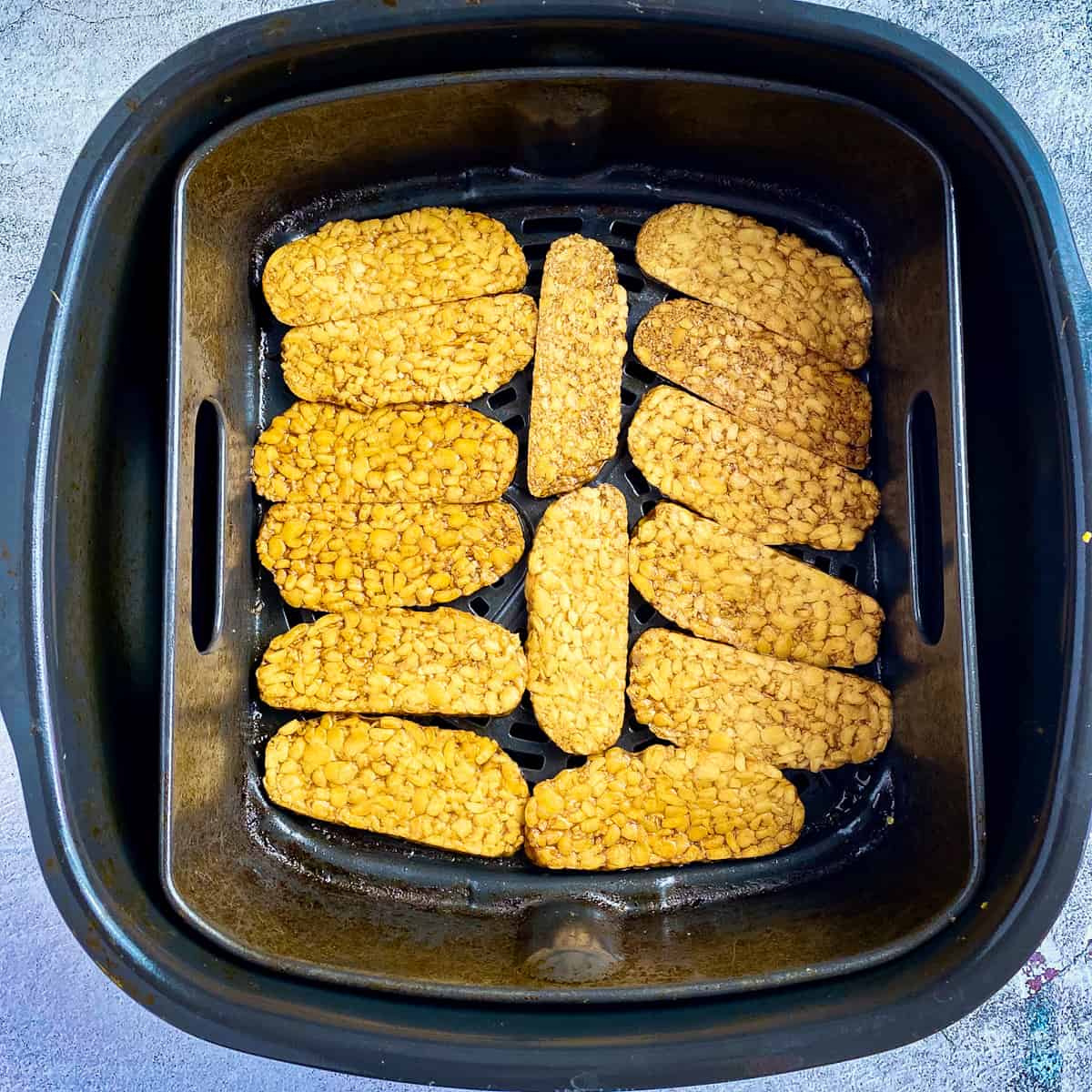 ---
How to serve
Serve this tempeh bacon on its own as part of your breakfast or brunch. It pairs perfectly with a Tofu scramble, toast, or vegan blackberry muffins.
Or add tempeh bacon to a sandwich. It makes a great vegan BLT or Rueben. Tempeh bacon is also the perfect addition to a vegan breakfast burrito.
You can also chop the tempeh into a fine dice and add it to vegan broccoli salad, spinach strawberry salad, or any salad or pasta dish where you'd normally use vegan bacon!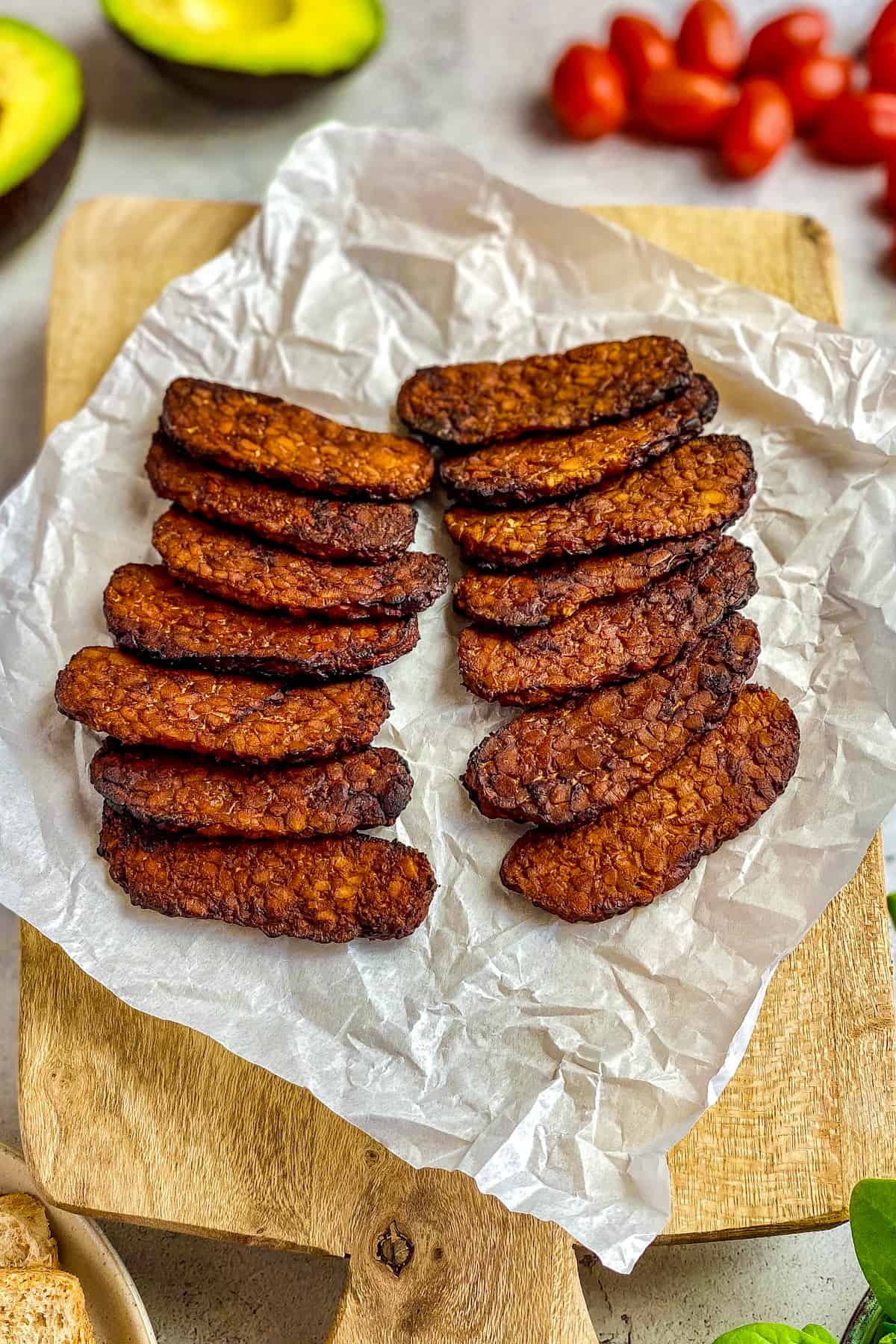 Can I make it ahead?
Definitely! This is a great make-ahead recipe. You can even double or triple the amount (though you'll probably have to cook it in batches). Store in the refrigerator or feeze so you can have quick tempeh bacon strips whenever the mood strikes!
How to store
Store any leftovers in an airtight container in the refrigerator for up to 5 days or in the freezer for up to 3 months.
More air fryer recipes
---
📖 Recipe
Want access to my Exclusive Meal Planning Tips & Printables page?
Did you try this recipe? Have a question? Just leave a comment below and I'll get back to you ASAP!