From salsa to queso, tacos to fajitas, you can't go wrong with Vegan Mexican cuisine. Thankfully it's quick, easy, and affordable to veganize, plus it's much healthier without the meat and dairy. So if you're looking for some Vegan Mexican recipes and Taco Bar ideas, this list has you covered!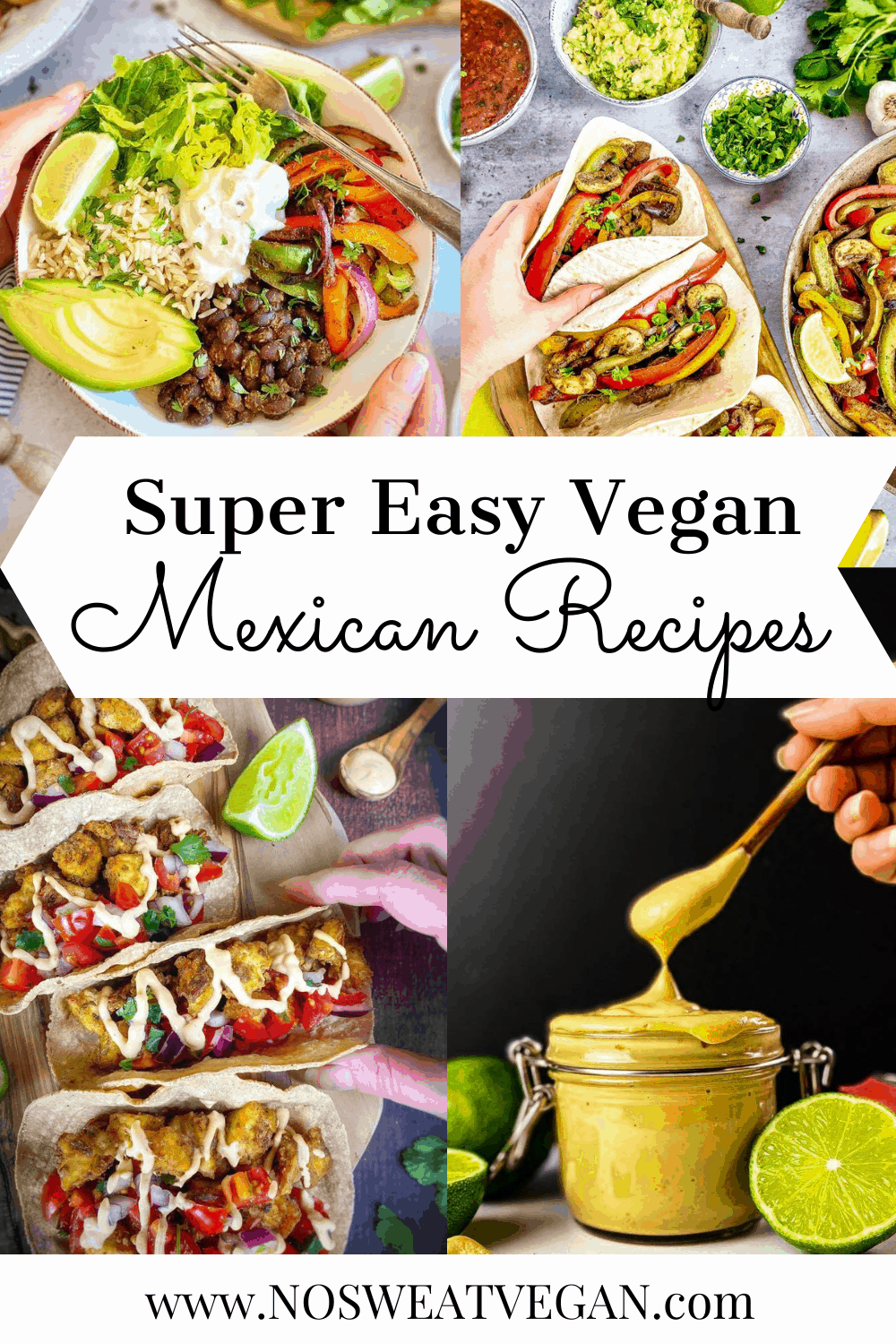 Mexican food has a reputation for being unhealthy, but that couldn't be further from the truth! Once you remove meat and dairy from the equation, Mexican cuisine is actually full of veggies, legumes, and spices. And these Vegan Mexican Recipes are no exception.
It should come as no surprise that we love Mexican-inspired food at my house and eat it multiple times a week! Almost every weekend, we make a big batch of salsa that's perfect for topping burrito bowls and salads for healthy weekday lunches. Sometimes we stick to the easy stuff, and sometimes we go all out. And when we have friends over for dinner, we create epic Taco Bars that everyone loves. So if you're in need of Vegan Mexican Recipe ideas, check out this collection. At the end, I've even created a tutorial for building your own Taco Bar!
Jump to:
You'll love these Vegan Mexican recipes because they're:
Easy & Delicious
Vegan /Vegetarian
Mostly WFPB
Dairy-free
Crowd Pleasers for Vegans & NonVegans alike!
Perfect for Cinco de Mayo & Taco Tuesday
---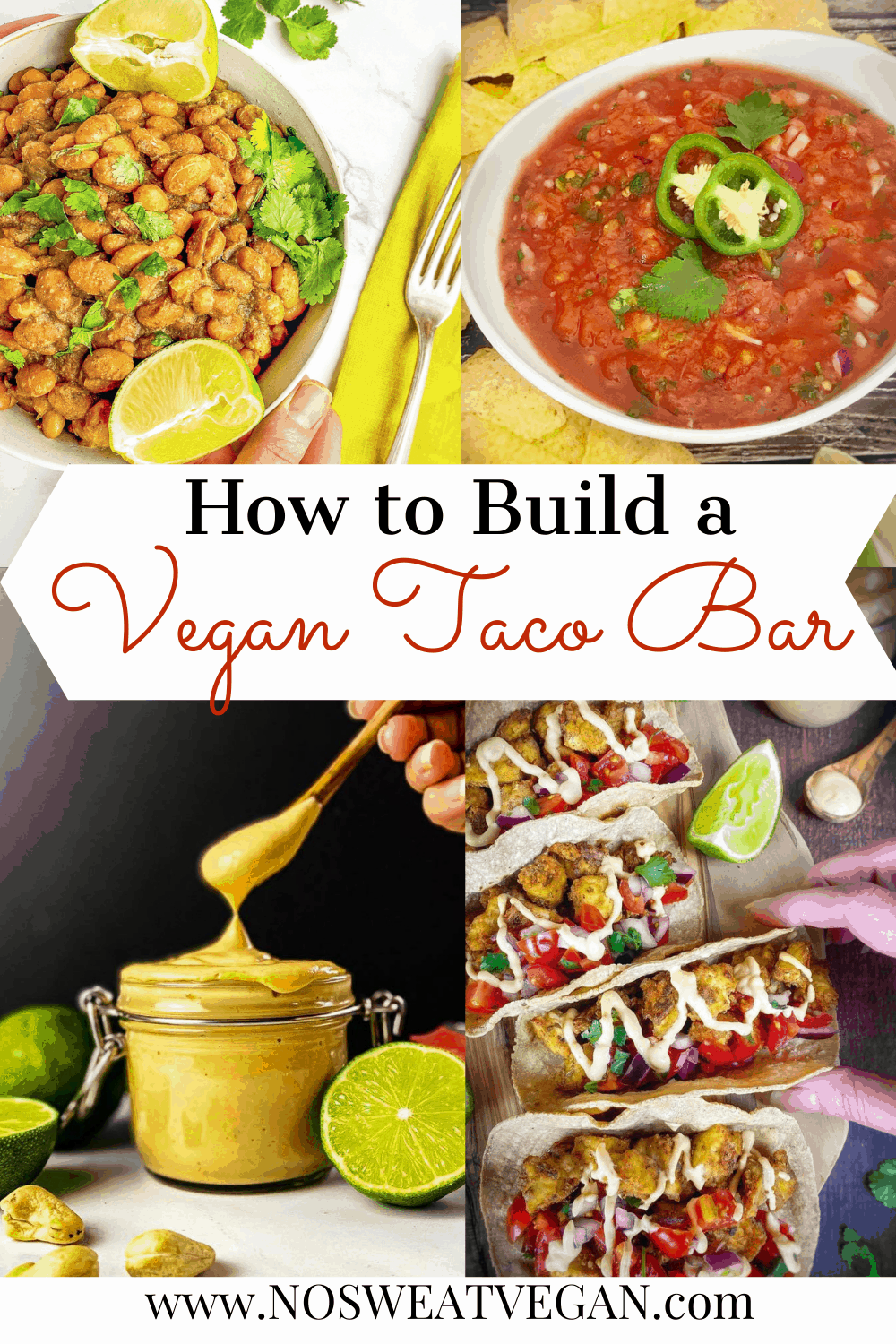 ---
Are these recipes gluten-free?
Most of these recipes are already gluten-free. A few things to watch out for are tortillas and chips (choose corn tortillas over flour) and soy sauce (choose gluten-free soy sauce or tamarind sauce).
Are these recipes nut-free?
Most of them are already nut-free. In the case of the chipotle mayo and cashew queso, you can substitute with sunflower seeds.
Salsas & Sides
No Mexican feast is complete without an array of plant-based salsas, toppings, and sides. These add the perfect touch of spice, creaminess, and flavor to your mains. Sometimes they're already vegan and sometimes they need a little tweaking, but they're always delicious!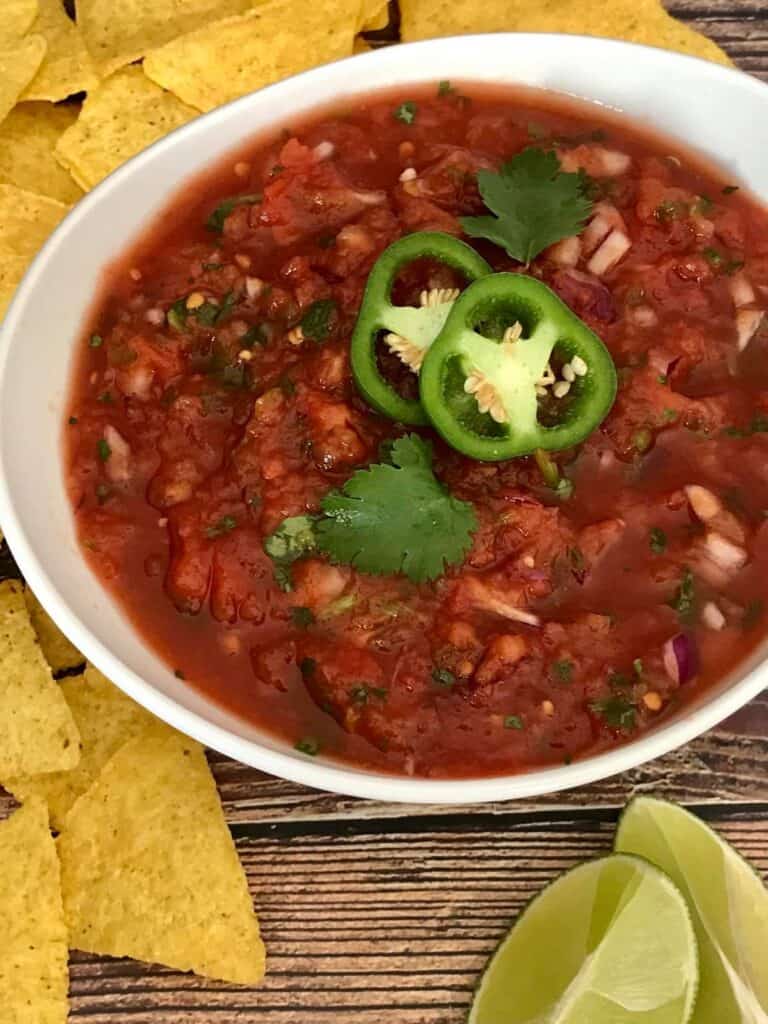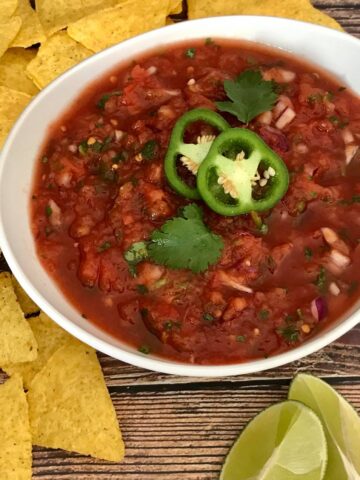 Restaurant-Style Salsa
This restaurant-style salsa is easy to prepare and tastes so bright and delicious--just like restaurant salsa. Enjoy with your favorite tortilla chips or use as a topping for salads, burritos, or vegan quesadillas.
Grab the recipe!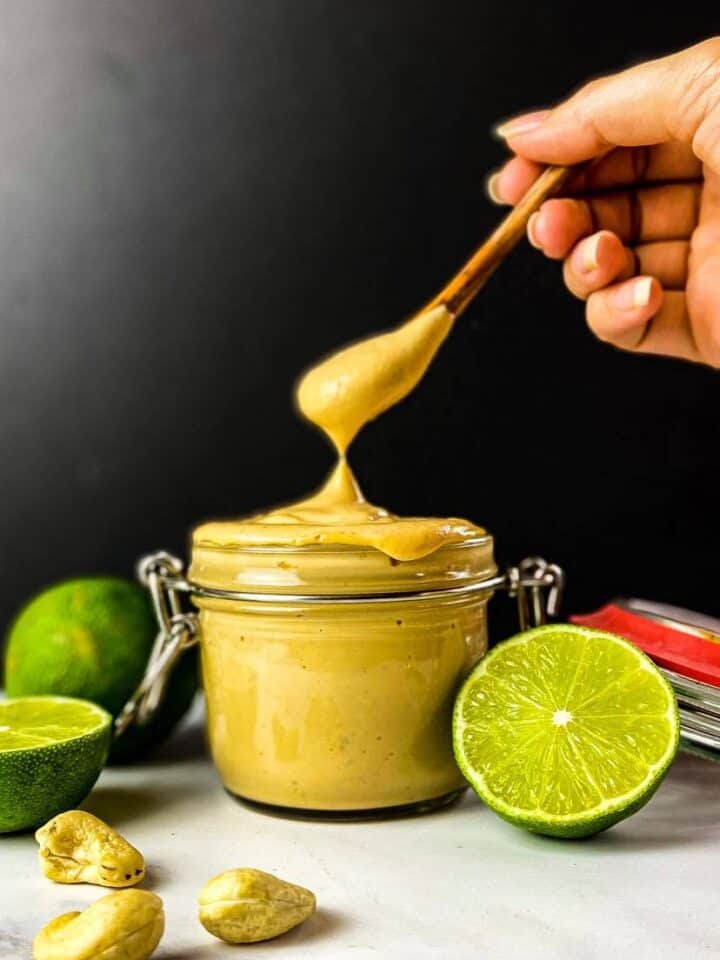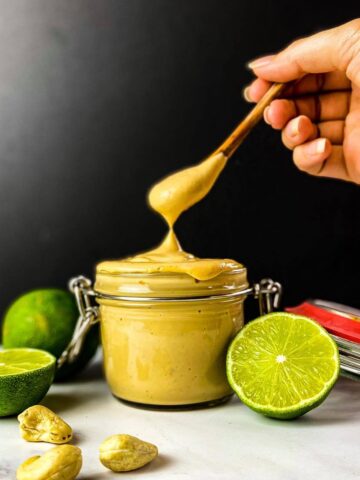 Vegan Chipotle Mayo (Oil-Free & Soy-Free)
Take any dish to the next level with this Vegan Chipotle Mayo. It's creamy and delicious, with a spicy kick that can't be beat! Perfect for pairing with tacos, French fries, roasted veggies, and more.
Grab the recipe!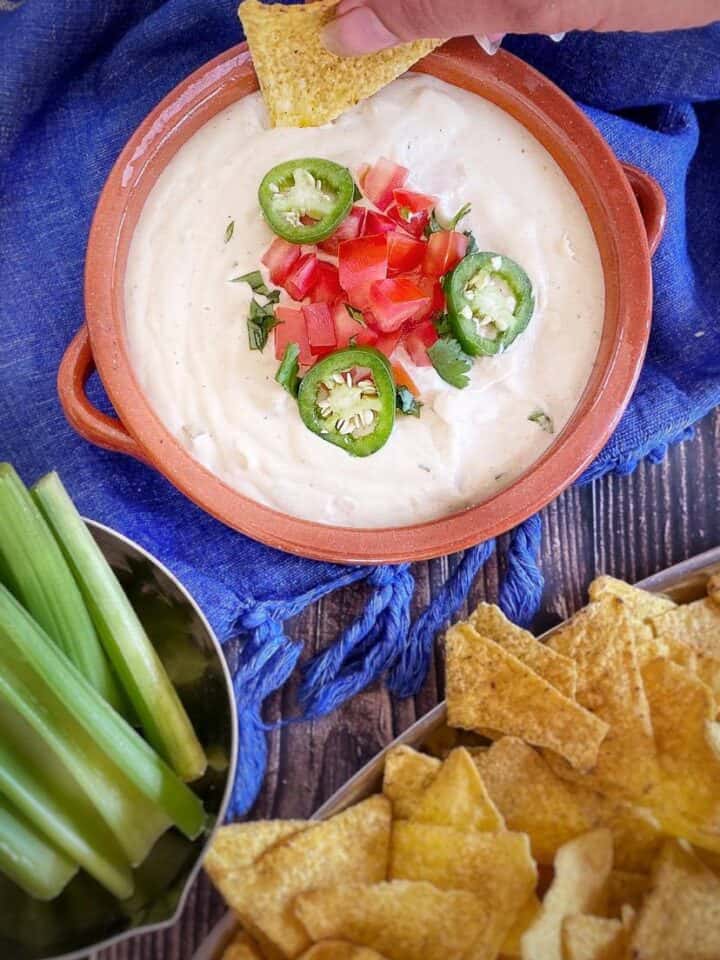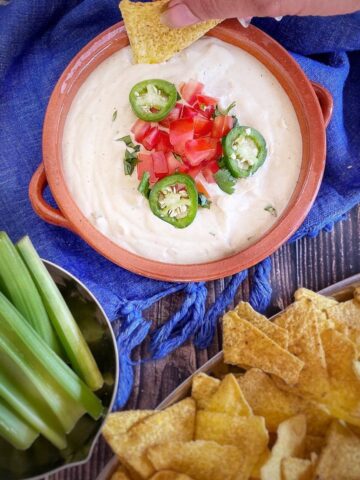 Vegan Cashew Queso Dip (Easy & Oil-Free)
A plant-based queso dip that's cheesy and delicious yet somehow dairy-free and oil-free? Sign me up! This Vegan Cashew Queso Dip is super easy and absolutely addictive. Perfect as an appetizer, snack, or even the main course!
Grab the recipe!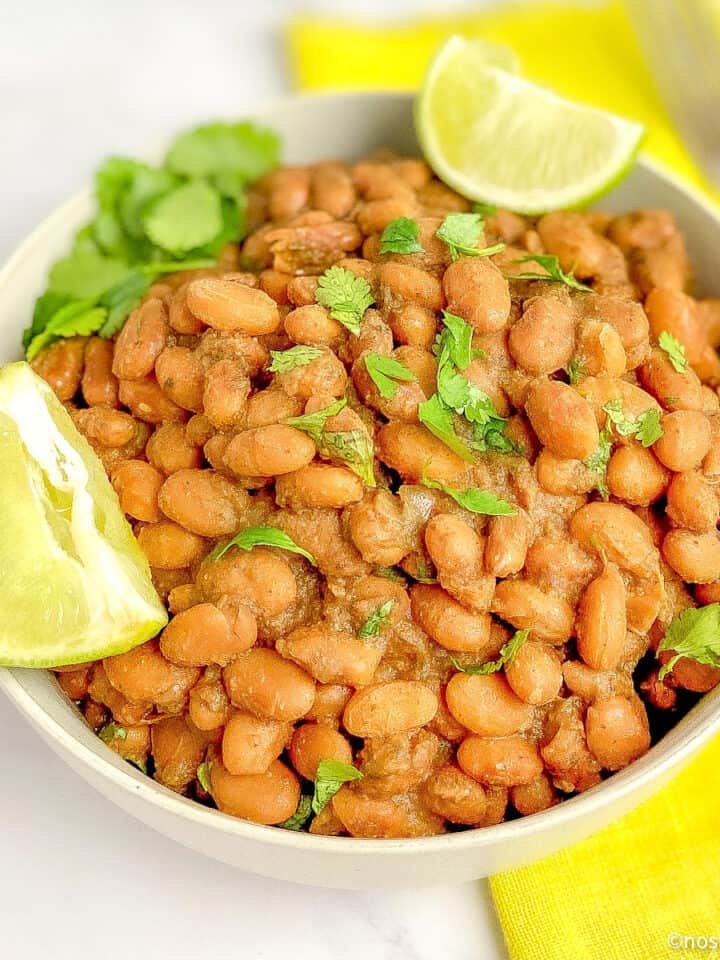 Instant Pot Pinto Beans
Cooking Pinto Beans from scratch in the Instant Pot couldn't be easier! With this simple no-soak Instant Pot Pinto Beans Recipe, you can make the perfect, creamy, comforting dish that can be used as a main protein or side.
Grab the recipe!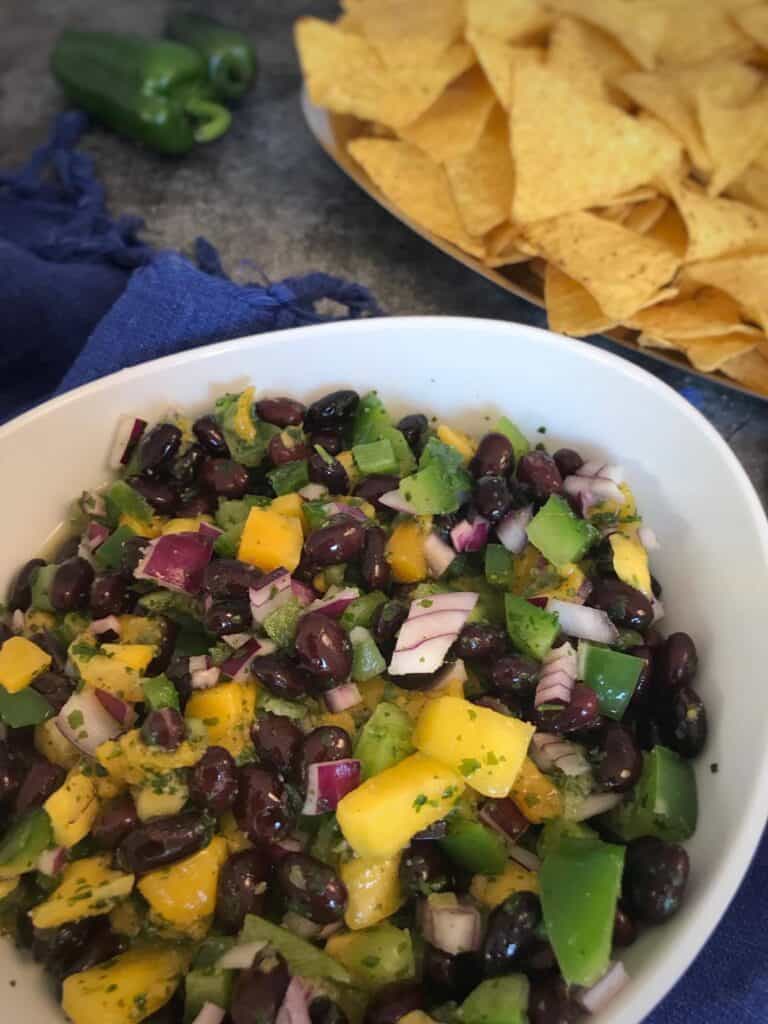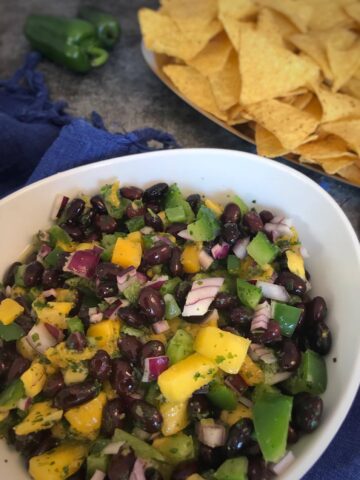 Black Bean & Mango Salsa
This black bean and mango salsa is super easy to prepare and hits all the right notes of sweet and citrusy, with a spicy kick from the jalapenos. Perfect for topping vegan fish tacos, a salad, or dipping tortilla chips.
Grab the recipe!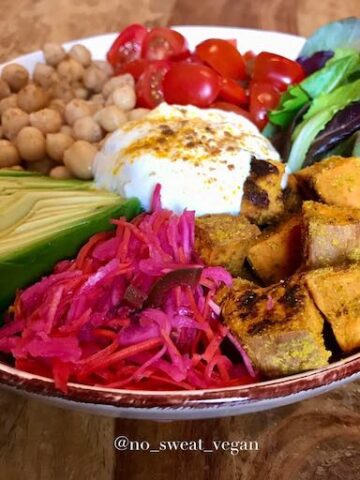 Spicy Pickled Cabbage
This spicy pickled cabbage is a magical condiment that goes great on wraps, burgers, veggie dogs, tacos--or just eat it as a side dish. With minimal prep and a few simple ingredients, you can quickly create this epic vegan condiment.
Grab the recipe!
---
Mains
Whether it's Cinco de Mayo, Taco Tuesday, or any day of the week, no Vegan Mexican Feast is complete without one or two show-stopping mains. From tacos to fajitas, taquitos to big salads, these recipes are sure to fill you up!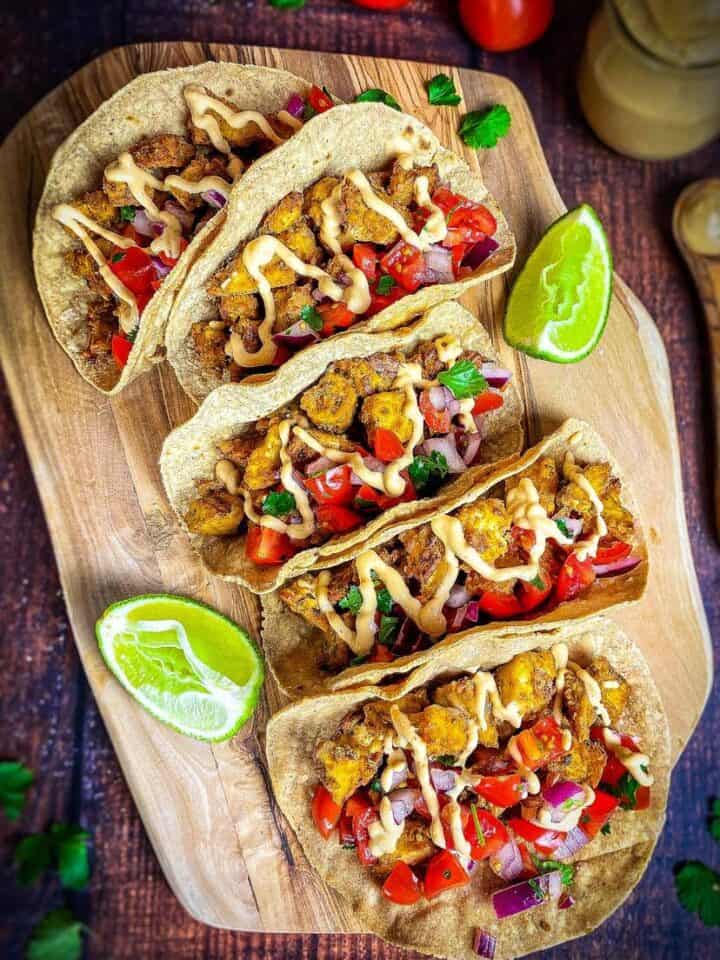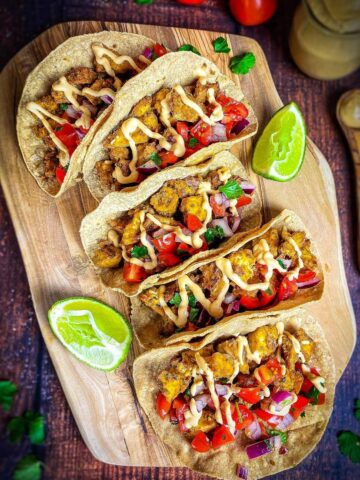 Vegan Street Tacos
These Vegan Street Tacos are an easy and delicious way to swap your favorite Mexican takeout for a healthy, homemade meal. Topped with Chili-Lime Tofu, Pico de Gallo, and Vegan Chipotle Mayo, these are sure to become your Taco Tuesday go-to.
Grab the recipe!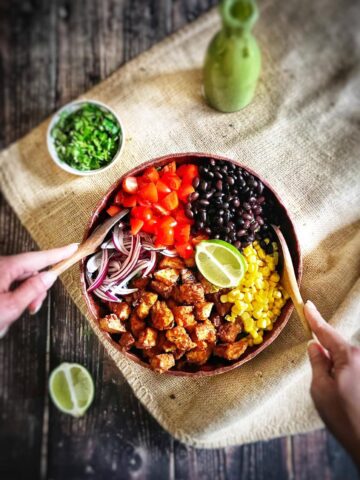 Southwestern Salad with Chili-Lime Tofu
This Southwestern Salad is bright, delicious, and filling enough to be your main course! The Chili-Lime Tofu adds the perfect protein and the Cilantro-Lime Avocado Dressing offers a creamy, citrusy finish.
Grab the recipe!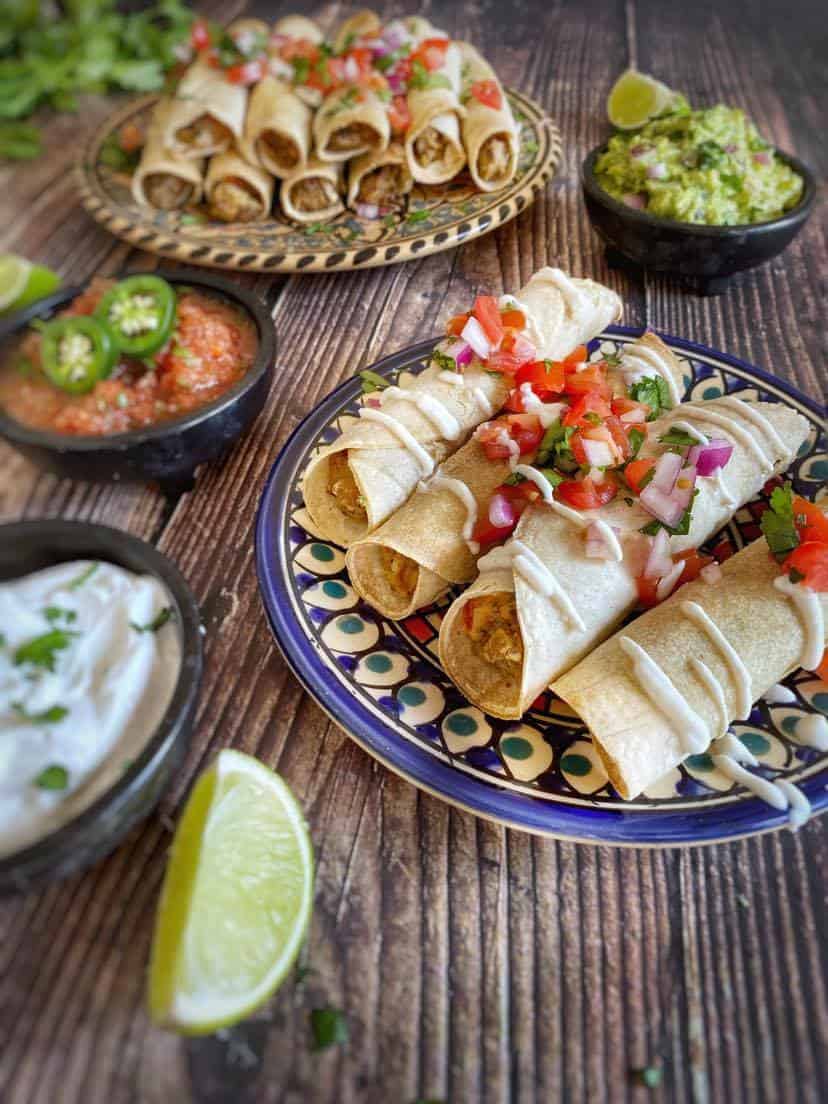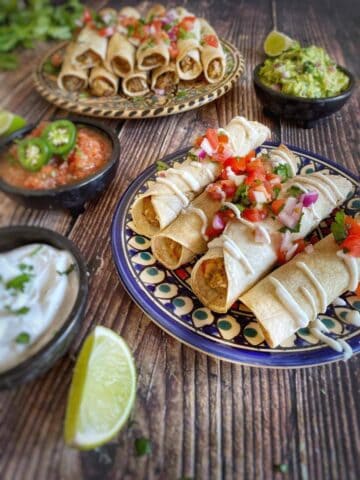 Baked Vegan Taquitos with Seasoned Tofu and Cashew Queso
Crispy, crunchy, beefy, cheesy--these taquitos are the perfect comfort food. But wait, they're also vegan and oil-free! The combination of the taco-seasoned tofu crumbles and rich cashew queso make these an absolutely indulgent vegan treat that even your omni friends will love!
Grab the recipe!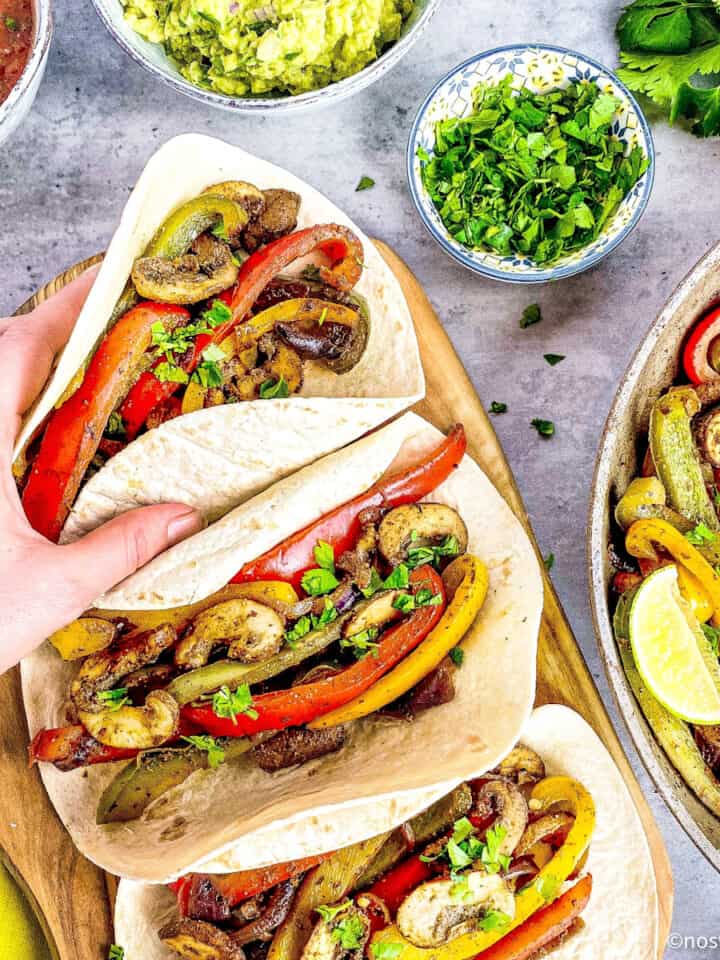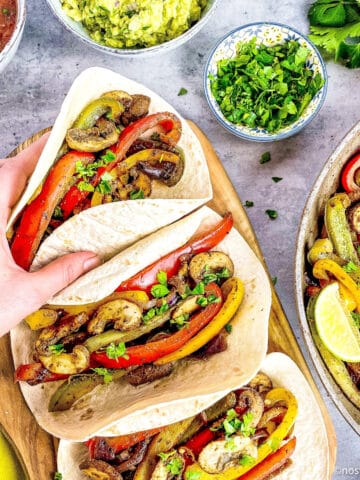 Easy Vegetable Fajitas with Mushrooms
These Vegetable Fajitas combine seasoned fajita veggies and mushrooms for an irresistibly easy meal. Pile on a soft tortilla with guacamole and salsa for a delicious family-friendly Vegan Fajita Recipe.
Grab the recipe!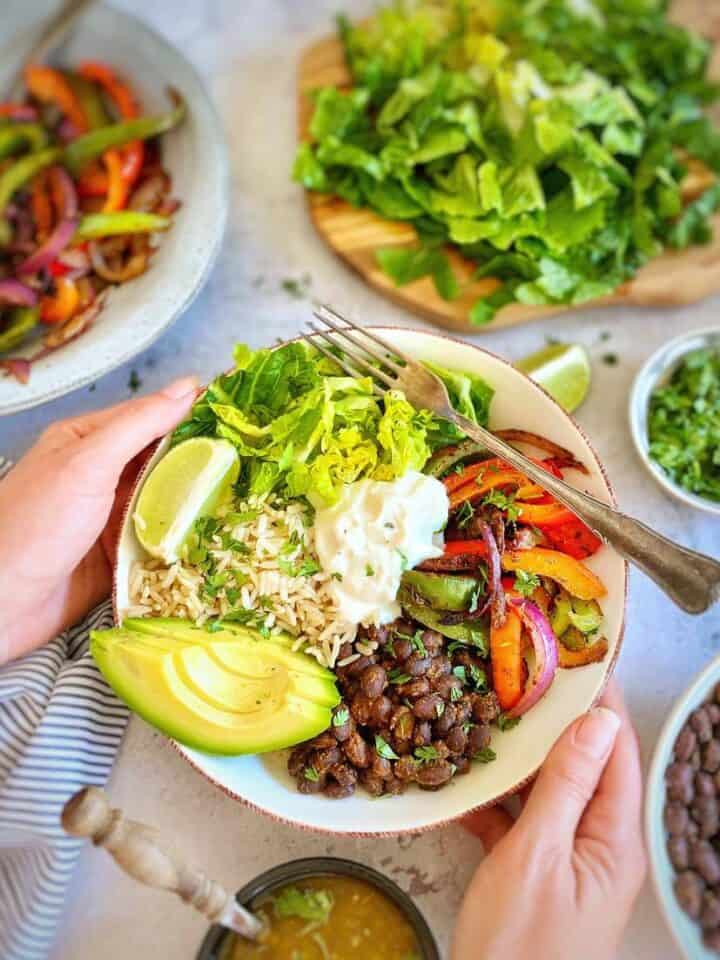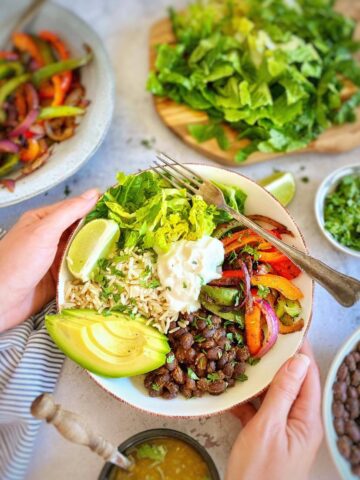 Vegan Burrito Bowl
This Vegan Burrito Bowl Recipe combines seasoned black beans and fajita veggies for a healthy and delicious meal that's sure to satisfy. You need just 6 ingredients and 20 minutes to put together this oil-free & totally delicious Chipotle-style feast!
Grab the recipe!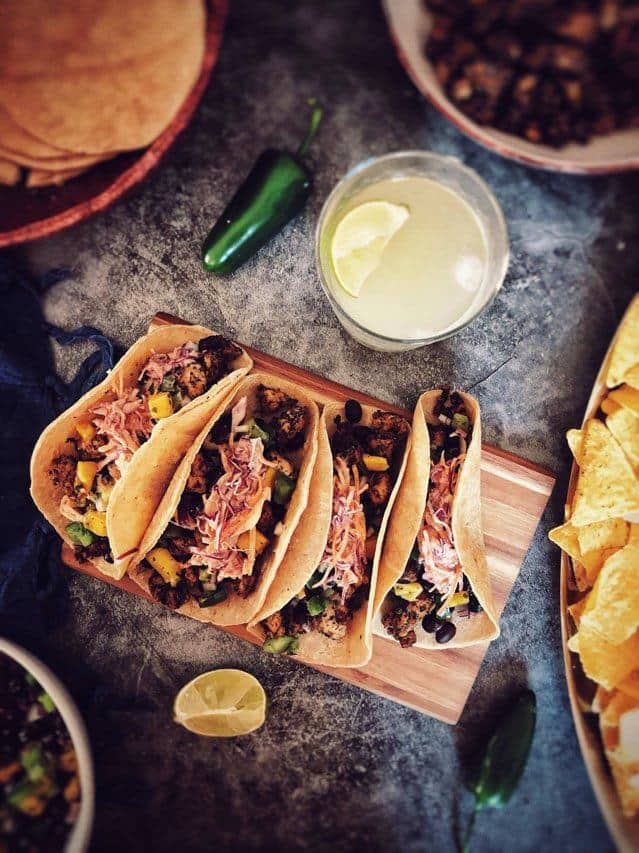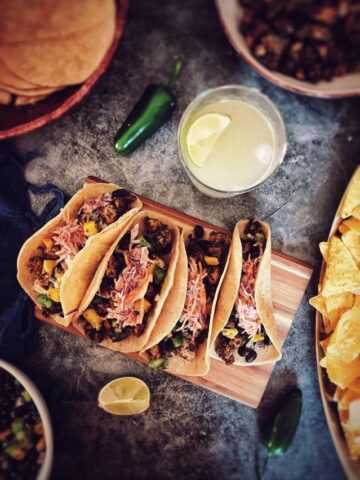 Best Vegan Fish Tacos
If you're craving fish tacos, this veganized version won't disappoint. The nori and lime gives the tofu a bright seafood flavor, while the sweetness of the salsa and creaminess of the slaw round out each perfect bite.
Grab the recipe!
---
How to build a taco bar
At our house, we love doing taco bars since everyone can choose their own favorite toppings. Taco Bars are also great when you have dinner guests with different dietary needs. Below I've included some of my favorite components for building a taco bar. Most of the recipes are listed in the recipe card, but here's a great jackfruit carnitas recipe if you need one.
📖 Recipe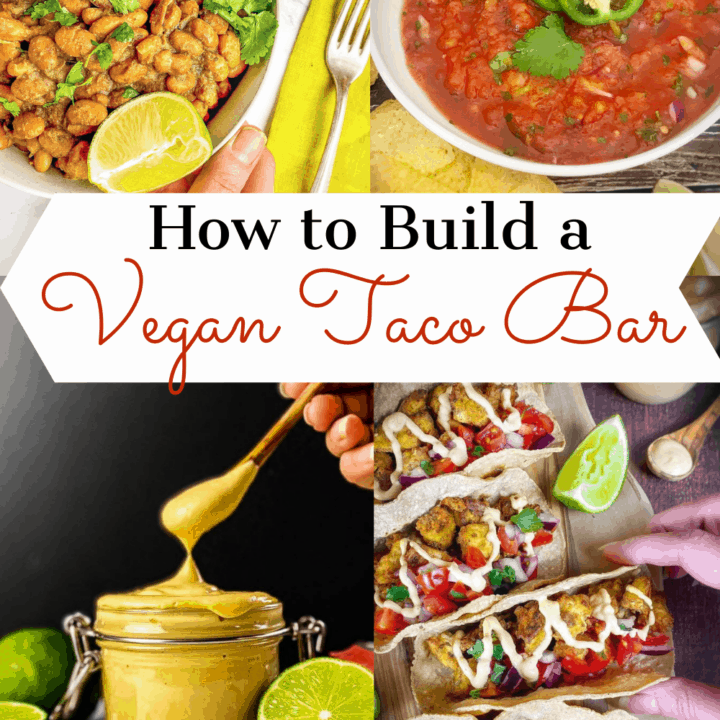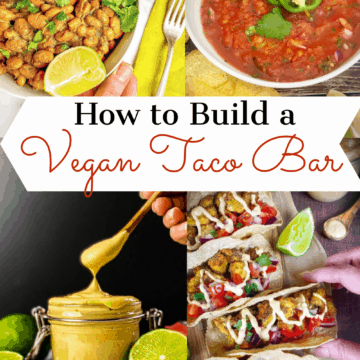 Vegan Mexican Recipes & Taco Bar
Building a vegan taco bar is a fun and easy way to please a variety of palates. Not only are they great for dinner parties where not everyone is vegan, but they're also perfect for sharing with kids or picky eaters. Just whip up a few salsas, toppings, and proteins, set them out, and let everyone build their own tacos.
Ingredients
Instructions
Prep
Decide which components you will serve. Most of the salsas and toppings can be made a few hours or even a day in advance.

About 1 to 1.5 hours before serving, prep and start cooking your main proteins. If you're making fajita veggies or queso, start those after the protein is cooking.

Just before serving, warm your tortillas in the oven (low heat for just a few minutes), on a skillet (medium heat for a few seconds each side), or in the microwave (wrap the tortillas in a damp paper towel and nuke for 15 to 30 seconds). Use a tortilla warmer to keep them warm. Or place the tortillas on a plate with a wide, shallow bowl as a lid.
Set the Taco Bar
For a more traditional buffet, set the components in a line according to how they will build the taco bar. Start with warmed tortillas, then main proteins, then veggies, and finally salsas and toppings. (This works better for larger groups)

Alternatively, you can set all of the components on a large table for a sit-down taco bar. (This works better for groups of 6 or less).
Save this Recipe
Saved!
Notes
These are just some suggestions of what I like to serve when I make a vegan taco bar. Feel free to comment below with your favorite toppings!
If you prefer a build your own burrito bowl bar, just sub out the tortillas for rice.
More Recipe Collections
Want access to my Exclusive Meal Planning Tips & Printables page?
Did you try this recipe? Have a question? Just leave a comment below and I'll get back to you ASAP!