From salsa to queso, tacos to fajitas, you can't go wrong with Vegan Mexican cuisine. Thankfully it's quick, easy, and affordable to veganize, plus it's much healthier without the meat and dairy. So if you're looking for some Vegan Mexican recipes and Taco Bar ideas, this list has you covered!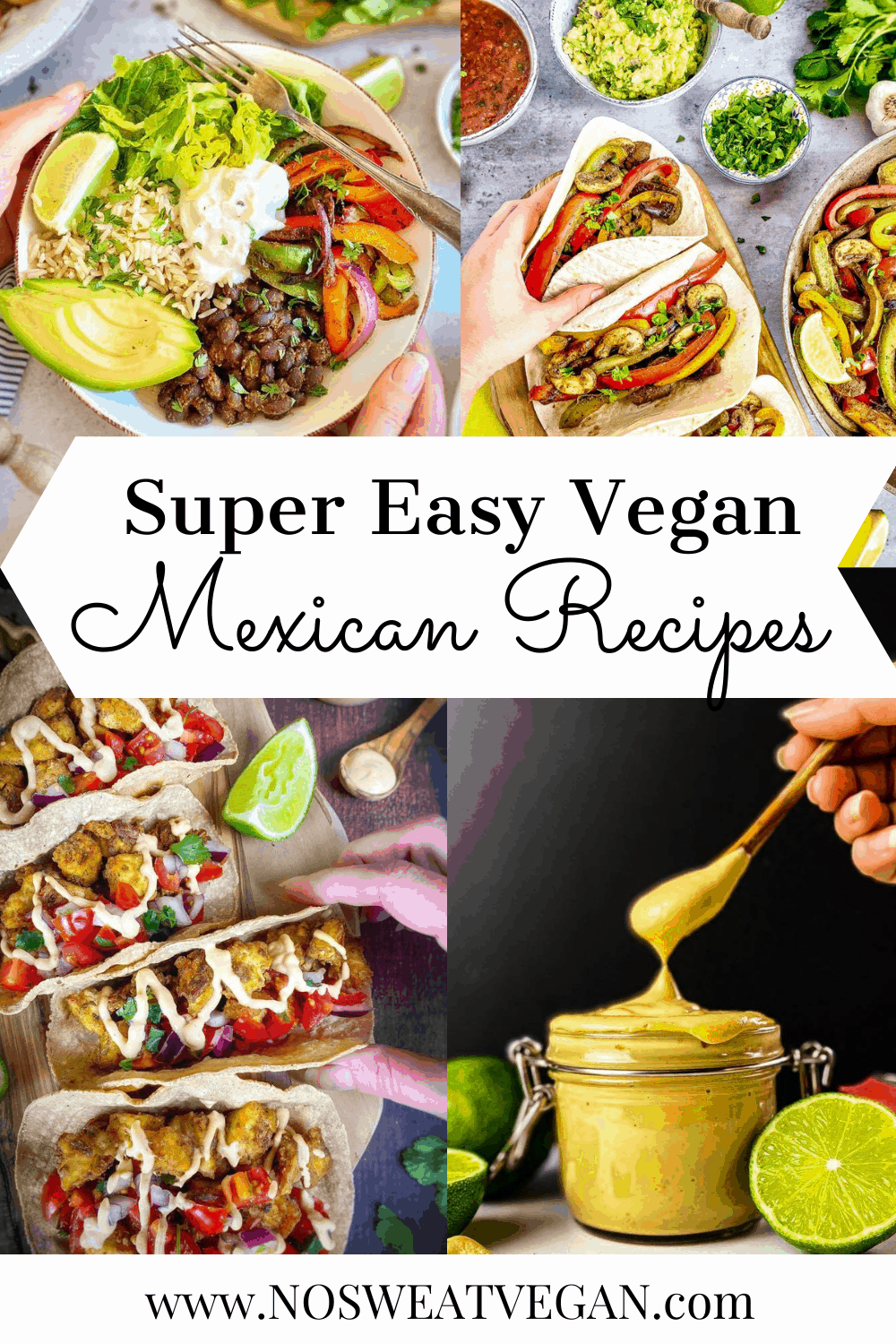 Mexican food has a reputation for being unhealthy, but that couldn't be further from the truth! Once you remove meat and dairy from the equation, Mexican cuisine is actually full of veggies, legumes, and spices. And these Vegan Mexican Recipes are no exception.
It should come as no surprise that we love Mexican-inspired food at my house and eat it multiple times a week! Almost every weekend, we make a big batch of salsa that's perfect for topping burrito bowls and salads for healthy weekday lunches. Sometimes we stick to the easy stuff, and sometimes we go all out. And when we have friends over for dinner, we create epic Taco Bars that everyone loves. So if you're in need of Vegan Mexican Recipe ideas, check out this collection. At the end, I've even created a tutorial for building your own Taco Bar!
Jump to:
You'll love these Vegan Mexican recipes because they're:
Easy & Delicious
Vegan /Vegetarian
Mostly WFPB
Dairy-free
Crowd Pleasers for Vegans & NonVegans alike!
Perfect for Cinco de Mayo & Taco Tuesday
---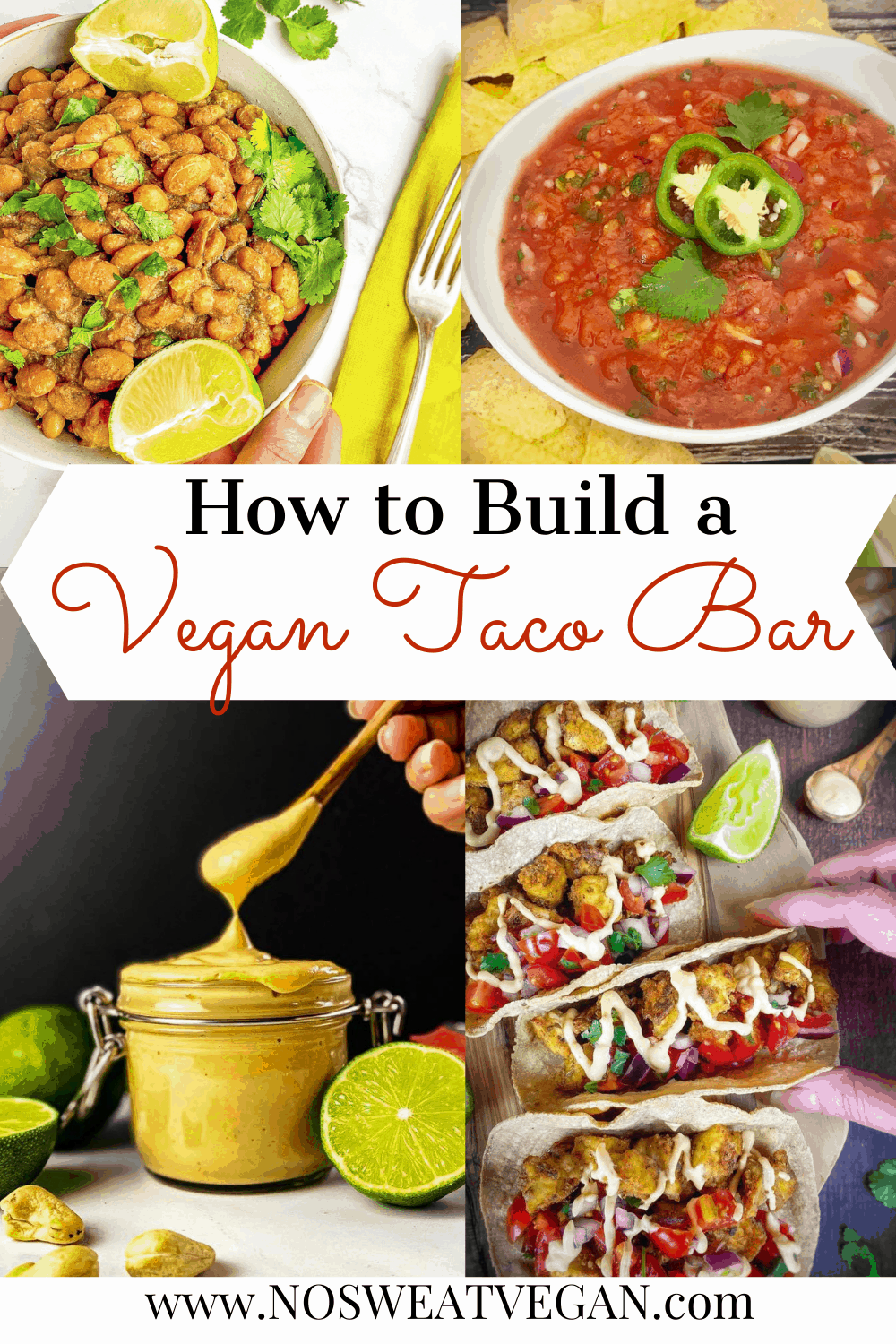 ---
Are these recipes gluten-free?
Most of these recipes are already gluten-free. A few things to watch out for are tortillas and chips (choose corn tortillas over flour) and soy sauce (choose gluten-free soy sauce or tamarind sauce).
Are these recipes nut-free?
Most of them are already nut-free. In the case of the chipotle mayo and cashew queso, you can substitute with sunflower seeds.
Salsas & Sides
No Mexican feast is complete without an array of plant-based salsas, toppings, and sides. These add the perfect touch of spice, creaminess, and flavor to your mains. Sometimes they're already vegan and sometimes they need a little tweaking, but they're always delicious!
---
Mains
Whether it's Cinco de Mayo, Taco Tuesday, or any day of the week, no Vegan Mexican Feast is complete without one or two show-stopping mains. From tacos to fajitas, taquitos to big salads, these recipes are sure to fill you up!
---
How to build a taco bar
At our house, we love doing taco bars since everyone can choose their own favorite toppings. Taco Bars are also great when you have dinner guests with different dietary needs. Below I've included some of my favorite components for building a taco bar. Most of the recipes are listed in the recipe card, but here's a great jackfruit carnitas recipe if you need one.
📖 Recipe
More Recipe Collections
Want access to my Exclusive Meal Planning Tips & Printables page?
Did you try this recipe? Have a question? Just leave a comment below and I'll get back to you ASAP!