This collection of the Best Vegan Sandwiches offers a mouthwatering variety of veganized classics, veggie delights, and a few surprises. Whether you're packing a weekday lunch, planning a picnic, or putting together a delicious weekend feast, these Vegan Sandwich Ideas are sure to whet your appetite.
Sandwiches are one of my favorite things to eat, but when you're vegan or trying to eat more plant-based meals, you sometimes have to think outside of the box when it comes to figuring out what goes best between two slices of bread. Thankfully there are plenty of delicious ways to both veganize your childhood favorites and combine ingredients in exciting new ways. Goodbye boring ham and cheese; hello brave new world!
But don't take my word for it: check out this collection of 20+ Amazing Vegan Sandwiches and see for yourself. From Bombay-style street food to tofu egg salad, these vegan sandwiches are packed with flavor and take comfort to the max. Trust me, you're going to want to try them all!
You'll love these Vegan Sandwich Recipes because they're:
Mouthwatering & Delicious
Simple & Easy
Vegan / Vegetarian
Perfect for packed lunch, picnic, or meal prep
Great for meal prep
Unique and Inspiring
Hearty enough to serve for lunch or dinner!
Tips for making a great vegan sandwich
Think outside of the box! Of course you can buy vegan meat and cheese replacements to mimic a non-vegan sandwich, but there are so many other possibilities to work with. Tofu, tempeh, jackfruit, mushrooms, and all sorts of legumes, just to name a few.
Try using chickpeas: You'll see several recipes in this collection that use chickpeas as the main protein. That's because they're quick and easy to work with. You open a can, mash them up, and some seasonings and a binder, and you're done! Unlike other beans, they keep a firm texture that's perfect for adding to sandwiches and wraps.
Consider your bread: Bread makes the sandwich, so whether you want sliced bread of a hearty roll, white bread or whole grain, choosing the right way.
Keep it simple! If your pressed for time or just not feeling the urge to wreck the kitchen, you can always keep things simple with a good old-fashioned PB & J or Hummus Veggie Sandwich. I've got more details and ideas below.
Super easy vegan sandwiches
Not all sandwiches need to be complicated, and if you're new to eating vegan meals, you might need a reminder that there are some super simple sandwiches you can make in less than two minutes without any recipe at all!
PB & J: I'm actually not a fan of peanut butter (gasp!) but any kind of nut butter will do. I usually have a batch of almond butter or cashew butter premade in the fridge. I also like to use easy homemade Chia Berry Jam or Apricot Jam, but any store-bought jam should do.
Hummus & Veggie Sandwich: For this, you can use any type of veggies that will lay flat. My favorites are cucumber slices, bell pepper slices, and greens (lettuce, spinach, microgreens, etc.) Spread the bread or toast with your favorite hummus and pile on the veggies. Done!
Smoked Tofu Sandwich: Smoked tofu tastes very similar to smoked turkey. If you use a vegetable peeler or box grater to make super-thin slices, the texture is also very similar. Just pile it on toasted whole wheat bread with mustard, lettuce, and tomato for an oh-so-easy veganized version of a turkey sandwich. (Smoked tofu can be tricky to find at a regular grocery store, so be sure to check out your Asian Markets and Specialty Health-Food Stores.)
---
This is the most incredible, flavorful Peruvian Sandwich (aka sanguche). Peru is famous for sandwiches, and this veggie version is filled with Peruvian spices and roasted vegetables to give it loads of great taste.
---
This vegan curry chickpea salad is quick, easy, and versatile. It combines the aromatic spices of the curry powder with the crunch of the veggies and the earthiness of the chickpeas. Bring it all together with vegan mayo or yogurt and serve it as a sandwich, salad, or wrap. Perfect for lunch or any time of day!
---
This Vegan Mushroom Reuben Sandwich combines pan-fried spiced mushrooms, homemade red cabbage sauerkraut, Russian dressing, and pickles in each wonderfully messy and textured bite.
---
This sandwich is loaded with beefy seitan, vegan cheese, and horseradish sauce. Just like Arby's, but better!
---
These Vegan Tofu Po' Boys are made with seasoned tofu nuggets and vegan remoulade. Pile on french bread or a whole wheat baguette with lettuce, tomato, and hot sauce, for a hearty, filling, and delicious Cajun-inspired sandwich.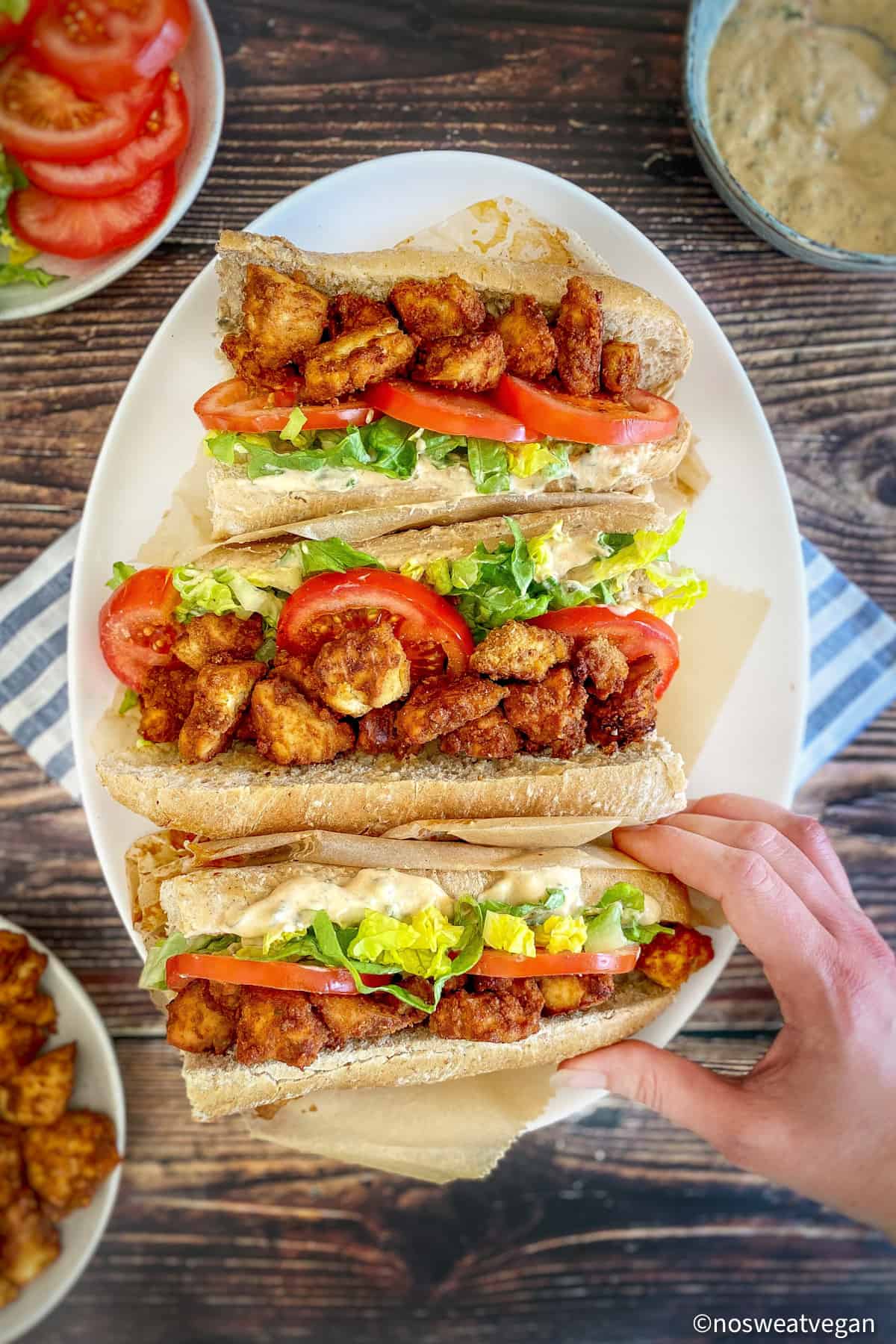 ---
The BEST Vegan Pulled Pork Sandwich! Serve on a toasted baguette and top with creamy vegan coleslaw for an unbelievable meal. This jackfruit pulled pork recipe is so close to the real thing it's scary. Smoky, sweet, tender, and absolutely delicious!
---
Bombay sandwiches are a classic Indian street food recipe! This grilled plant-based snack is stuffed with aloo masala and veggies, making a delicious vegan sandwich! Plus, it can be made in 15 minutes!
---
This "lob-sta roll" recipe happened when a block of tofu collided with one of my absolute favorite seasonings, which you've just got to try for yourself! And it's so easy. Prepare yours in an oven, air fryer, or toaster oven.
---
If you're looking for a super simple way to make vegan bacon at home, this tempeh bacon is your answer. It's quick, easy, and delicious. Build your own B.L.T. and top with avocado and vegan garlic aioli. Yum!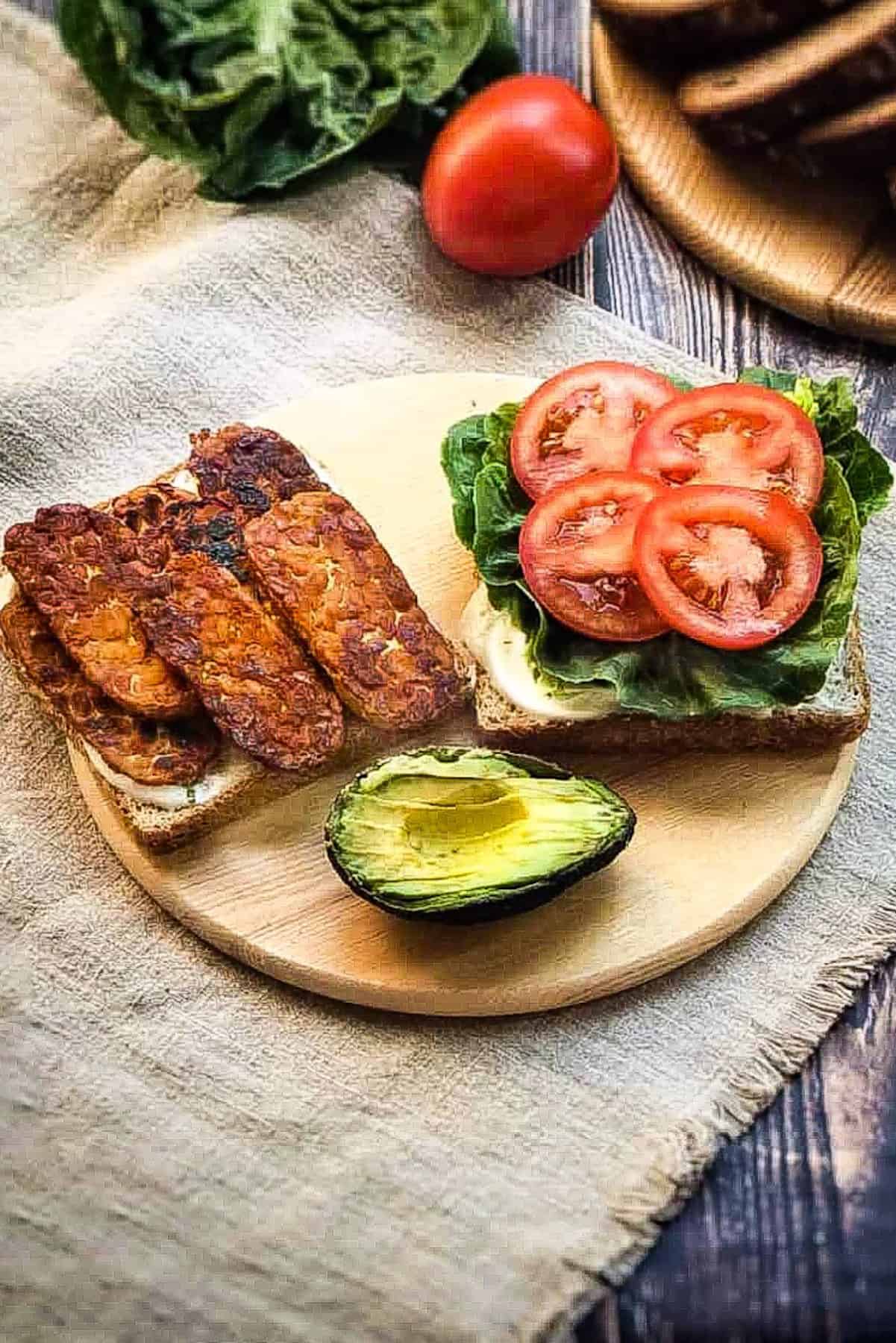 ---
Protein-rich, easy, and flavorful, everyone needs a classic tofu egg salad sandwich in their lives! Here are 3 ways to make the perfect, quick lunch.
---
Delicious vegan meatball subs! They are made with homemade eggplant meatballs, marinara sauce, vegan parmesan cheese, and fresh parsley for the ULTIMATE vegan sandwich.
---
This buffalo chickpea salad is the easiest lunch around. It's spicy, gluten-free, dairy-free, and chock full of flavor. 10 minutes plus 8 key ingredients and you have a simple and delicious lunch.
---
This sweet potato avocado tartine uses creamy black beans, roasted sweet potatoes, and arugula. Sprinkled with homemade everything bagel seasoning, it's absolutely delicious!
---
Bombay sandwiches are a super delicious treat common on the streets of Mumbai. Loaded with sliced veggies, masala aloo (Potato), and topped with spicy chutney, this is not your traditional veggie sandwich.
---
Grab a plate and pack it full of these delicious, aromatic vegan Sloppy Joe's made with tasty, healthy black lentils, crunchy walnuts, hearty mushrooms, green peppers, and onions mixed in a perfect easy tasting homemade tomato sauce.
---
Smashed chickpeas are tossed with bright and fresh collard greens pesto, and spread on whole-grain toast with mustard, tomatoes, and onions to make these satisfying collard green pesto chickpea salad sandwiches.
---
This vegan tempeh Reuben may just be the best sandwich ever invented. Start with tempeh simmered in spices till tender and flavourful, add a big pile of sauerkraut, spicy Russian dressing, and, of course, PICKLES (pickles and then more pickles).
---
These delicious vegan Chick'n salad sandwiches are perfect for a picnic, a packed lunch, or a casual meal for any day of the week!
---
This Vegan Breakfast Sandwich recipe is a morning must! The ultimate in Eggy Muffin goodness, this Veggie Breakfast Sandwich is stacked with protein and flavor!
---
This smashed chickpea avocado salad is an easy and delicious lunch you can bring to work, school, or the beach! It takes 5 minutes to prepare, requires no fancy equipment, and is made with just six simple ingredients.
---
Your favorite mushroom risotto, now in sandwich form. Hearty, meaty, absolute deliciousness packed into every single bite.
---
Related Recipes:
---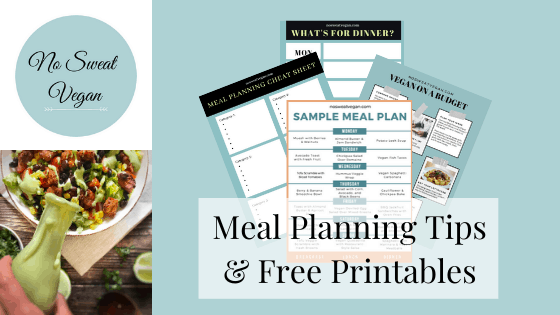 ---