This Almond Ricotta Cheese is rich, creamy, and bright. Dollop on pizza, crostini, or crackers. Add to a vegan lasagna or stuffed shells. It even makes a delicious topping for morning toast. You can serve this simple and versatile Vegan Ricotta any time of day!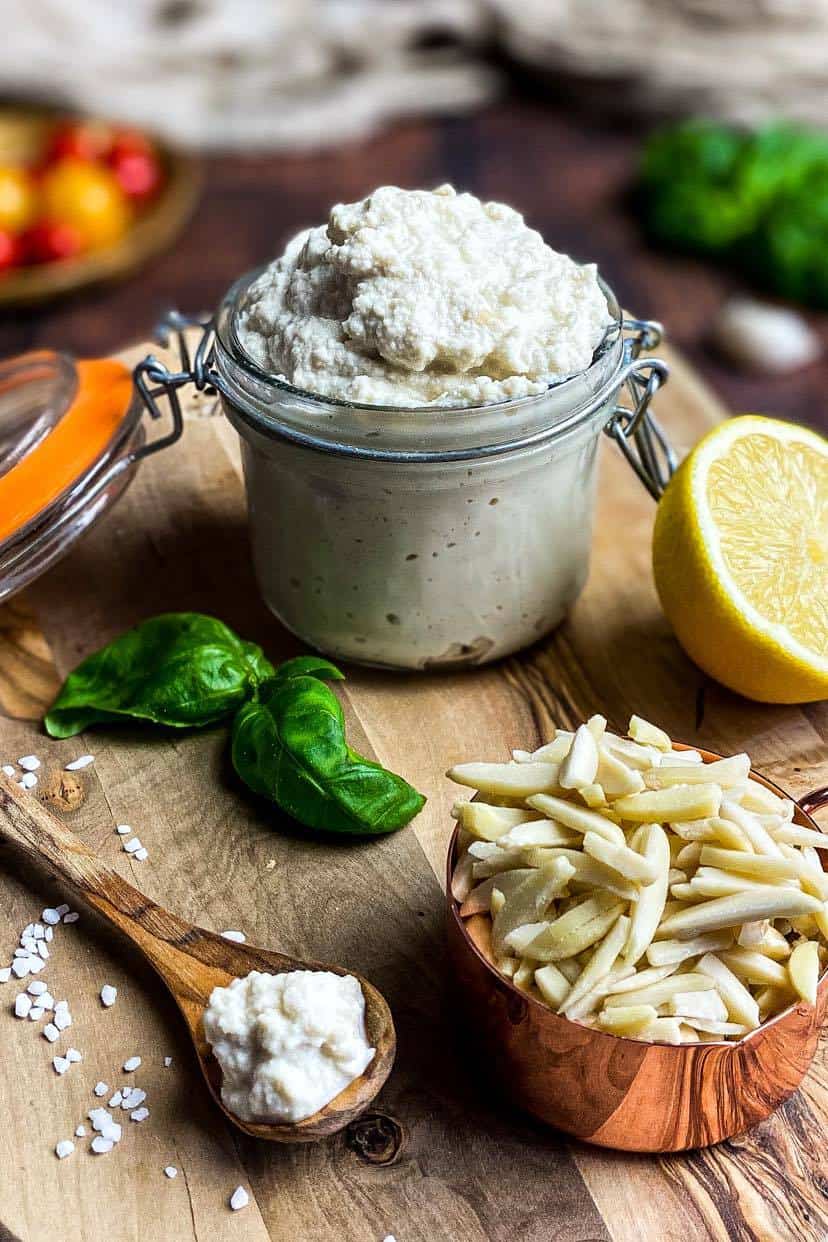 If you're looking for an Easy and Delicious Substitute for Ricotta Cheese, look no further! This almond ricotta cheese is rich and creamy with a touch of telltale grainy texture. I've experimented with a lot of vegan ricotta recipes, and this is definitely the best ricotta substitute I've tried.
Not only is this vegan ricotta delicious, but it's also significantly easier to make than many vegan cheese substitutes, and the ingredients are far simpler. This recipe is also incredibly versatile in its application. You could eat this Almond Ricotta any time of day--even for breakfast! And it's perfect for adding to any recipe that calls for regular ricotta cheese. In short, this recipe is a keeper!
Jump to:
You'll love this Vegan Ricotta Cheese Recipe because it's:
Quick & Easy
Whole-Food Plant-Based (WFPB)
Healthy & High-Protein
Dairy-Free / Lactose-Free
Soy-Free
Gluten-Free
Oil-Free
Creamy & Delicious
A Perfect Vegan Cheese Substitute!
---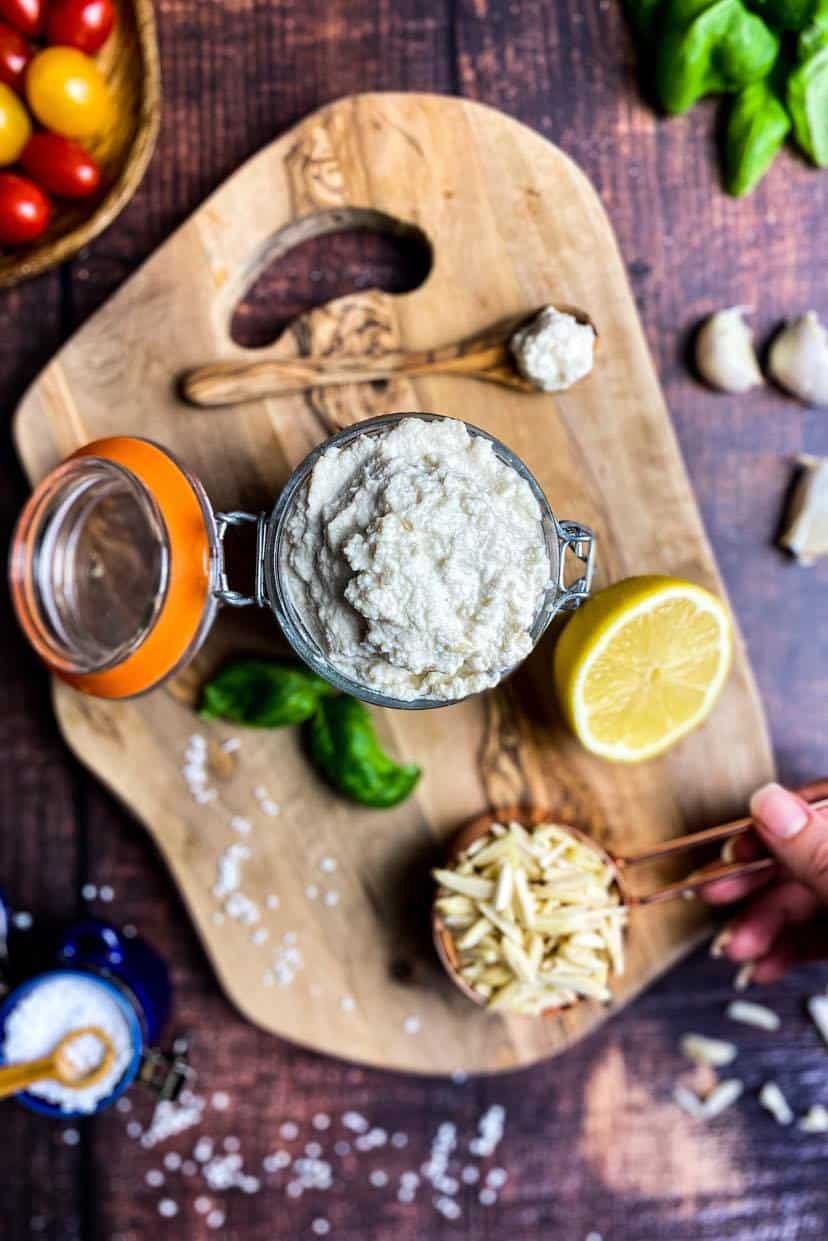 ---
Surprising Health Benefits of Almonds
Almonds are high in protein, Vitamin E, magnesium, and more!
Though high in fat, they contain monosaturated fat, which can help lower LDL (bad) Cholesterol and keep you full for longer so that you don't snack on unhealthy foods.
According to WebMD, crunching almonds can help relieve aggression, the selenium can help you sleep better, and the fatty acids can improve male libido! Good to know!
---
What is Ricotta Cheese? What's the difference between Ricotta and Cottage Cheese?
Ricotta cheese is an Italian soft cheese made from the leftover whey from other cheeses. It has a slightly gritty, but firm spreadable texture. Cottage cheese is made from milk curds and has a looser consistency with chunks of curd (not so appealing when you put it that way!). The two share some similarities though, and can sometimes be used to substitute for each other, both in regular and vegan iterations.
To make this recipe more like a Vegan Cottage Cheese, follow the directions below. Then add ¼ cup unsweetened plant-based yogurt and ¼ cup water to a bowl and mix until blended. Pour the yogurt mixture over the vegan ricotta and fold together (don't over mix). You can also try using medium-firm or fresh tofu, which might better replicate the texture of cottage cheese.
Can I use this Almond Ricotta to top Vegan Pizza?
I happen to think the texture works fabulously for topping vegan pizza, and I far prefer it to any store-bought vegan cheese. I also don't enjoy the slimy texture of many homemade vegan mozzarella recipes I've attempted. So if you're in need of a great vegan pizza cheese, give this recipe a try.
The trick is to dollop the almond ricotta on the pizza rather than trying to cover every inch of the pie. It's not stretchy or melty, but the creamy flavor and texture make this an elegant solution for people who--like me--aren't really into oily vegan cheese substitutes. Check out this Vegan Pesto Pizza Recipe to see what I mean.
Can I use Cashews to make Vegan Ricotta?
Definitely! Cashews also make a yummy vegan ricotta. I personally prefer blanched almonds for this recipe because I think they give better ricotta flavor and consistency. But cashews or macadamia nuts would also a fine substitution.
Can I make a Nut-Free Almond Ricotta?
Sure! To make a nut-free vegan ricotta you can either substitute sunflower seeds for the almonds (the color will be a little darker). Alternatively you could use firm tofu (which would save time since you could skip the boiling, add everything to a blender, combine, and be done).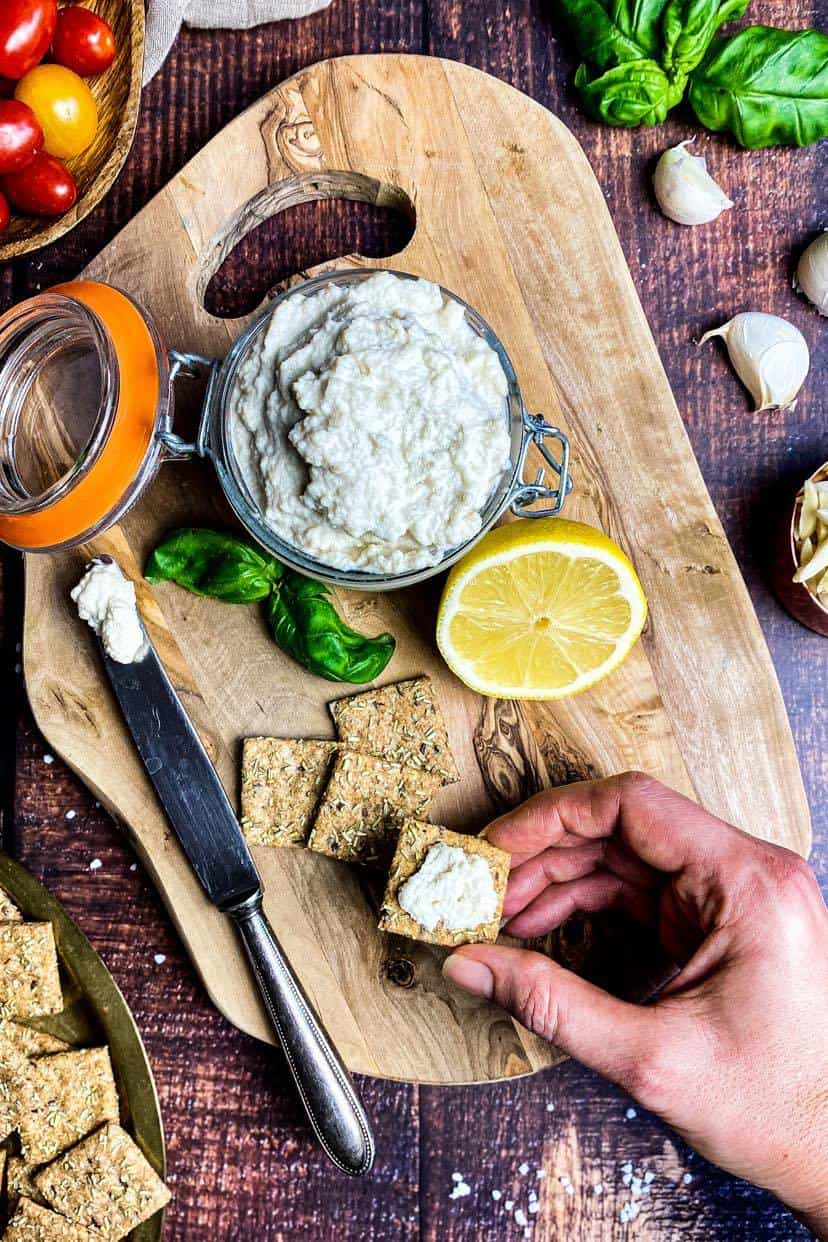 How to Serve
This Vegan Ricotta is so delicious you might just want to eat it with a spoon. . . . But if you have a little more self-control than me, here are a few ideas:
Substitute for regular ricotta to make vegan cannelloni, lasagna, stuffed shells, tortellini, or wherever you'd normally use ricotta cheese.
Add dollops to top a vegan pizza.
Use it as a substitute for feta in this veganized version of the viral TikTok Baked Feta Pasta.
This almond cheese also makes a fabulous dip, spread, appetizer, or snack, and is perfect for slathering on crackers.
Add to a vegan charcuterie board.
Combine it with herbs and breadcrumbs to make Vegan Stuffed Mushrooms.
Spread on your morning toast and top with blueberries for a quick, protein-packed breakfast.
Dot it on a big green salad for a touch of creamy deliciousness.
For a special treat, grill fresh baked bread and top with this ricotta and a drizzle of balsamic, agave, or vegan honey. Yum!
---
Ingredients
blanched, slivered almonds -- This is the most important element in the dish. Be sure to use blanched almonds for the right consistency and color. If you can only find whole blanched almonds, add another 5 minutes to the boil time.
water --To help achieve the right consistency.
nutritional yeast --To add a hint of cheesy flavor.
lemon juice -- For a bright, acidic touch. (Fresh or pre-squeezed are both fine.)
garlic powder or 1 clove of garlic -- For a little bump in flavor and pungency.
sea salt -- As the perfect finishing touch. If you omit the salt, you might want to add a tad more garlic.
---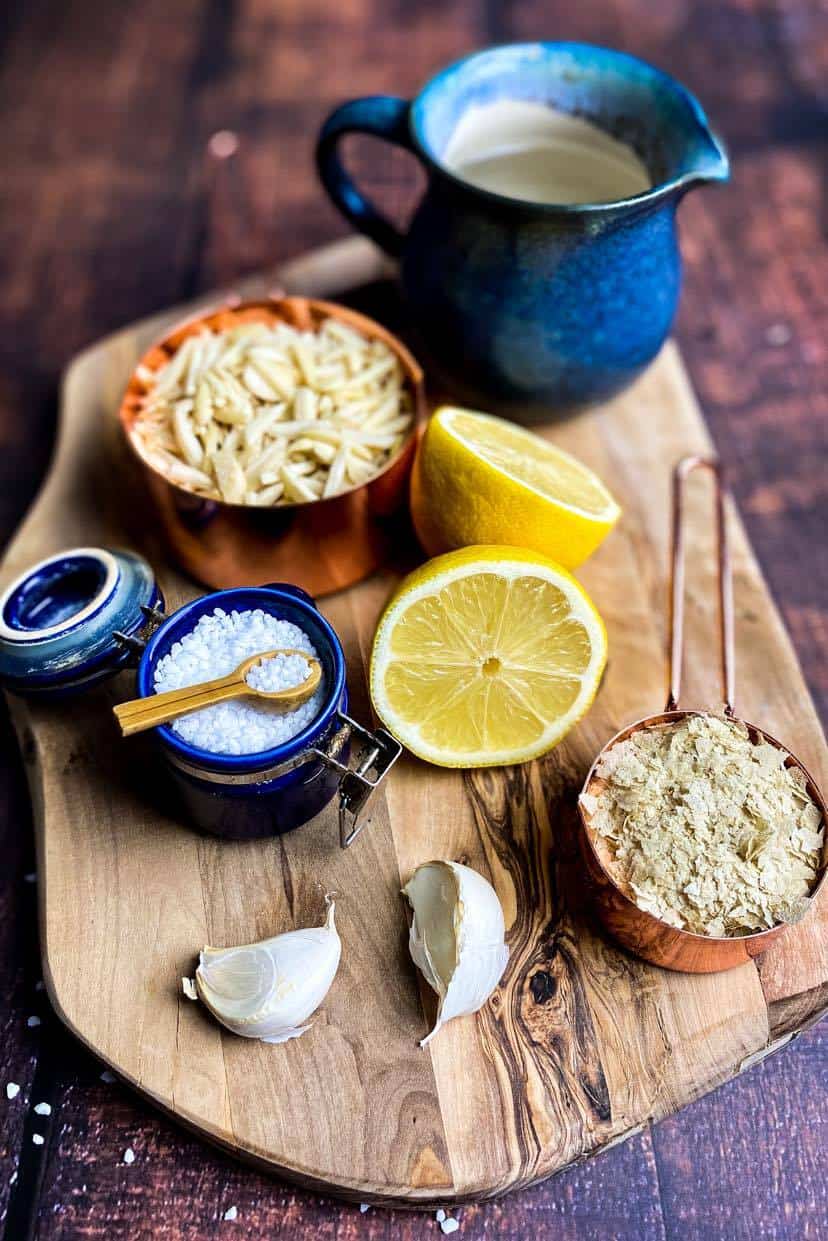 How to Make Almond Ricotta Cheese
First, boil the almonds for 10 minutes, then drain and rinse under cold water to remove any gritty foam.
Add everything to a high-speed blender and blitz to combine.
Taste and adjust the seasonings if necessary.
If you prefer a thinner ricotta, add water, 1 tablespoon at a time, until the right consistency is reached.
Serve right away or store according to the directions below.
---
How to Store Vegan Ricotta
Refrigerator: This Ricotta Cheese substitute will last about a week in an airtight container in the refrigerator.
Freezer: You can also store vegan ricotta in the freezer for up to 3 months. If the texture is a little dry when you defrost it, add 1 to 2 teaspoons of water, plant milk, or plant yogurt and stir to combine.
---
If this recipe for Vegan Ricotta Cheese speaks your language, you might also like:
---
📖 Recipe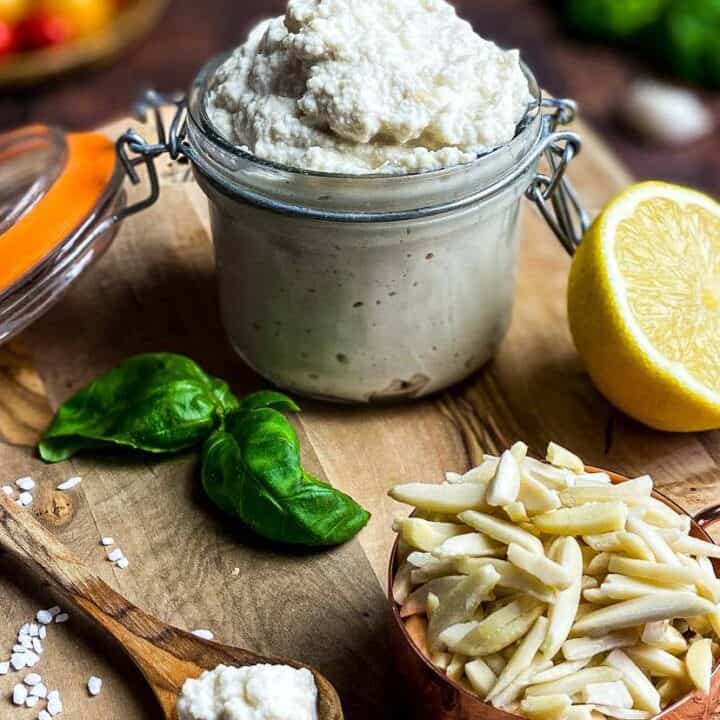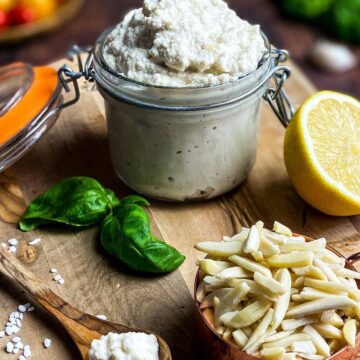 Vegan Almond Ricotta
This Almond Ricotta Cheese is rich, creamy, and bright. Dollop on pizza, crostini, or crackers. Add to a vegan lasagna or stuffed shells. It even makes a delicious topping for morning toast. You can serve this simple and versatile Vegan Ricotta any time of day!
Instructions
Add the almonds to a small pot, fill the pot halfway with water, and bring to a boil for 10 minutes over high heat.

Drain and rinse the almonds. Add the almonds ½ cup of water, and all of the other ingredients to a high-speed blender. Blend until mostly smooth. (Ricotta should not be quite as silky smooth as other vegan cheeses.)

Taste and adjust seasonings if necessary. If you want a thinner consistency, add more water, 1 tablespoon at a time, and blend until the right consistency is reached.

Serve and enjoy right away! Or store in an airtight container for up to a week in the refrigerator or 3 months in the freezer.
Save this Recipe
Saved!
Notes
If you prefer a slightly smoother consistency, try adding 2 to 3 tablespoon of unsweetened, plant-based yogurt.
For info on substitutions, check the blog post above.
Be sure to use Blanched Almonds (not still in the skin). If you can't find blanched, slivered almonds, you can use whole blanched almonds, but add 5 minutes to the boil time.
To save money, check the baking aisle of the grocery store, where nut halves, pieces, and sliver are often significantly cheaper.
Nutrition
Serving:
2
tablespoon
Calories:
86
kcal
Carbohydrates:
3
g
Protein:
4
g
Fat:
7
g
Saturated Fat:
1
g
Sodium:
149
mg
Potassium:
116
mg
Fiber:
2
g
Sugar:
1
g
Vitamin C:
1
mg
Calcium:
32
mg
Iron:
1
mg
Want access to my Exclusive Meal Planning Tips & Printables page?