This collection of over 20 Vegan Easter Recipes offers a perfect variety of starters, sides, mains, and desserts. Whether you're planning a full vegan meal or just want to incorporate more plant-based options, these recipes are just right for brunch, lunch, or Easter dinner.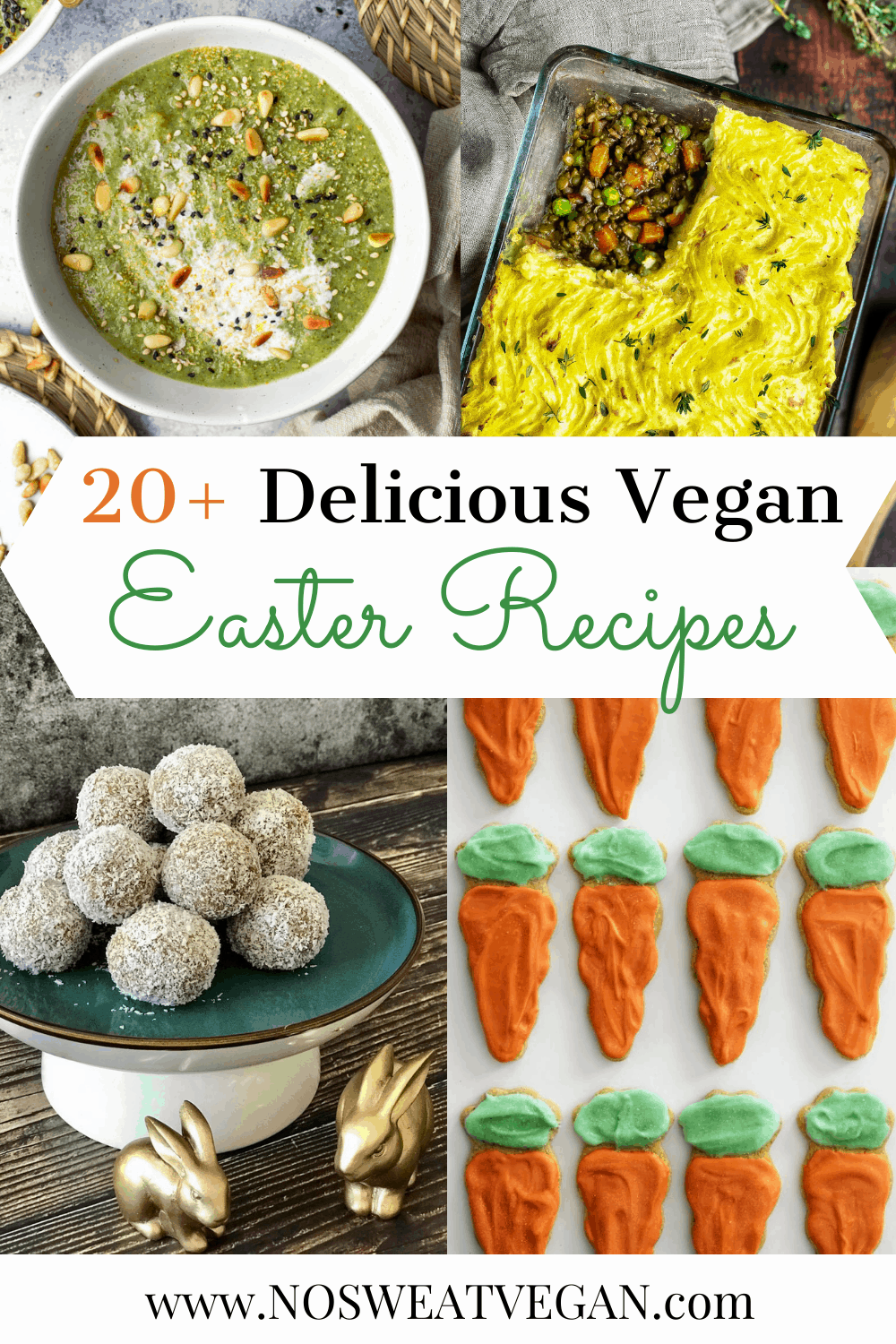 If you're trying to incorporate more plant-based options in your Easter Brunch or Dinner, you might find yourself in a bit of a conundrum. No ham? No quiche? No deviled eggs? Thankfully there is an endless variety of vegan brunch and dinner possibilities that are perfect for Easter. Here's my list of over 20 Delicious Vegan Easter Recipes to help make this year's holiday a little brighter!
These recipes offer up all the classic Easter Recipes but made Vegan, so you don't have to feel like you're missing out on anything.
Jump to:
You'll love these Vegan Easter Recipes because they're:
Delicious & Crowd-Pleasing
Simple & Easy
Vegan / Vegetarian
Egg-Free / Dairy-Free
Great for Kids & Families
Perfect for both big and small gatherings!
---
---
Easter Starters
Soups, salads, and appetizers. These Vegan Easter recipes are bright, colorful, and full of amazing springtime flavors! So dive in and find your favorite.
The crunch of spinach, the earthiness of the walnuts, the sweetness of the berries, and the kick of red onions are just the thing to start off your Easter meal right. The strawberry vinaigrette is oil-free and gets its flavor from the balsamic.
---
All the flavor of deviled eggs on a crunchy slice of baguette? Sign me up! Not only are these deviled-egg crostini super easy to make, but they're also 100% vegan. Firm tofu creates the right texture, while the kala namak offers the perfect eggy flavor.
---
This rich and velvety Roasted Carrot Soup is flavored with garlic and Moroccan spices and made hearty by lentils. Roasted carrots add a deep carmelized undertone. A perfectly cozy start to your big Easter meal.
---
This creamy, velvety potato leek soup gets its vibrant color from the leek greens. This soup is perfect for serving cold or warm as a starter or side dish at your Easter brunch or dinner.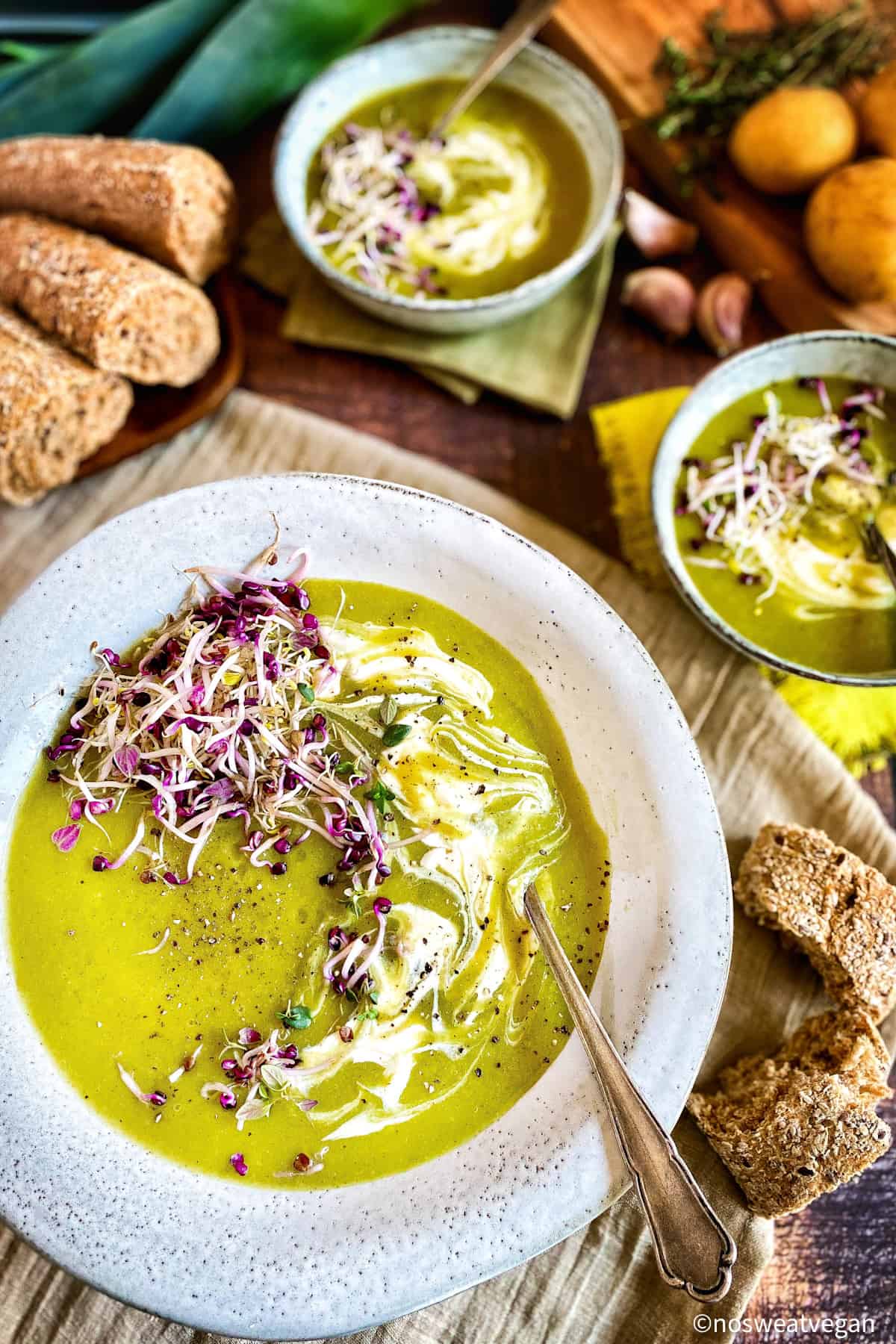 ---
These pretty and simple potato bites pack a ton of flavor. The starchy goodness of the potatoes combines with the decadent avocado and crunchy radish for a truly unique bite.
---
This vegan potato broccoli soup is creamy, packed with veggies, and gluten- free. Plus it's ready in 30 minutes! The vibrant green color is just right for your special Easter spread.
---
This comforting, creamy soup gets its sweetness from the roasted carrots. Just be sure to use veggie broth and this vegan soup will shine at your Easter feast.
---
Easy Easter Sides
Seasonal and delicious side dishes are an important part of any Easter spread. Everyone will love these classic vegan Easter side dishes!
---
This roasted carrot recipe is simple, rustic, and full of flavor. Plus, who doesn't love placing a colorful plate of roasted carrots on their Easter Sunday table.
---
Cooking Asparagus in the Air Fryer is super easy, requires almost zero prep, and takes less than 10 minutes. Easter is the perfect holiday for serving Asaparagus because it's fresh and in season. Serve with a squeeze of lemon and vegan parmesan for an amazing Easter side dish!
---
These scalloped potatoes are rich and creamy, decadent and comforting--all you could want from a holiday side dish. But guess what? They're also vegan, gluten-free, and made from healthy ingredients. Yes, please!
---
Delicious Easter Main Dishes
The main course might be the most challenging part of any vegan holiday meal--especially if not everyone at the table is vegan! But it doesn't have to be. Take a look through this collection of Vegan Easter Main Course Dishes that will please any palate.
This hearty and delicious Lentil Shepherds Pie is perfect for an Easter Dinner. The rich flavors of the lentils and veggies are balanced by the creaminess of the mashed potatoes. This is a vegan main your family is sure to love!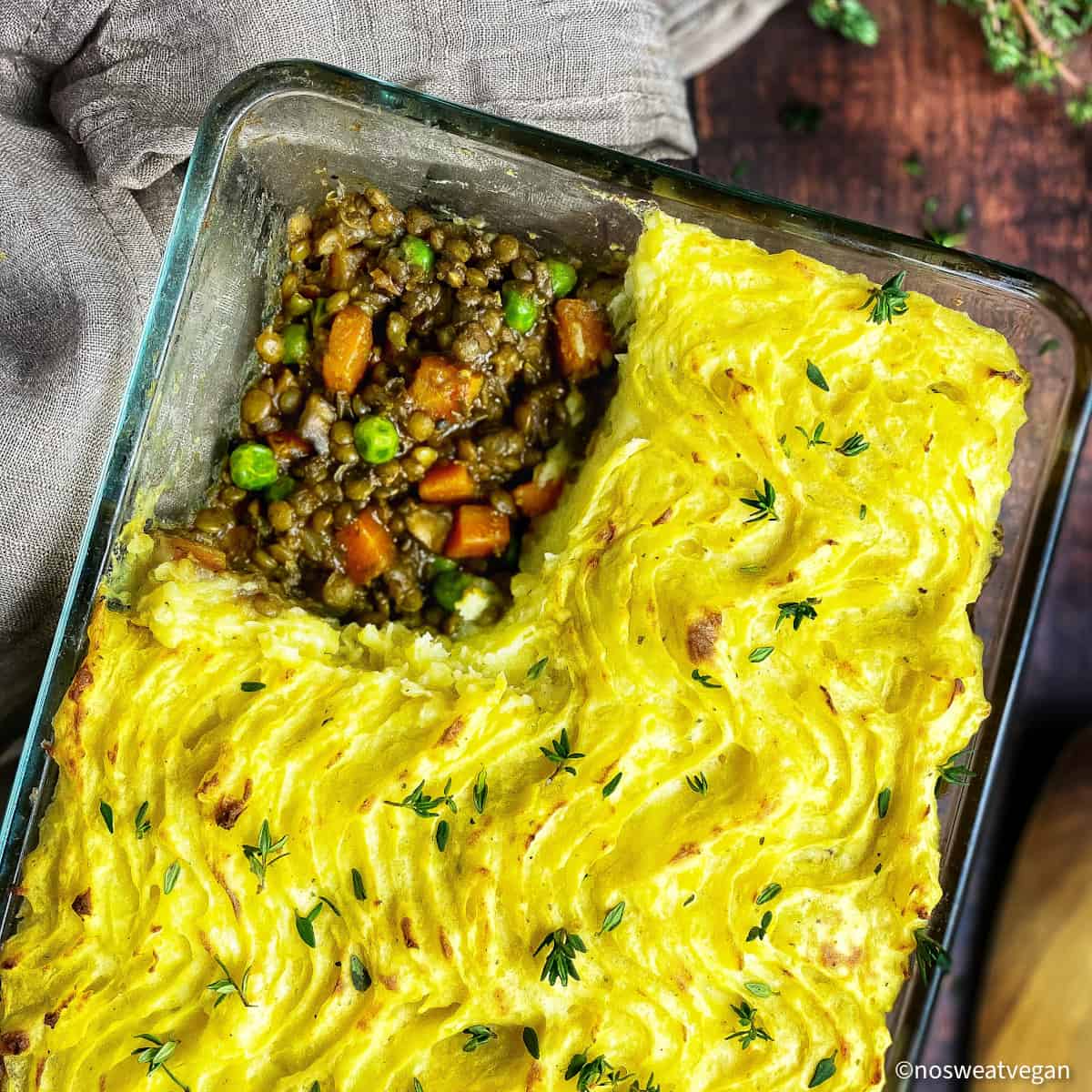 ---
When I think of Easter and springtime I think of bright colors and fresh veggies. This roasted vegetable pasta with pesto is so colorful and brimming with the fresh flavors of citrus and herbs. Plus it's oil-free!
---
This spring vegetable tart is super easy to make, packed with colorful veggies, and full of amazing flavor. It will make a gorgeous addition to any Easter table.
---
This delicious risotto combines the earthiness of mushrooms with the fresh, bright flavor of peas, not mention the creaminess of the risotto, for an unforgettable dish. Low on fat but high on comfort, this risotto is a must-have for any Easter meal.
---
Looking for a show-stopper main for your Easter dinner? Then you've got to try this Wild Garlic & Spring Veg Pot Pie! The combination of buttery pastry top, spring vegetables, garlic, and fresh herbs is just perfect!
---
If brunch is more up your alley, then it doesn't get much easier than this colorful breakfast hash. With less than 10 ingredients, it's a super simple addition to your Easter menu.
---
If you're craving the sweet and salty combo of a honey-baked ham but keeping it vegan, why not give this Pineapple Glazed Tofu a try? It's super easy to make and hits all the right flavor notes.
---
No Easter menu is complete without a quiche recipe, and what I love about this one is how simple, colorful, and flavorful it is. With a whole grain crust and dairy-free filling, you can't go wrong.
---
Scrumptious Easter Desserts
The sun is shining, the grass is green, and the air is full of . . . kids asking for treats! Not to worry here are some delicious vegan easter desserts you can feel good about sharing with your family (even if they've been sugared up all day).
If you're in the mood for carrot cake, but not for baking, then these no-bake carrot cake bites are absolutely perfect. Not only are they healthy (no sugar!), but they're also delicious. I dare you to eat just one!
---
These Carrot Sugar Cookies are so charming--the perfect addition to your Easter dessert menu. Not only are they vegan and gluten-free, but they have a carrot cake flavor. That's because there's carrot puree right in the batter. Who doesn't love a little nutritional kick that also satisfies your sweet tooth?
---
No matter if you're vegan or just looking for healthier options, if you're craving this quintessential Easter treat, then I've got good news for you: You can make Cream Eggs at home without all the preservatives, high-fructose corn syrup, and artificial ingredients.
---
Whether you're serving them as the sweet side of a brunch spread or reserving them for the dessert course, the buttery, creamy, and bright flavors of these tarts are sure to satisfy.
---
Nothing says Easter quite like moist, delicious carrot cake with a creamy, decadent frosting. Even better when it's vegan! These cupcakes will make a delicious finale to your Easter feast.
---
Related Recipes
Want access to my Exclusive Meal Planning Tips & Printables page?
Did you try this recipe? Have a question? Just leave a comment below and I'll get back to you ASAP!