This Butternut Squash Curry is creamy, luxurious, and oh-so-comforting. Made with roasted butternut squash, chickpeas, and an array of Indian spices, this mildly spiced vegan curry is perfect for a cozy night in.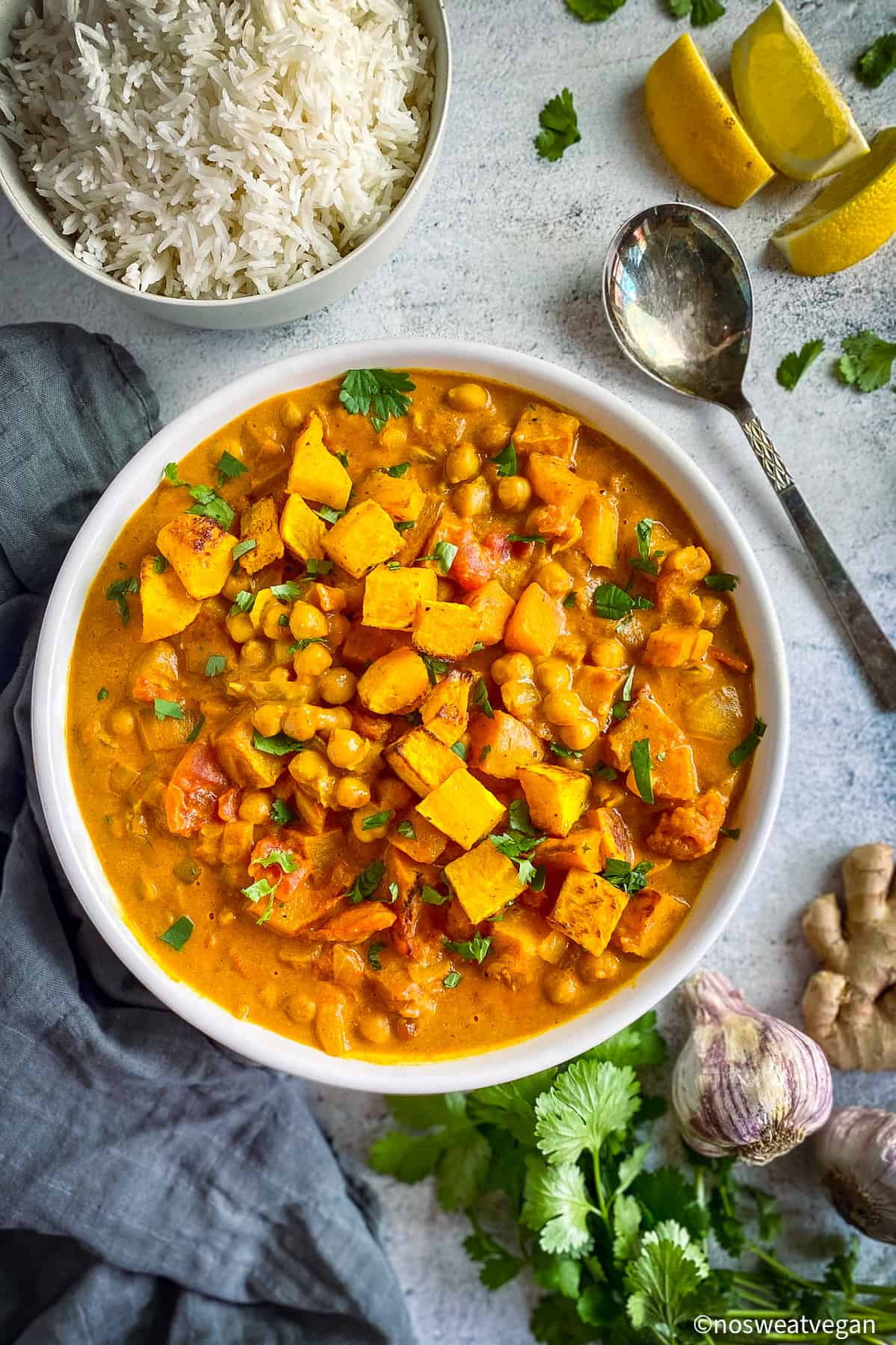 After testing my recipe for air fryer butternut squash I had a lot of leftovers, and I knew exactly what I wanted to do with it: Butternut Squash Curry! Chickpeas seemed like the perfect pairing for this simple yet luxurious dish.
Butternut Squash and Chickpea Curry is the perfect comfort food for fall or winter when Butternut Squash is in season, but you can also enjoy it year-round. The creaminess of the coconut milk and flavorful spices make this a meal I can't stop craving. Serve with basmati rice and chopped cilantro for the ultimate homemade Indian curry.
This is a relatively simple dish to make. Most of the time and prep work comes from cubing and roasting the butternut squash, but I've provided a few tips for cutting down and the time and work to make this vegan curry in less time, if needed. So dive on in, give it a try, and let me know what you think!
Jump to:
You'll love this recipe because it's:
Quick & Easy
Vegan / Vegetarian
Dairy-free
Kid-friendly
Gluten-Free
Easy to make WFPB
Healthy and Comforting
Full of Amazing Indian Curry Flavors
Absolutely Delicious!
---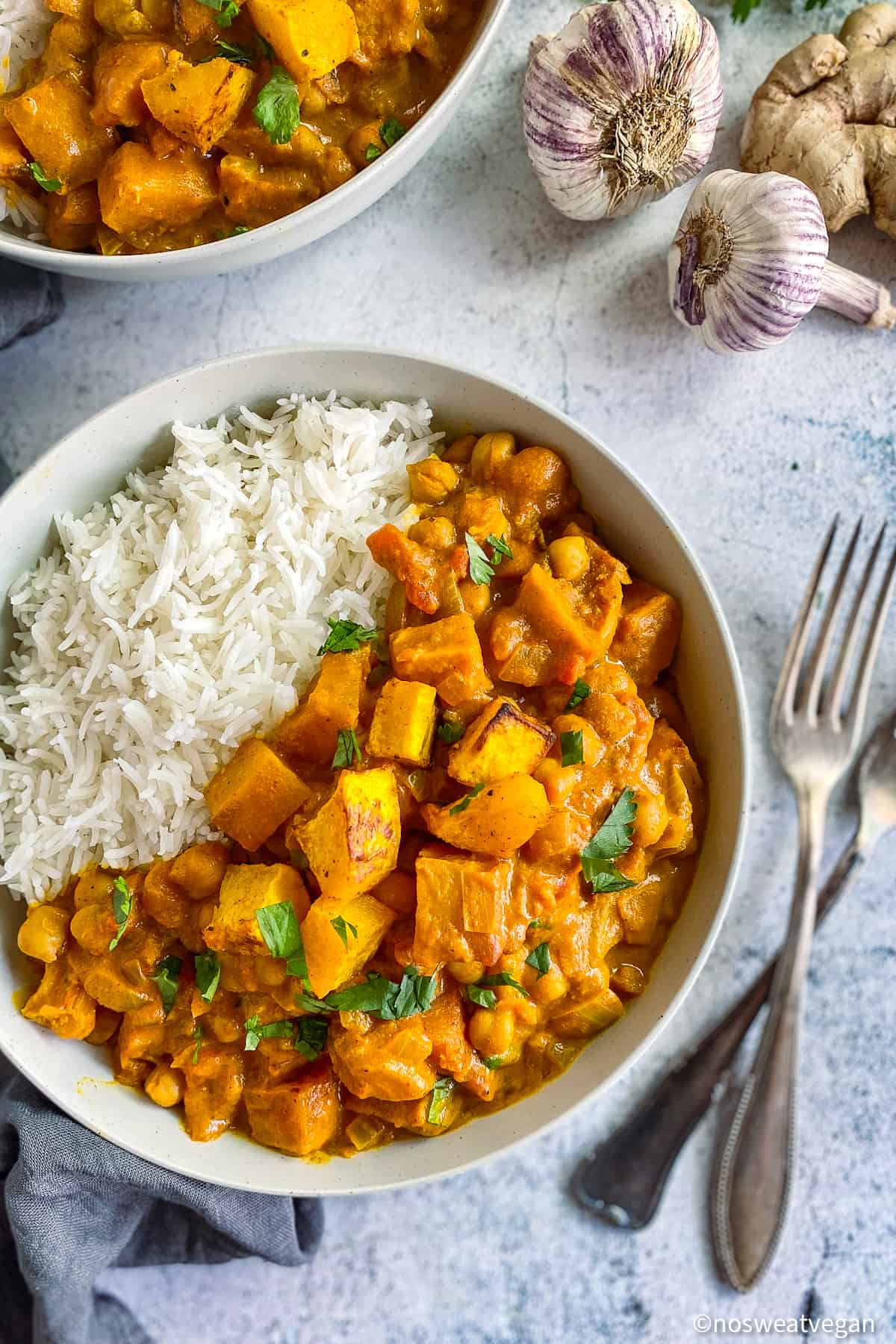 When is Butternut Squash in Season
Butternut squash is part of the winter squash family, which includes pumpkin, acorn squash, spaghetti squash, and so on. Unlike summer squash, they're denser and in season from early fall to winter. However, these days you can find them year-round at most American grocery stores.
Can I use air fried butternut squash?
Definitely! Just follow these instructions for Air Fried Butternut Squash and swap out the seasonings. You'll save about 10 to 15 minutes of roasting time.
Can I make this in an instant pot?
I haven't tried this squash and chickpea curry in an instant pot (yet!). However, I think it could work. Just sautee everything in the instant pot as you would in the skillet with a few modifications: You would probably need an additional 1 to 1 ½ cups of water or broth. Instead of roasting the squash, you would add it to the curry to cook with everything else. Pressure cook for 5 minutes. (Wait to add the coconut milk, lemon juice, and chickpeas until the very end.) For more tips, you can check out this instant pot butternut squash curry recipe.
Can I make this without coconut milk?
Yes. To make this vegan curry without coconut milk, you can substitute with a different kind of unsweetened plant milk. Add a drop or two of coconut extract if you want the coconut flavor.
---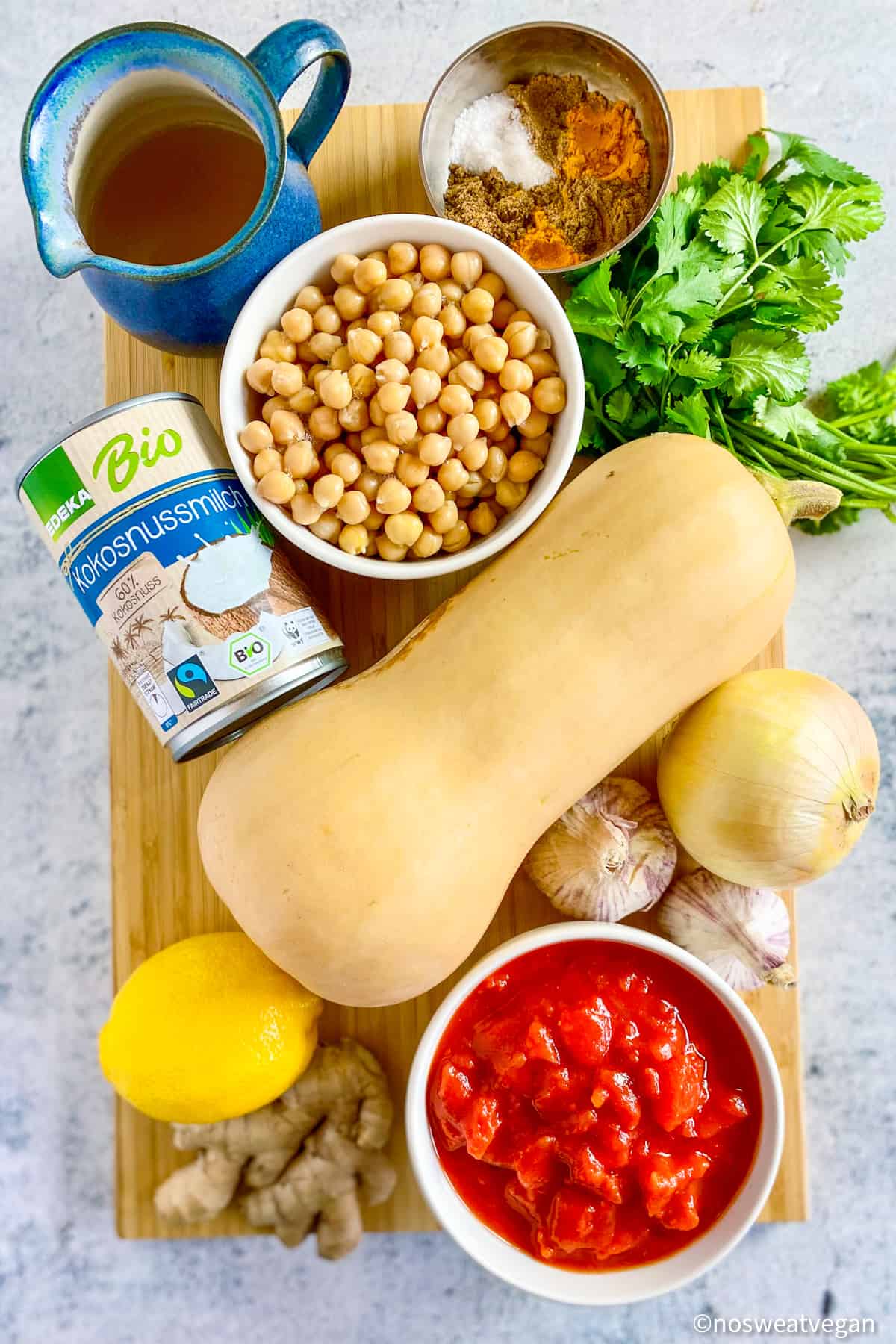 Ingredient Notes
For the roasted Butternut Squash
butternut squash: I used fresh but it's also possible to use frozen.
olive oil or aquafaba: This is mostly just to help the seasonings stick. You could skip this if you want.
medium curry powder, salt, fresh cracked pepper: I like to season the butternut squash while it's roasting.
For the Curry
vidalia or yellow onion: If you don't have one of those on hand, a white or red onion could be easily subbed.
fresh garlic: You could substitute with granulated garlic.
fresh ginger: You could substitute with ginger powder.
medium curry powder: I like this because it gives the curry a touch of spice without overpowering. Feel free to use whatever curry powder you have on hand.
cumin: Adding additional spices to this dish will help deepen the flavor. If you are missing one or two you can supplement with another tablespoon of curry powder.
coriander
turmeric: Adding turmeric in addition to the curry powder not only enhances the color but also the nutrition of this dish.
garam masala: This helps add a little flavor and a kick of spice.
chickpeas (drained and rinsed): I use canned chickpeas but if you have dried chickpeas that are already cooked they would also make a fine substitute.
canned diced tomatoes: Diced or crushed tomatoes are fine. Try to find some that are unseasoned. Otherwise, you might need to reduce the added salt a tad.
vegetable broth
reduced-fat coconut milk: Sometims called Lite Coconut Milk. This will add creaminess without going overboard. You could use full fat coconut milk if you prefer, but it will change the nutritional values.
lemon juice: For a touch of brightness and acidity.
Garnish
fresh cilantro
red chili flakes (optional: if you want to add more spice.)
---
Variations
Try subbing roasted sweet potatoes, acorn squash, or pumpkin for the butternut squash.
This recipe calls for yellow curry powder, which is more common in Indian dishes. If you only have Thai curry paste, you could still give this recipe a try, but I would definitely back off on the other spices and taste as you go.
If you have want to breathe new life into any leftovers, try adding more broth and blending for a curried butternut squash soup.
If you prefer this dish with chunks of tofu, try using my Tandoori Tofu from this Vegan Butter Chicken recipe.
If you want a more Paneer-like tofu, you could also sub my Tofu Paneer from this Vegan Palak Paneer recipe.
Instructions
Preheat the oven to 425F or 220C.
Peel and cube the butternut squash. (If you're new to butternut squash, click here for tips on cutting a butternut squash.) Place the cubed butternut squash in a small mixing bowl and drizzle with olive oil or aquafaba, salt, curry powder, and fresh cracked pepper.
Add the butternut squash to a lined baking sheet. Be sure to spread the cubes evenly on the baking sheet.
Roast the butternut squash for about 40 minutes, or until fork tender and lightly browned.
While the squash is roasting, do the rest of the prep work. This includes peeling and chopping the onion, grating the garlic and ginger, and draining and rinsing the chickpeas.
Heat a skillet over medium heat. Add the onions and sautee for 3 to 5 minutes, or until they start to turn translucent and smell aromatic. Add the garlic and ginger. Sautee for another minute.
Add the rest of the curry spices to the skillet and toast for 1 to 2 minutes.
Next, add the drained and rinsed chickpeas and sautee for 1 to 2 minutes. (Just long enough to add flavor to the chickpeas.)
Then add the crushed tomatoes and broth. Cook for another minute, until combined.
Now add the coconut milk and lemon juice. Stir to combine. Turn the heat down to low and simmer for 3 to 5 minutes.
When the butternut squash is done roasting, remove it from the oven and carefully add it to the curry sauce. Cook for another 5 minutes, or until the sauce is the right consistency.
Serve right away with basmati rice and cilantro.
---
Tips to save time
Due to prepping and roasting the butternut squash, this recipe takes about 55 minutes to make. If you wanted to cut that down to a more manageable 30 minutes, there are a few possibilities.
Use an air fryer to cook the butternut squash. This will take about 20 minutes rather than the 40 it takes to roast butternut squash in the oven.
Use precut butternut squash and save 5 to 10 minutes of prep time. (Or cut up the butternut squash ahead of time. A cubed butternut squash can last a few days in the fridge.)
Try cooking the butternut squash in the microwave for 5 minutes before roasting. This should save 15 to 20 minutes of roasting time.
Use frozen butternut squash this will save you 10 minutes of prep time and reduce the roasting time to 20 minutes. You'll need about 4 cups of frozen squash.
How to serve
Serve this Butternut Squash Curry with a side of basmati rice or vegan naan. Garnish with cilantro and lemon wedges.
For a delicious Indian-inspired dessert, whip up these Mango Lassi Popsicles (they need at least 6 to 8 hours to set.)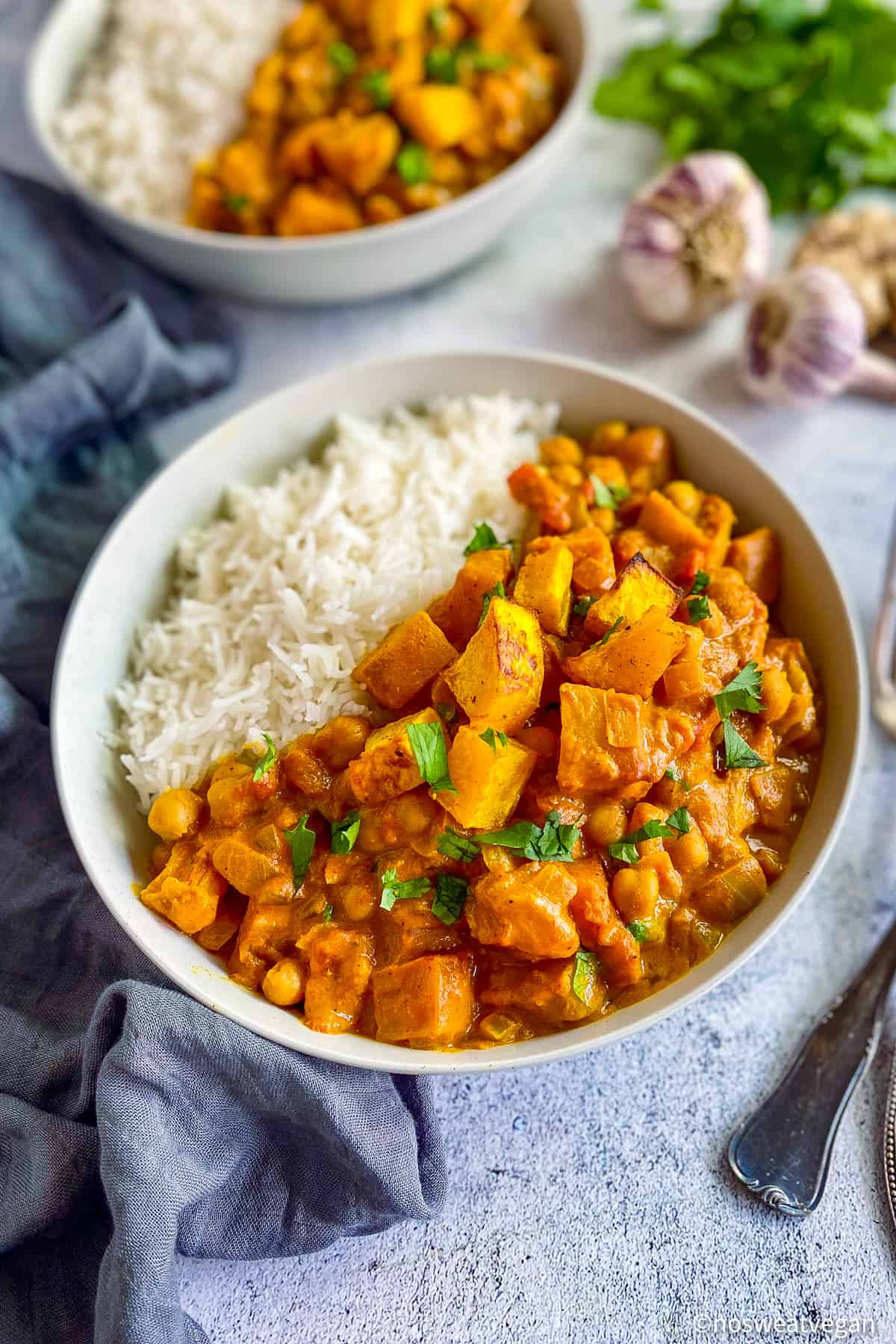 Can I make it ahead?
Definitely! This is a perfect make-ahead meal. Just cook, cool, and store in an airtight container in the refrigerator and reheat when you're ready to eat. Keep the rice separate or wait to cook the rice the day you want to serve the curry.
Reheat in a skillet with a little extra (¼ cup to ½ cup) water or veggie broth. This will keep the right consistency, as some of the liquid will evaporate during the reheating process.
How to store
Store in an airtight container in the refrigerator for up to 5 days.
Related recipes
---
📖 Recipe
Want access to my Exclusive Meal Planning Tips & Printables page?
Did you try this recipe? Have a question? Just leave a comment below and I'll get back to you ASAP!