This lightly sweetened Vegan Apple Crisp is the perfect fall dessert! The oat crumble topping is made without butter or refined sugar, so it's a healthier take on the classic. Serve with a scoop of vegan ice cream or banana nice cream for a light and delicious treat!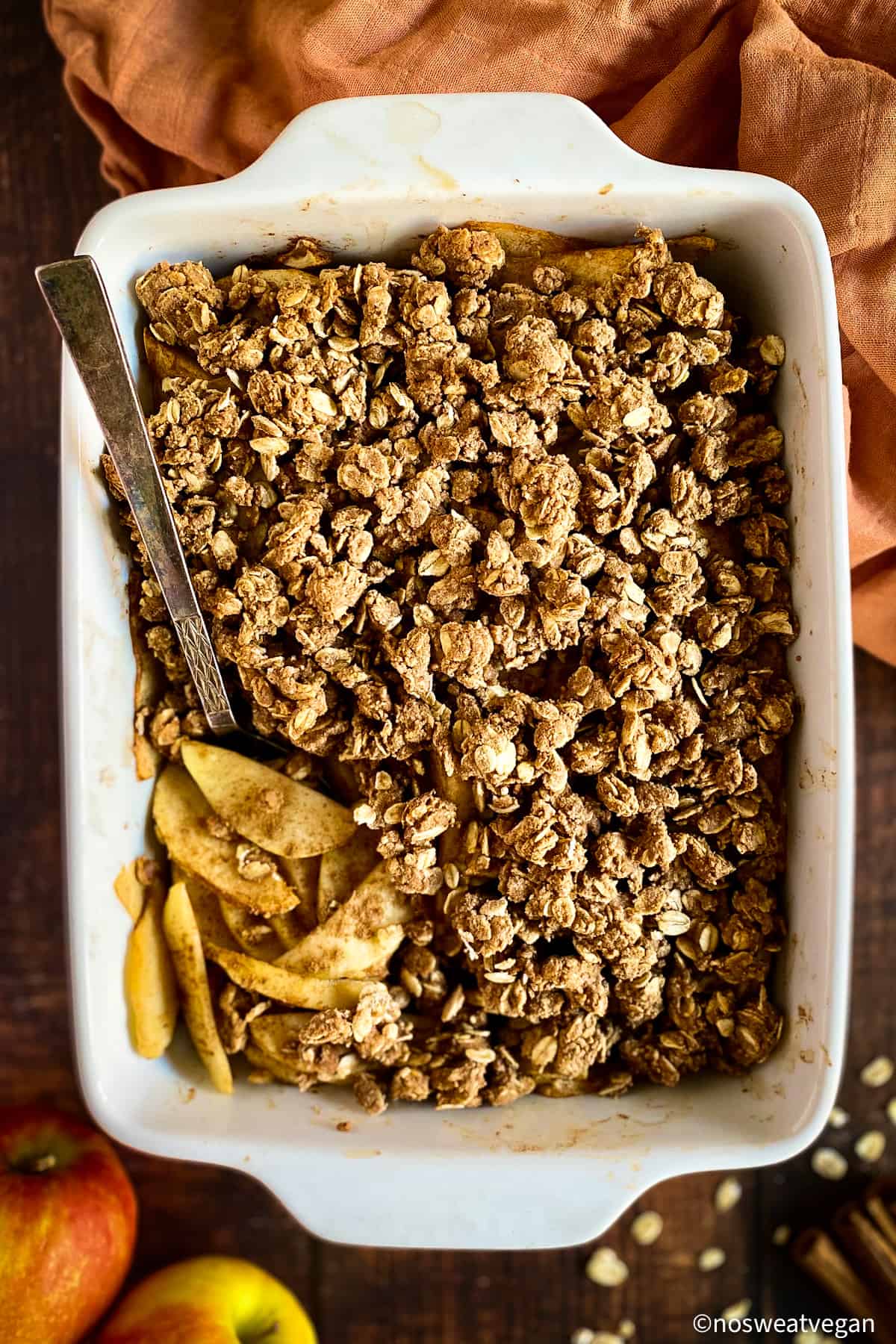 If you're looking for an easy vegan recipe that's perfect for those cool September and October nights, then nothing hits the spot quite like a good, old-fashioned apple crisp. If you've never had one before, it's like a crustless apple pie with a yummy streusel topping. Basically, the stuff of autumn dreams.
This delicious apple crisp is made with no butter, oil, or refined sugar, making it a healthier version of the comforting classic! I like mine topped with vegan vanilla ice cream, but if you want to keep it healthier, cinnamon banana nice cream would be perfect.
Jump to:
You'll love this Apple Crisp Recipe because it's:
A Perfect Fall Treat!
Simple & Easy
Vegan / Vegetarian
Dairy-Free
Kid-friendly
Easy to make Gluten-Free
WFPB
Made without Butter or Oil
Made without Refined Sugar
Healthy & Delicious!
---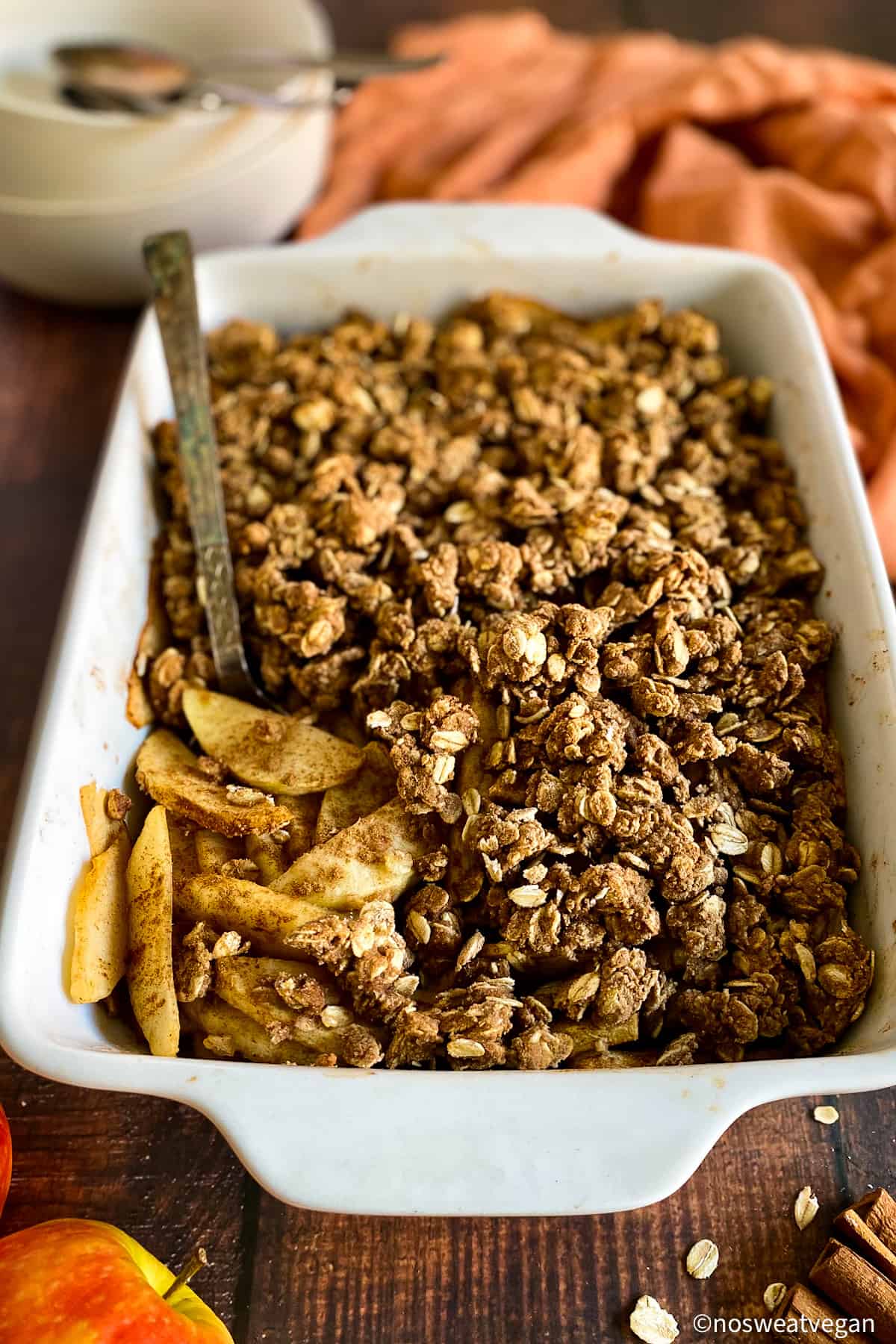 Can this be gluten-free?
To make this gluten-free just use gluten-free flour in place of the whole wheat flour. Oat flour would probably work best, and coconut flour might be a good second choice. Almond flour tends to be a bit denser, but it would add a unique flavor to the dish. (If you try any of these, please let me know how it turned out in the comments!)
What types of apples should I use?
For a little variety, I used 3 Pink Lady Apples and 3 Granny Smith Apples. However, you can use any type of apple that's good for baking. Here's a quick list of easy-to-find apples that would work for this apple crumble. For more detailed info, check out this breakdown.
Apples that are great for baking:
Pink Lady
Braeburn
Jonagold
Honey Crisp
Granny Smith
Can I make this without peeling the apples?
I prefer this crisp with the apples peeled. However, you can leave the peel on to save time if you like. Or you could do a quick partial peel. Whatever you prefer will work!
What sized baking dish should I use?
I used a medium-sized, rectangular dish (roughly 11 x 7 inches or 28 x 18cm), however, a square 8 x 8-inch dish (20 x 20cm) would also work.
Don't be worried if the apples come up the top of the dish at first. After you prebake them, they will reduce in size, giving you enough room to add the streusel topping.
---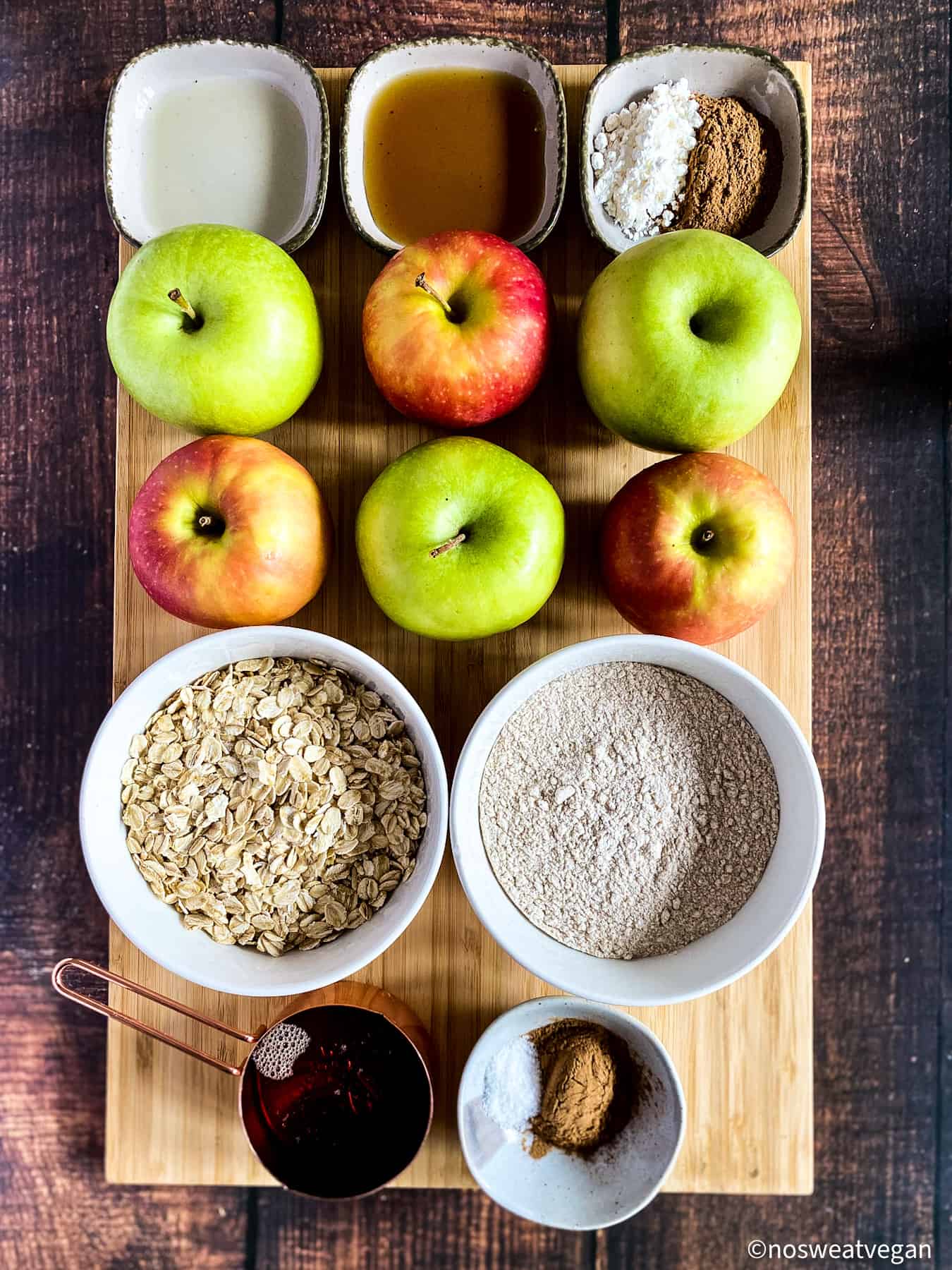 Ingredients
Apple Filling
6 apples: You will need roughly 5 to 6 apples depending on the size. If they're really big apples you might be able to get away with 4. I used 3 Granny Smith and 3 Pink Lady apples. For more tips on choosing apples, see the section above.
3 tablespoons maple syrup: This will add a little extra sweetness and depth.
2 tablespoons cornstarch or arrowroot powder
1 tablespoon cinnamon
1 tablespoon lemon juice: You could also substitute orange juice if you're out of lemon juice.
1 teaspoon allspice
½ teaspoon salt: This will enhance the spices but if you're following a low-sodium diet you can leave this out.
¼ teaspoon nutmeg
Crisp Topping
1 cup white whole-wheat flour: You could also use all-purpose flour in place of the whole wheat flour.
1 cup rolled oats
½ cup maple syrup: This takes the place of both the brown sugar (as a sweetener) and the vegan butter (as a wet ingredient/binder).
1 tablespoon cinnamon
½ teaspoon salt
---
Variations
For a little extra crunch, try adding crushed walnuts or pecans to the crisp topping.
Instead of using 6 apples, you could try 3 apples and 3 pears.
Add dried cranberries to the apple mixture for a little extra tartness and flavor.
If you prefer an easier and quicker version of a fruit crisp or crumble recipe, check out this Vegan Berry Crumble.
Instructions
Preheat the oven to 350F or 175C.
Peel the apples and either slice them into thin slices or cut them into thumb-sized chunks.
Add the apple slices to a large mixing bowl with the rest of the apple filling ingredients. Mix to combine. (Make sure to break up any apple slices that are stuck together so that all of the apples get coated in the spice mixture.)
Add the apples to a baking dish and cover with aluminum foil. Bake, covered, for 25 minutes. (This will help to prebake the apples so they will be done at the same time as the topping.)
While the apples are prebaking, make the topping. Whisk the whole wheat flour, rolled oats, cinnamon, and salt in a bowl.
Next add the maple syrup and mix to combine. After the maple syrup is combined you will need to break up the mixture into smaller chunks.
After the apples have baked for 25 minutes, remove them from the oven and take off the foil.
Use your fingers to crumble the topping mixture over the apples. Spread the topping evenly over the apples.
Return the apple crisp to the oven and bake, uncovered, for another 30 to 35 minutes, or until the apples are soft and the juices are starting to bubble around the edges of the baking dish.
Let cool for 5 to 10 minutes. Serve with a scoop of vegan ice cream and enjoy!
---
Troubleshooting
Why didn't my apples get soft? You probably needed to cut the apples in thinner slices (or smaller chunks). Make sure to follow the instructions to prebake the apples.
Why did my apples get so mushy? It's possible you cut the apples too thin or that your oven is running a little hotter. Next time reduce the cooking time by 5 to 10 minutes.
Why did my topping overcook? Be sure to place the baking dish on the middle rack of the oven and cover for the first half of the cooking. Next time, try reducing the cooking time by 5 to 10 minutes.
How to serve
Serve this apple crisp warm or cold with a scoop of vegan ice cream or banana nice cream!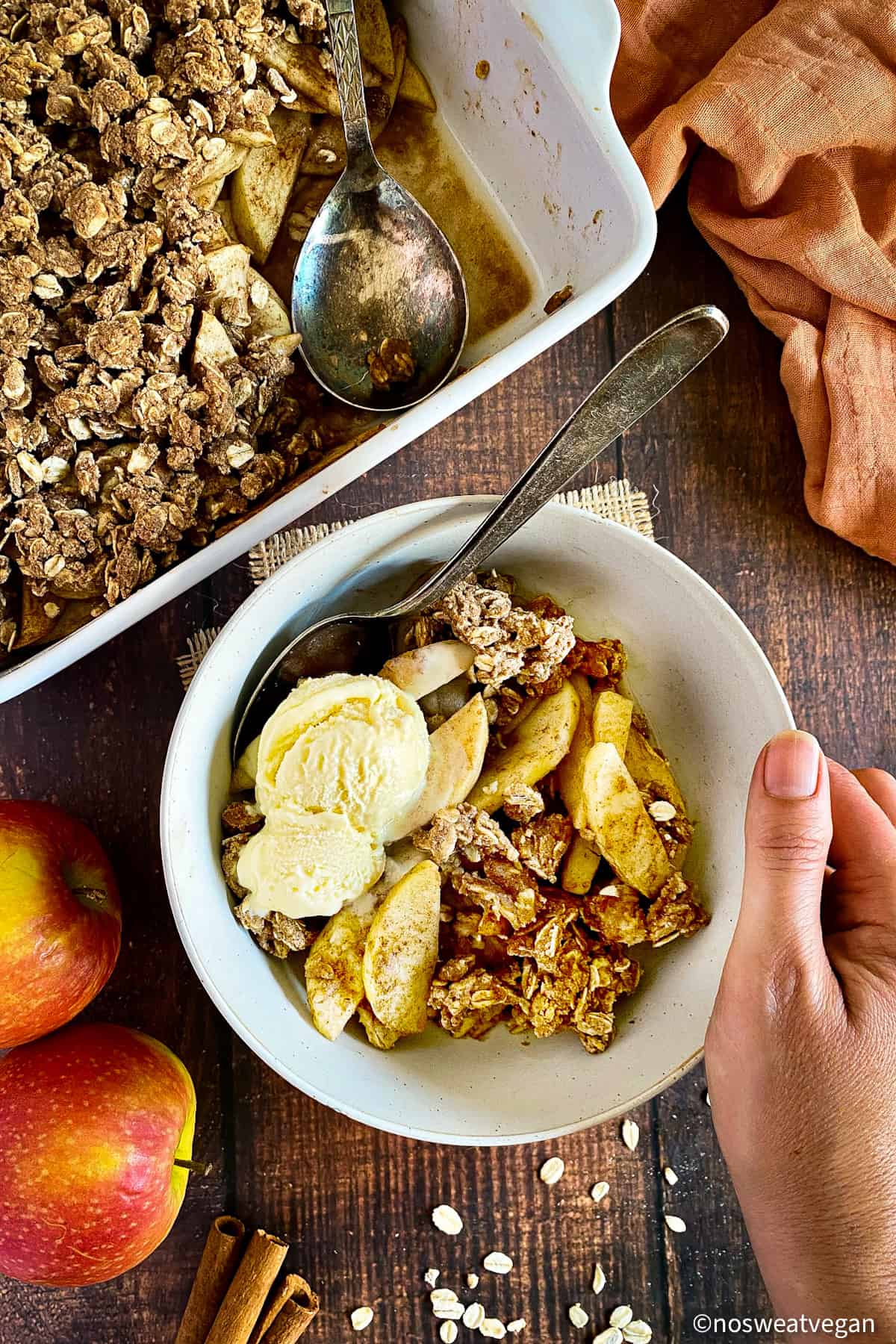 Can I make it ahead?
Definitely! In fact, I think this dish tastes better the next day as the spices start to deepen and enhance the flavors of the apples!
How to store
Store any leftovers in an airtight contain in the refrigerator for up to a week.
More vegan dessert recipes
---
📖 Recipe
Want access to my Exclusive Meal Planning Tips & Printables page?
Did you try this recipe? Have a question? Just leave a comment below and I'll get back to you ASAP!