This Vegan BBQ Jackfruit (aka Jackfruit Pulled Pork) is super easy, pop it in the oven with sliced onions, BBQ sauce, and the right seasonings, and it's done in less than 30 minutes! Tangy and sweet--perfect for piling on a bun with your favorite toppings. Or get creative and use it for tacos, pizza, or a vegan quesadilla filling.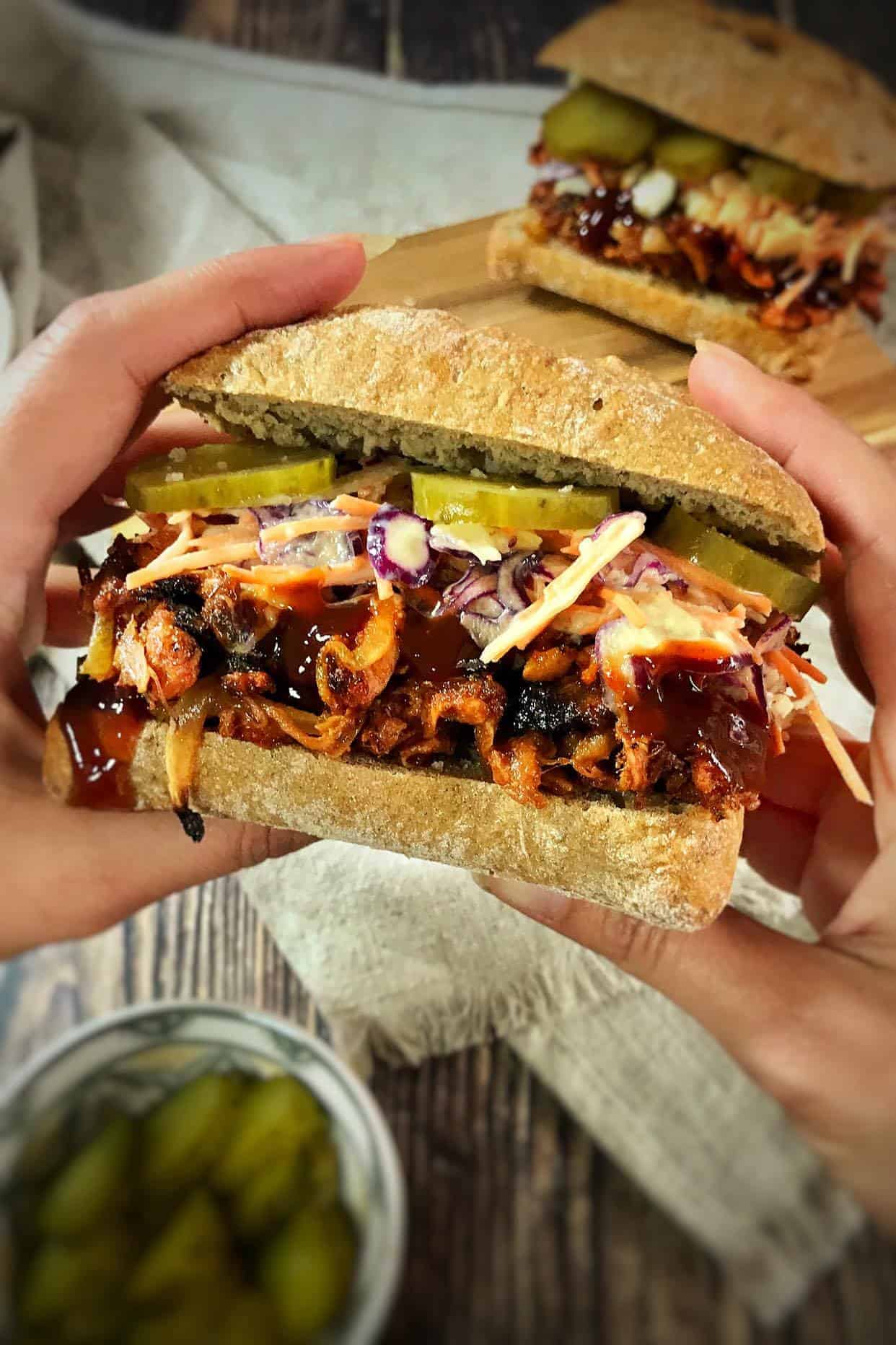 Have you heard of jackfruit? Have you tried it yet? You definitely should! Jackfruit is one of the trendiest foods in the vegan world right now. There are so many ways to prepare this ingredient, but one of my favorites is the humble BBQ Jackfruit sandwich. It's sweet, tangy, and so easy to prepare.
The beauty of jackfruit is the stringy, meaty texture that's almost indistinguishable from shredded chicken or pulled pork. Young jackfruit has a neutral flavor that's easily masked by BBQ sauce or other seasonings. Pile on a bun along with pickled cabbage or a creamy vegan coleslaw. Your Omni friends won't even know the difference!
Jump to: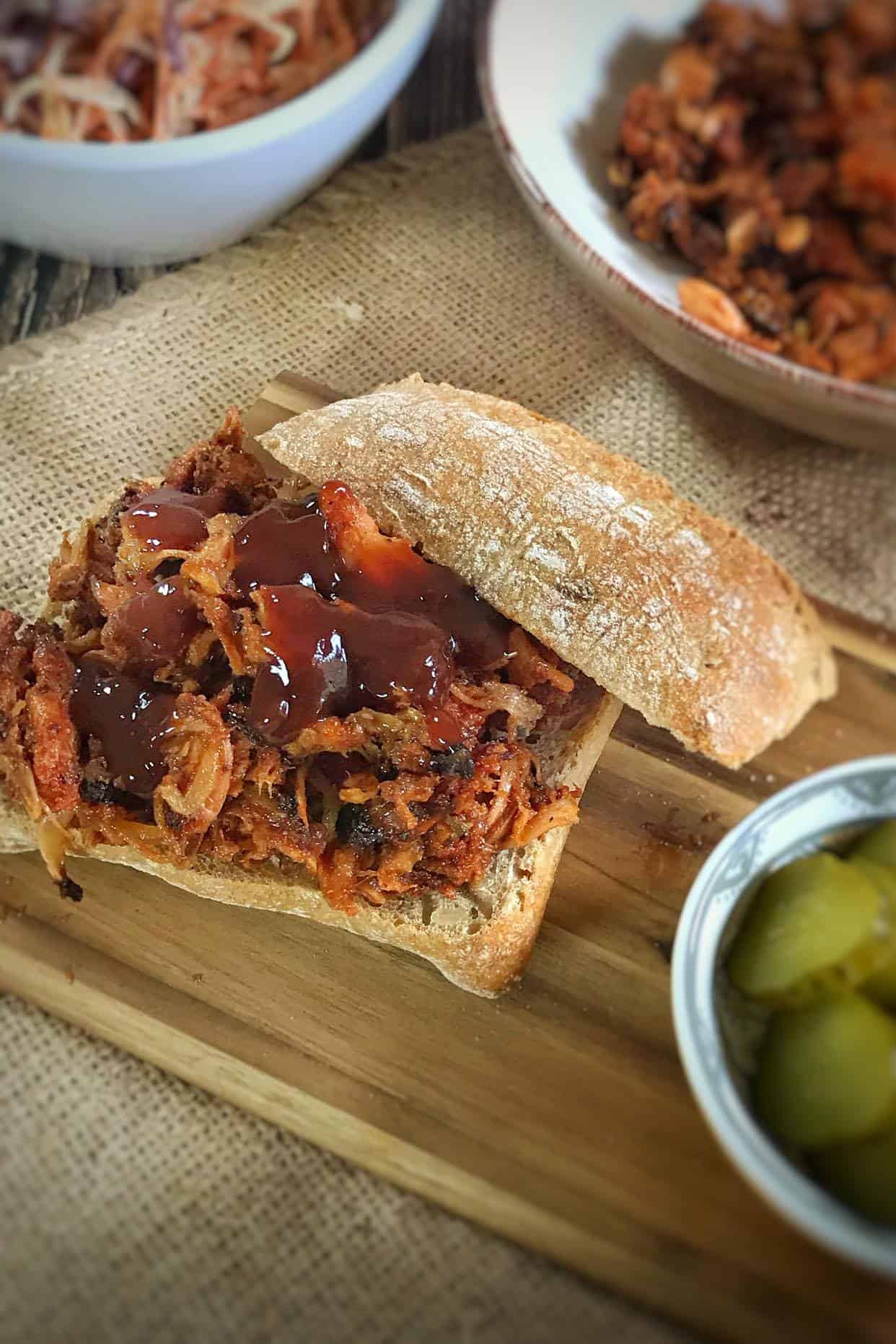 ---
You'll love this BBQ Jackfruit Recipe because it's:
Quick & Easy
Vegan / Vegetarian
Healthy & Oil-Free
Gluten-Free
An Easy Plant-Based Meat Alternative
Absolutely Delicious!
---
What is jackfruit?
This large, spiky green fruit might seem a bit intimidating, but thankfully, many grocery chains are now stocking canned jackfruit. Just be sure to get young jackfruit because the ripe variety is sweet and often canned with sugar.
Jackfruit has a great, meaty texture that's perfect for using as a meat substitute in Vegan BBQ, Curries, Stews, Vegan Crabcakes, and more.
Jackfruit vs Durian
Some people get jackfruit and durian confused because they look similar. They're both large, pale green, tropical fruits. From the exterior, an easy way to know the difference is that jackfruit has a pebbly shell while the durian is spiky. However once you cut them open, you see that durians have much larger fruit, while the jackfruit seeds are smaller. The biggest difference is taste and smell. While the jackfruit is mild and slightly sweet, the durian is quite pungent. Apparently, the smell is so strong, the durian has been banned on public transit in certain parts of the world. Yikes!
Where to buy jackfruit?
The easiest type of Jackfruit to buy is probably canned Jackfruit. Trader Joe's currently stocks jackfruit in a green can, similar to the one below, and other grocery chains are following suit. Check the health-food section or the Asian aisle. If that doesn't work, you can always order online. Here's a link to a popular variety of Jackfruit.
Some grocery chains are also starting to carry fresh Jackfruit -- I've seen both whole Jackfruits and precut Jackfruit. I've also tried preseasoned Jackfruit in vacuumed sealed plastic packaging. That jackfruit had a much darker color, though, and I didn't love the seasonings, so I prefer to buy the plain, canned jackfruit and add my own sauces and seasonings.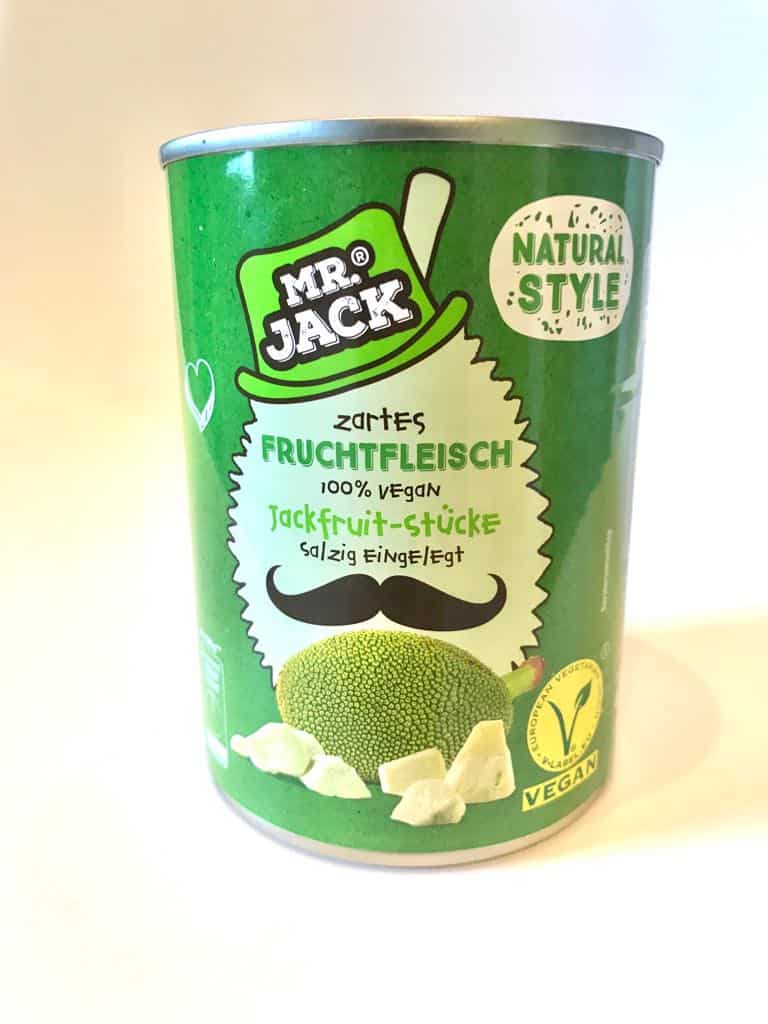 Ingredient notes
canned young (unripe) jackfruit: It's important that you don't buy ripe or sweetened jackfruit.
sliced onion
powdered veggie broth: poultry seasoning or something similar will also work
powdered garlic: All of the seasonings just add to the flavor.
BBQ sauce You can use my homemade BBQ sauce (linked) or your own favorite brand.
Instructions
There are many different techniques for making BBQ Jackfruit, but as a lazy super busy mom, I prefer this method for its simplicity. Just shred the jackfruit, mix the ingredients, and throw it in the oven for 25 to 30 minutes.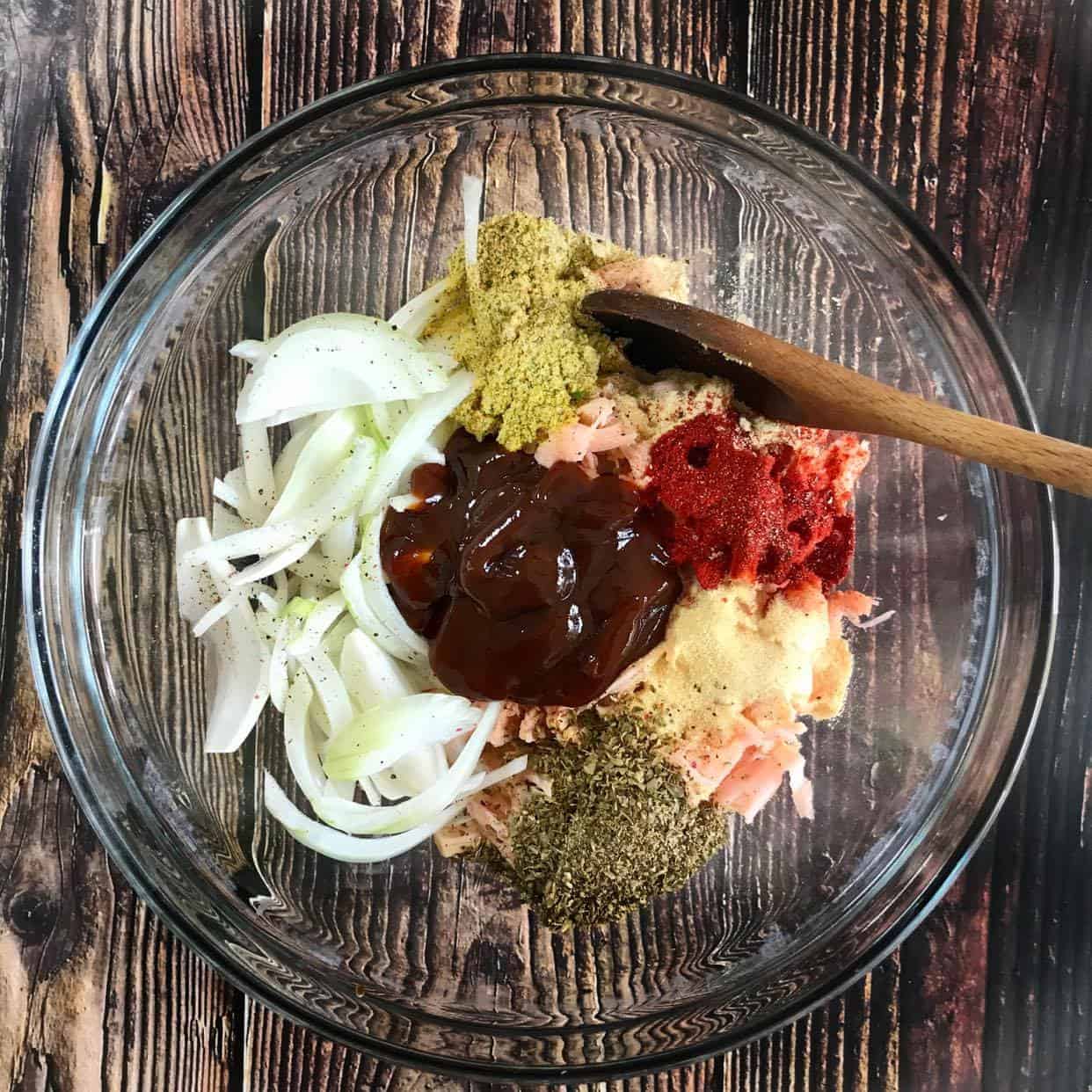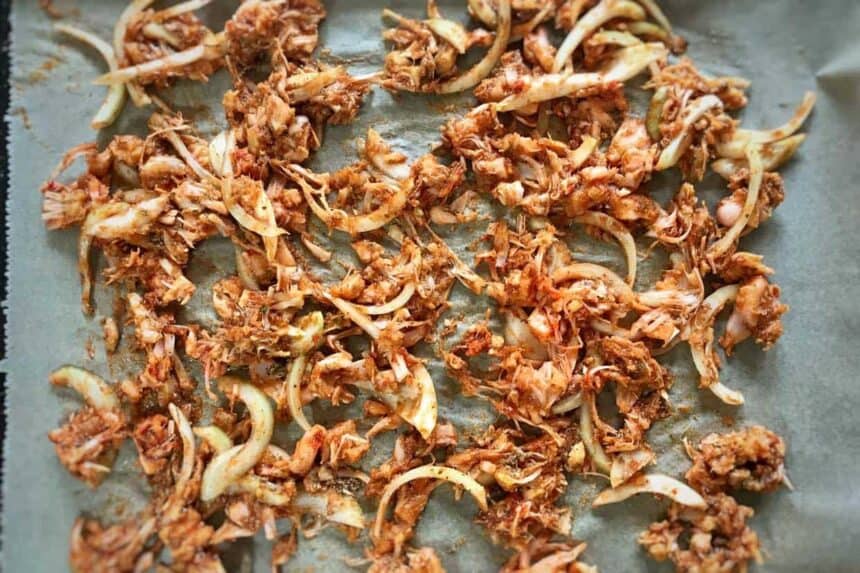 While it's cooking, you'll have 30 glorious minutes to check social media do the dishes. Which means you won't have any cleanup after dinner! Bonus!!
About halfway through the cooking time, you should pull the jackfruit out to move it around on the baking sheet, scraping any bits that are sticking to the bottom and redistributing evenly across the pan. This will also give you a chance to break up any large bits.
You'll know it's done when the edges are nice and crispy. Remove from the sheet pan, add another ¼ BBQ sauce and it's ready to serve. Pile on a sandwich with creamy vegan coleslaw or serve on a flatbread pizza or wrap!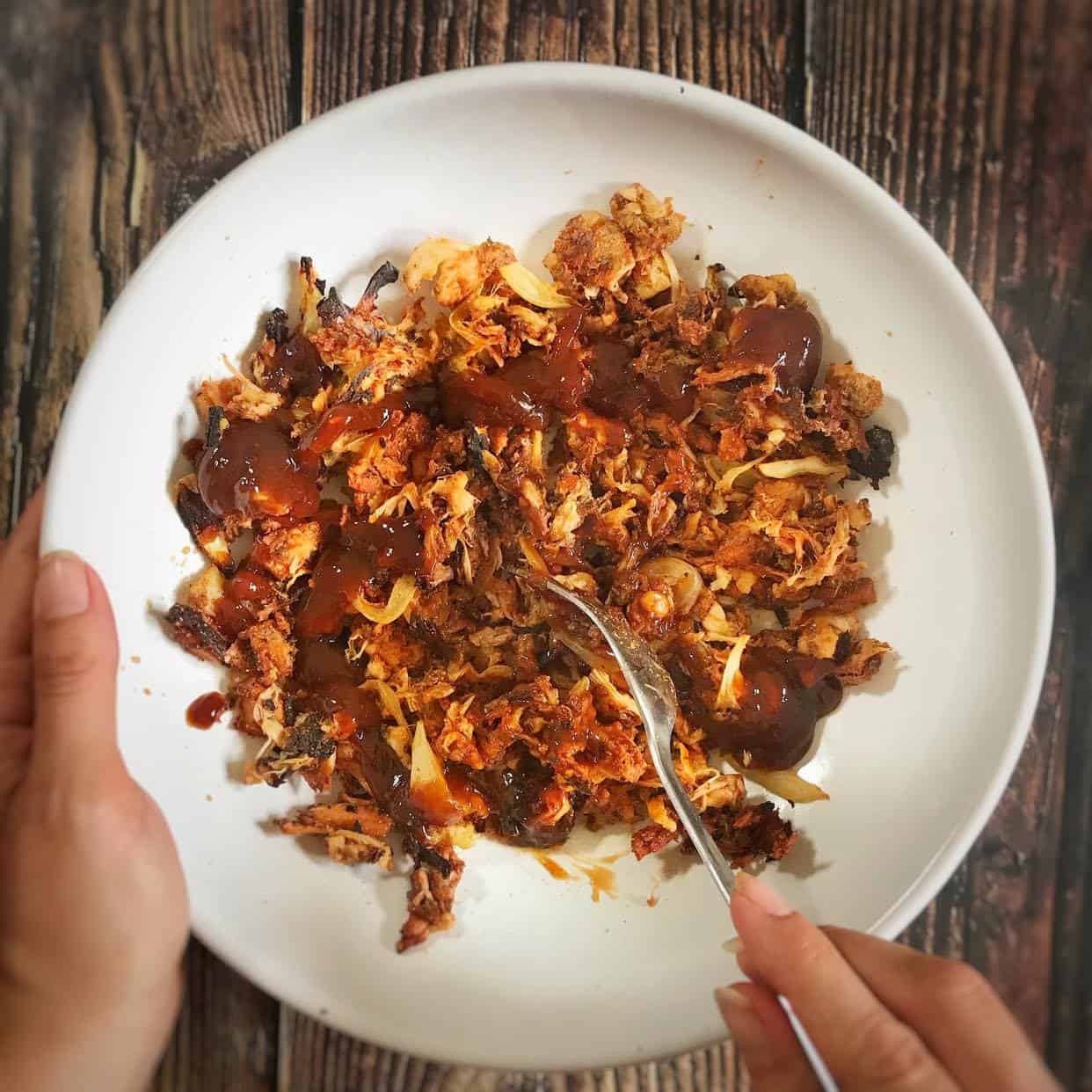 If you want to serve as a sandwich, simply pile the bbq jackfruit on a bun with your favorite toppings. I like it with vegan coleslaw and pickles! Enjoy!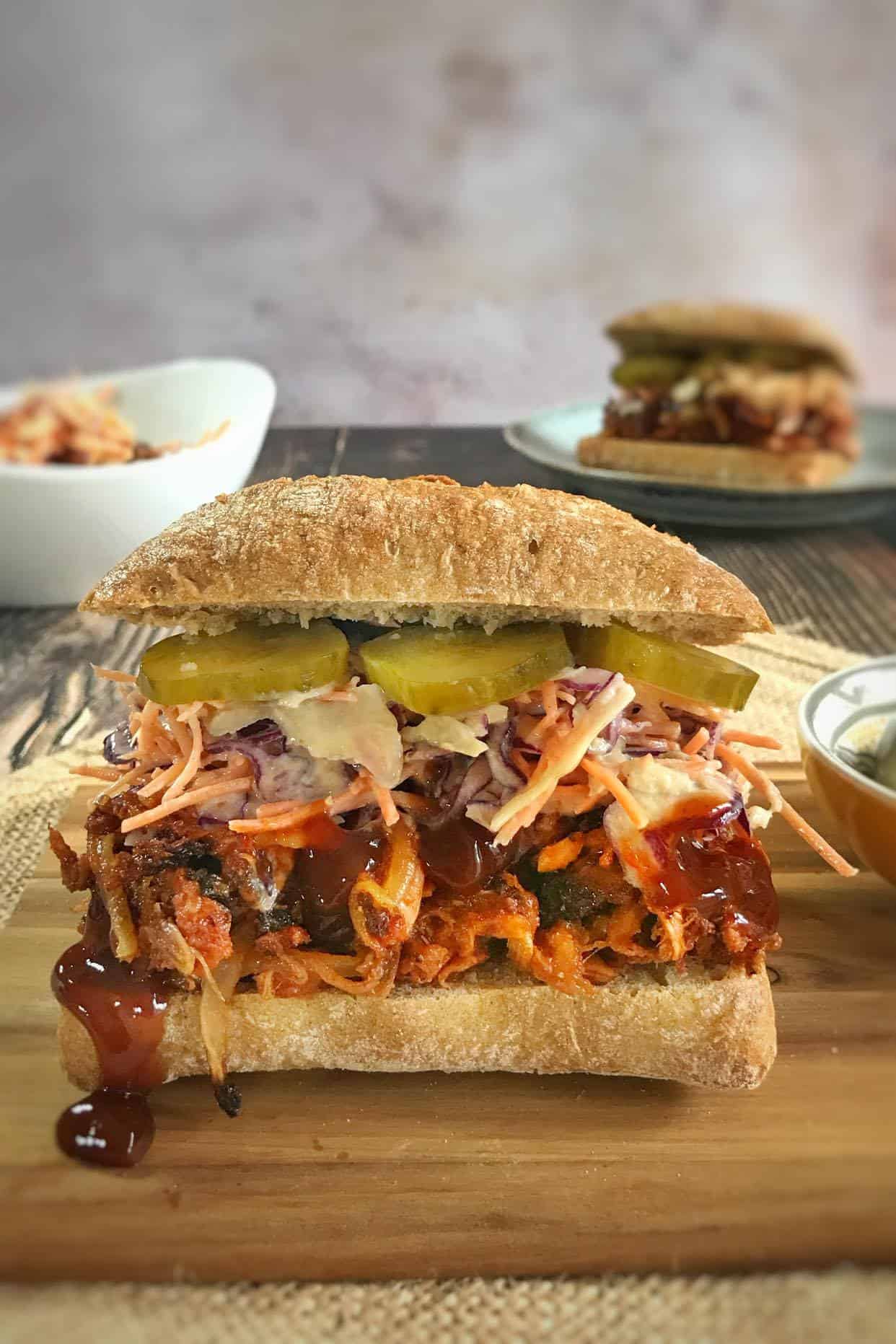 ---
How to Serve
How to Store
Store any leftovers in an airtight container in the fridge for up to a week.
Related recipes
More tips on going vegan
📖 Recipe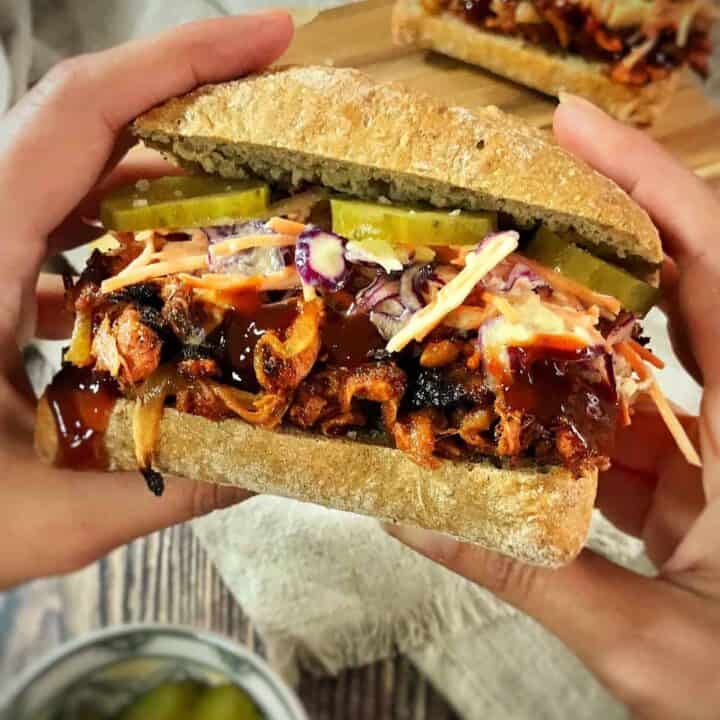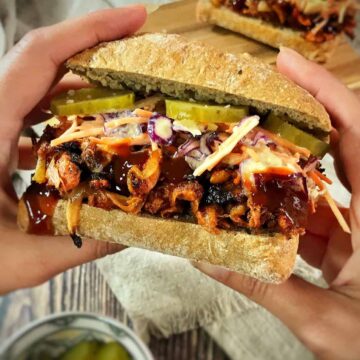 BBQ Jackfruit
BBQ Jackfruit is super easy, cut pop it in the oven with sliced onions, BBQ sauce, and the right seasonings, and it's done in less than 30 minutes! Tangy and sweet--perfect for piling on a bun with your favorite toppings. Or get creative and use it for tacos, pizza, or a vegan quesadilla filling.
Instructions
Preheat oven to 425°F or 220°C.

Drain and rinse your jackfruit. (You don't need to discard the seeds--they will get broken down in the oven.)

Place the jackfruit in a bowl or pan. Using two forks, shred the jackfruit. Set aside.

Slice your onion into thin strips.

Add the jackfruit to a mixing bowl with the spices, onions, and BBQ sauce. Stir to combine.

Spread the mixture evenly over a lined baking sheet.

Place the jackfruit in the oven and roast on 425°F or 220°C for 25 to 30 minutes. After 15 minutes you should pull the jackfruit out of the oven to loosen it from the sheet with a spatula and redistribute. You might also notice a few more bits of the jackfruit that need to be broken up.

When the edges are starting to get crispy and brown, the jackfruit is done. Remove from the oven, stir in another ¼ cup of bbq sauce, and serve immediately!
Save this Recipe
Saved!
Notes
This recipe makes 2 to 4 servings. If you're making bbq sandwiches, it really depends on the size of your buns. For my family of two adults and two children, this is the perfect amount. However, if you're making this recipe for adults or teens, you might want to double the recipe.
To get the edges crispy in the oven, be sure to distribute the jackfruit evenly over the sheet pan.
If you want to sub out liquid vegetable broth for powdered broth, cook the jackfruit in a skillet with 1 cup of vegetable broth before transferring to a sheet pan for baking.
You can use this homemade BBQ sauce or your favorite brand.
Nutrition
Calories:
106
kcal
Carbohydrates:
23
g
Protein:
2
g
Fat:
1
g
Saturated Fat:
1
g
Polyunsaturated Fat:
1
g
Monounsaturated Fat:
1
g
Sodium:
1002
mg
Potassium:
220
mg
Fiber:
2
g
Sugar:
14
g
Vitamin A:
964
IU
Vitamin C:
3
mg
Calcium:
51
mg
Iron:
1
mg
Did you try this recipe? Have a question? Just leave a comment below and I'll get back to you ASAP!