Korean Tofu is spicy and delicious, with the distinct flavor of Gochujang, a Korean chili paste. Serve over rice with a vegetable side or add to a Bibimbap bowl. This spicy tofu recipe is absolutely addicting!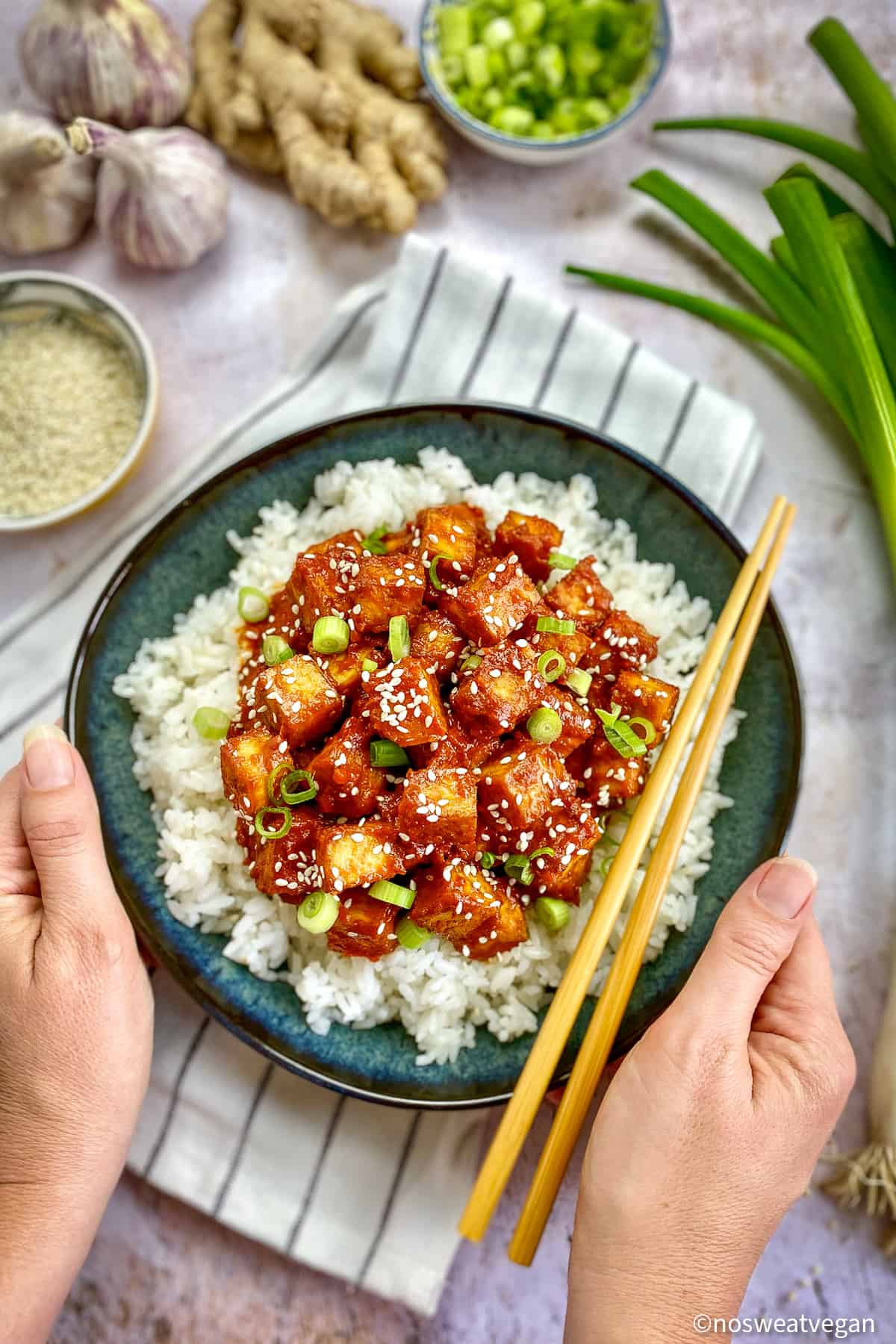 If you like spicy Asian-inspired food and you've been itching to try a Vegan Korean Recipe, then I have a treat for you! This Korean Tofu is full of insanely delicious flavors and it's got just enough spice to satisfy. The sauce uses a combination of sweet, earthy, tangy, salty, and, of course, spicy components to reach a truly addictive tofu dish that I just can't get enough of.
I adapted this recipe from a similar dish called Spicy Korean Braised Tofu or Dobu Jorim. It's similar to Korean BBQ Tofu but not quite the same. To keep this oil-free I decided to use tahini (sesame-seed paste) instead of the more traditional sesame-seed oil.
I'm a big fan of adding spicy elements to a meal. But as with my vegan chipotle mayo and vegan buffalo sauce, this dish needs balance. Serving this tofu with rice and steamed veggies is an easy way to get that spicy kick without overdoing it.
Jump to:
You'll love this Korean Tofu recipe because it's:
Spicy and Insanely Flavorful!
Quick & Easy
Vegan / Vegetarian
Easy to make Gluten-Free
Easy to make in an Air Fryer
Oil-Free
Super Satisfying
Delicious & Addicting
---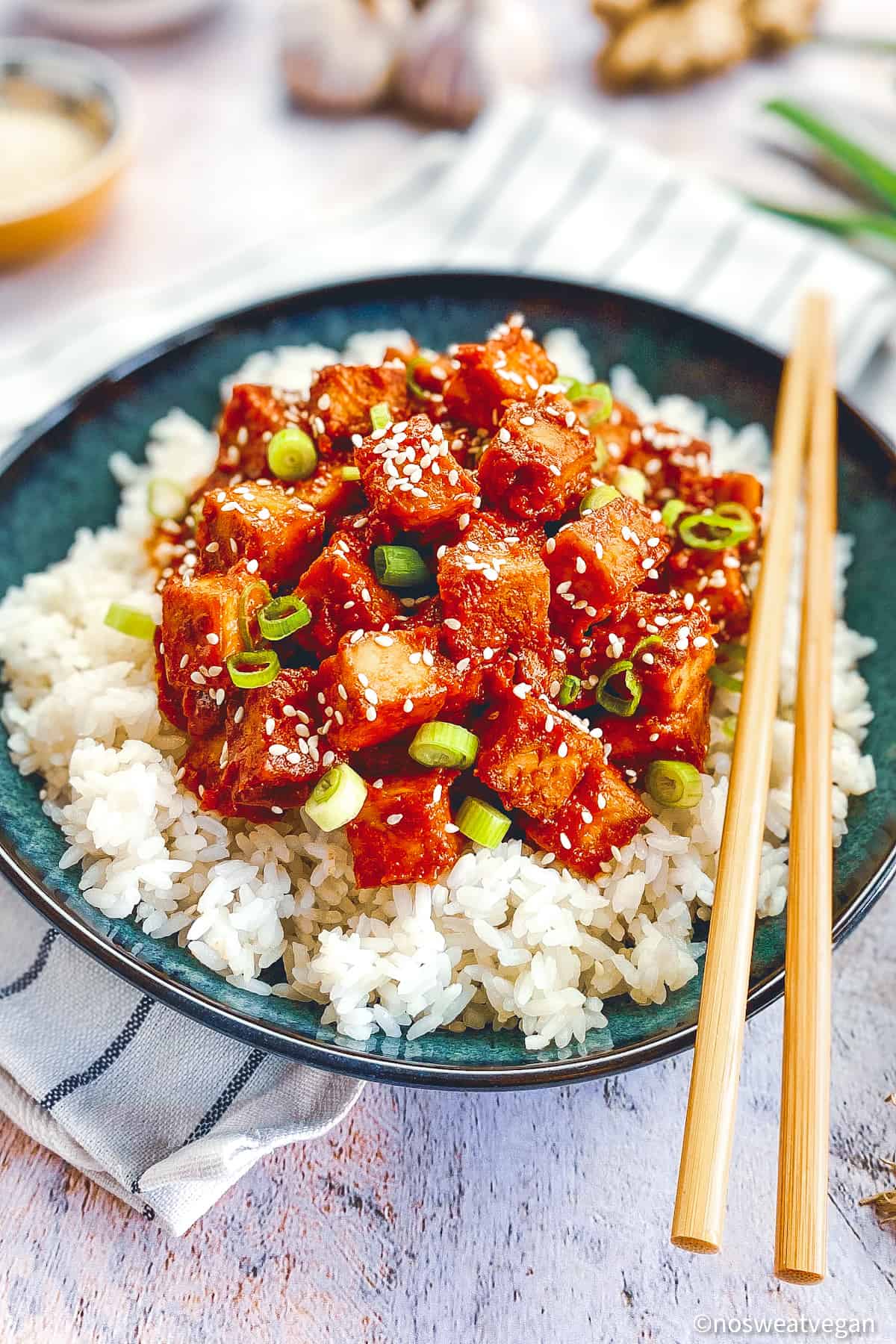 What is Gochujang?
If you've ever had the pleasure of eating Korean food, then you've probably tasted Guchjang. It's a distinctive red chili paste that is common in many Korean dishes including Kimchi.
You can buy Gochujang at your local Asian market, and it's probably even available in the International section of most large grocery stores. You can also order Gochujang paste online.
Can this be less spicy?
The signature ingredient in this dish is gochujang paste, which is inherently spicy. When mixed with the other ingredients it mellows a bit but still has a solid kick (which is why I recommend serving this dish with rice).
If you prefer a medium spice level, try using 1 tablespoon of tomato paste and just 1 tablespoon of gochujang. If you really don't like spice, you could reduce it even further, but you will lose some of the key flavors.
Can this be gluten-free?
Traditionally, gochujang paste contains wheat. However, you can find gluten-free gochujang online. You can also make your own gluten-free gochujang. You would also need to use gluten-free soy sauce or tamarind sauce.
Is this WFPB?
Store-bought gochujang paste will almost certainly contain a small amount of refined sugar, which is not whole-foods plant-based. However, it's a very small amount and a small price to pay for such a flavorful dish (in my opinion). But if you want, you can make your own gochujang paste that's both gluten-free and refined-sugar-free.
Can I make it in the Air Fryer?
Yes! You'll save a little time if you make the tofu in Air Fryer. Just cook the tofu for about 10 minutes at 400F or 200C. Follow the sauce directions as directed below.
Is this kid-friendly?
This dish is spicy, and the spice comes from the main ingredient (gochujang), so you could reduce the spice somewhat. However, if your kids are adventurous eaters and can handle a little spice they might go for it.
---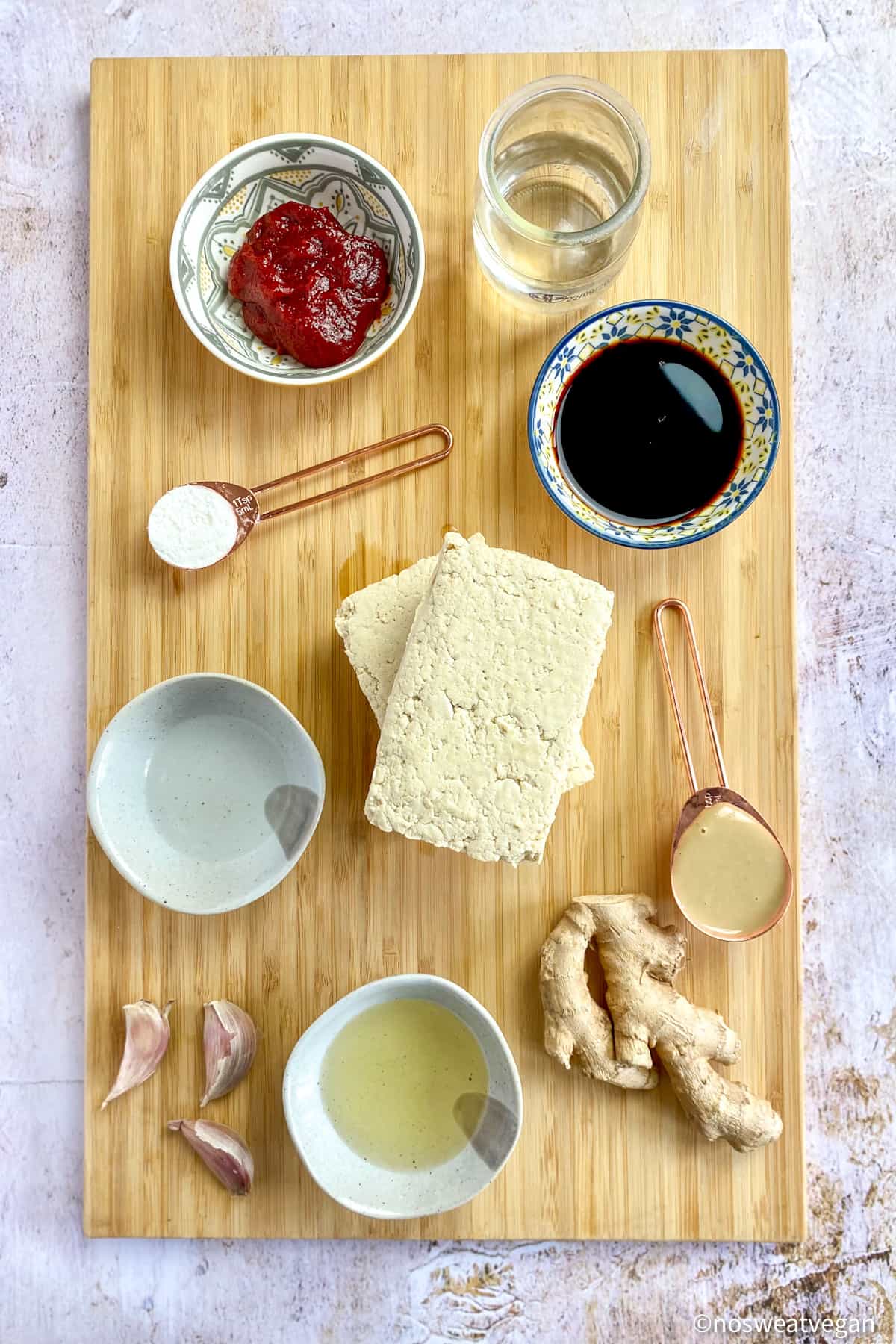 Ingredients
super firm tofu: This is tofu that comes vacuum sealed and doesn't need much pressing. Or you can use extra firm or firm tofu that has been pressed for 15 to 30 minutes.
water
gochujang paste (Korean chili paste): This is the most important component to this dish! It's spicy and flavorful. If you aren't so keen on the spice you could try reducing the amount of gochujang and substituting with tomato paste, but you will lose some of the signature flavor.
soy sauce: You'll use this twice, both to season the tofu and add to the sauce.
agave or maple syrup: For sweetness.
rice vinegar: White wine vinegar could be used instead.
tahini: This will help balance out the spiciness. You could use a nut butter or sesame oil instead.
minced garlic: Granulated garlic could be substituted.
minced ginger: Powdered ginger could be substituted.
Optional Garnishes
sesame seeds
diced green onion
---
Instructions
(If your tofu needs to be pressed, do that first).
Preheat your oven or air fryer to 400F or 200C.
Cut the tofu into bite-sized cubes.
Add the tofu cubes along with 1 tablespoon soy sauce and cornstarch or arrowroot powder to a bowl and gently mix to combine.
Place the tofu on a lined baking sheet and bake for 20 minutes. (Or add the the air fryer basket and cook for about 10 minutes.)
After 20 minutes, turn the heat up to 425F or 220C and bake for another 5 minutes (this just helps to get the tofu a little crispier on the outside.) You can ignore this step if you're using an air fryer.
While the tofu is baking, add all of the sauce ingredients to a bowl and whisk to combine.
Heat a skillet over medium heat. Add the sauce and the tofu. Gently mix to combine and cook until the sauce is reduced and sticky.
Serve with rice and enjoy!
---
How to serve
Serve this over rice with a side of veggies or as part of a vegan bibimbap bowl. You could also add this to a Korean-style taco or even serve it with little toothpicks as a spicy party appetizer.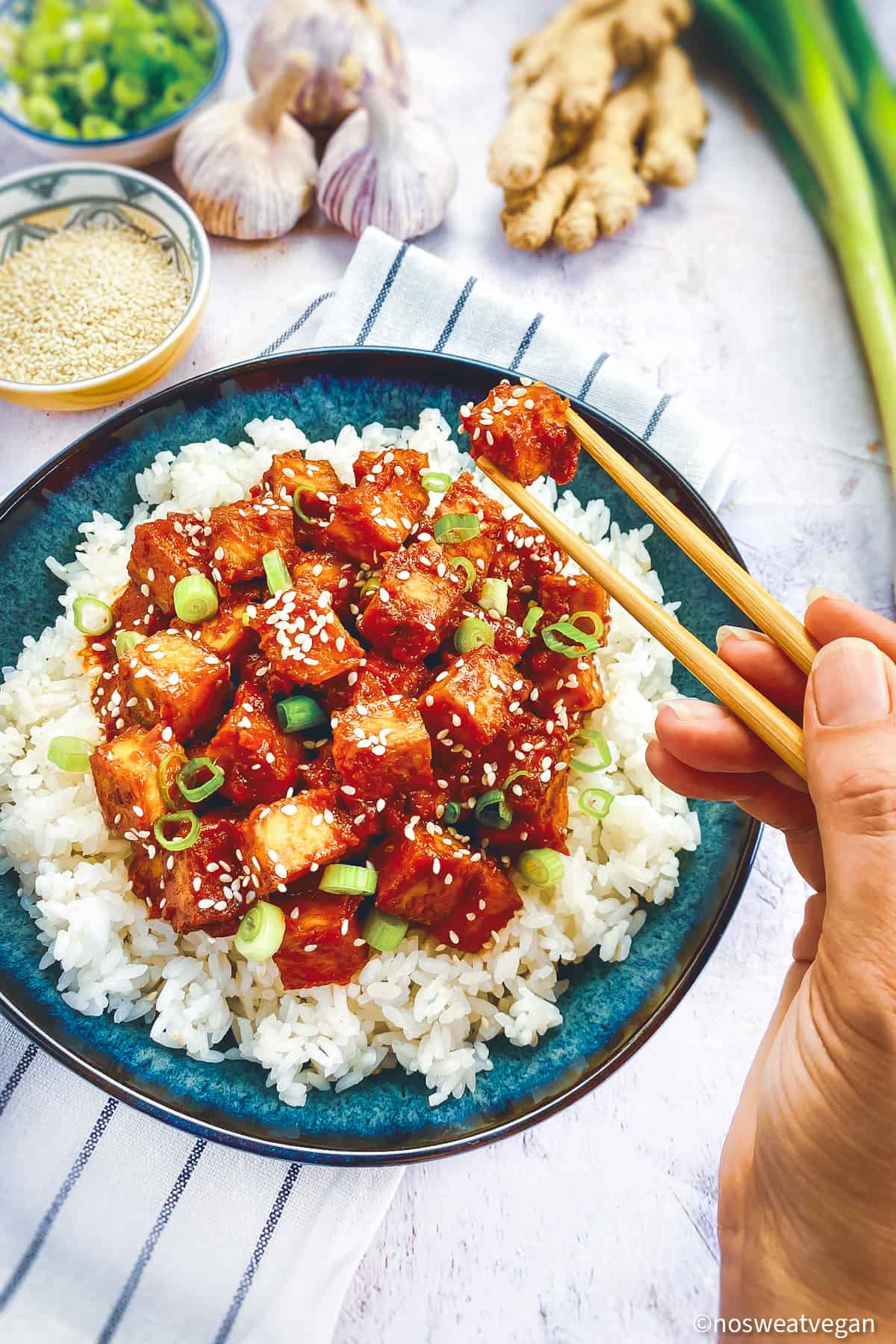 Can I make it ahead?
I find that this spicy Korean tofu tastes best when it's freshly made. That said, you could make the sauce ahead to save a little time when making. Or you could make it ahead and then reheat just before serving.
How to store
Store any leftovers in an airtight container in the refrigerator for up to a week.
---
More Asian-Inspired Vegan Recipes
---
If you loved this recipe please give it a Star Rating below and share on Facebook or Pinterest! Thanks!!
📖 Recipe
Want access to my Exclusive Meal Planning Tips & Printables page?
Did you try this recipe? Have a question? Just leave a comment below and I'll get back to you ASAP!