This Vegan Palak Paneer combines the rich, earthy flavors of fenugreek and garam masala with the bright and colorful taste of the spinach and cilantro. Fresh Tofu Paneer and Coconut Milk replace traditional dairy ingredients. Serve with basmati rice and vegan naan or flatbread.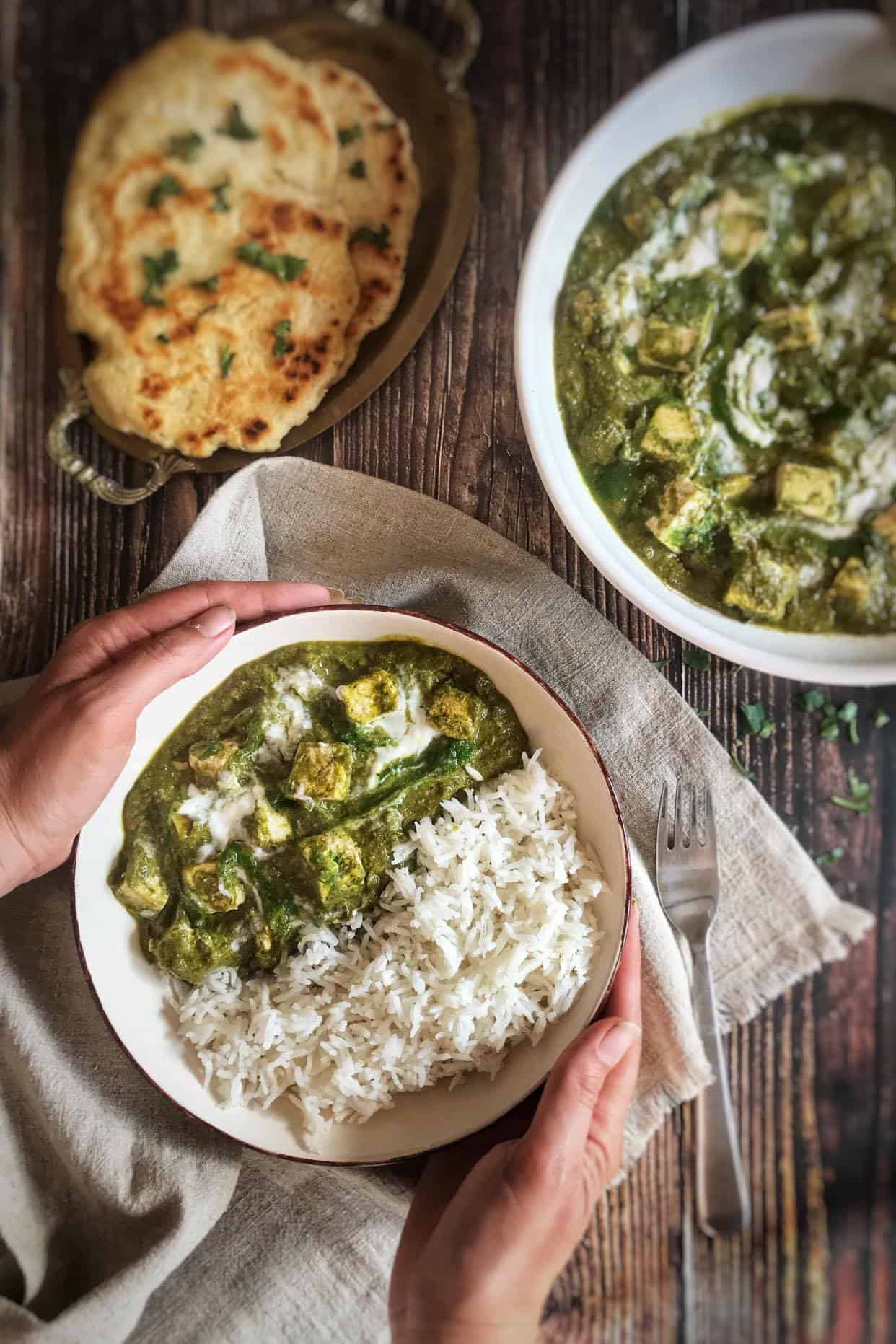 Oh, how I used to love Indian dishes with paneer cheese! Not lying: I would base my orders at Indian restaurants solely on whether or not paneer was an ingredient.
When you go vegan or vegetarian, Indian cuisine is a great place to start because the dishes tend to be so flavorful and veggie-based. But--and this is a big but--many vegetarian Indian dishes, especially at restaurants, use heavy cream and paneer cheese.
Thankfully, you can make this vegan palak paneer at home by substituting with Tofu Paneer and Coconut Milk for cream. And the result is--dare I say it!--even more delicious than the dairy-filled original. This vegan palak paneer is so good you'll want to dive in for seconds. . . maybe thirds. But if you have more self-control than me, and you happen to have some leftovers, it's even better the next day!
Jump to: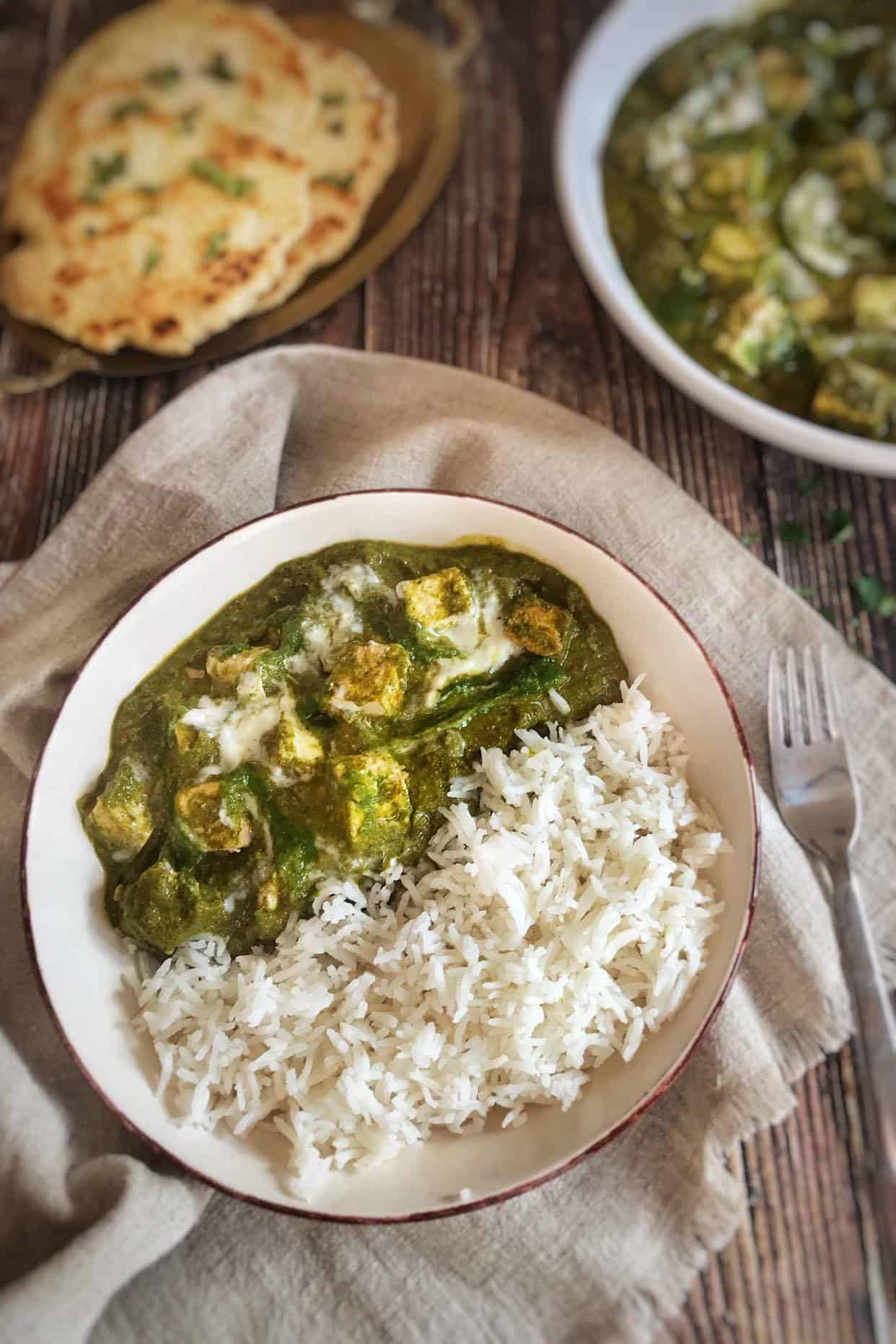 ---
You'll love this recipe because it's:
Vegan / Vegetarian
Lactose-Free / Dairy-Free
Gluten-Free
Healthy & Oil-Free
The Best Vegan Spinach Recipe
Flavorful & Delicious
---
Is it difficult to cook vegan Indian recipes at home?
If you've never cooked Indian food before, it can seem a bit intimidating. But it doesn't have to be. You just need a handful of the right spices and the rest will easily fall into place. And while I would never make claims about whether or not this dish is "authentic," I will say that is absolutely delicious and tastes very similar to other versions I've tried.
What is vegan palak paneer?
If you've never had it before, palak paneer is an Indian dish made with sautéed or pureed spinach (palak) along with loads of spices, some chiles and tomatoes, and usually heavy cream or yogurt. Paneer is a fresh, soft cheese that's cubed and either sautéed or cooked with the palak sauce. You might also see a similar version of this dish called Saag paneer, which just means there are both spinach and mustard greens in the sauce.
In order to make this dish vegan you need to substitute tofu for the paneer and coconut milk for the dairy. I really enjoy the subtlely tropical coconut undertones of this dish, but if you're not a fan you could certainly use cashew cream or a store-bought vegan heavy cream instead.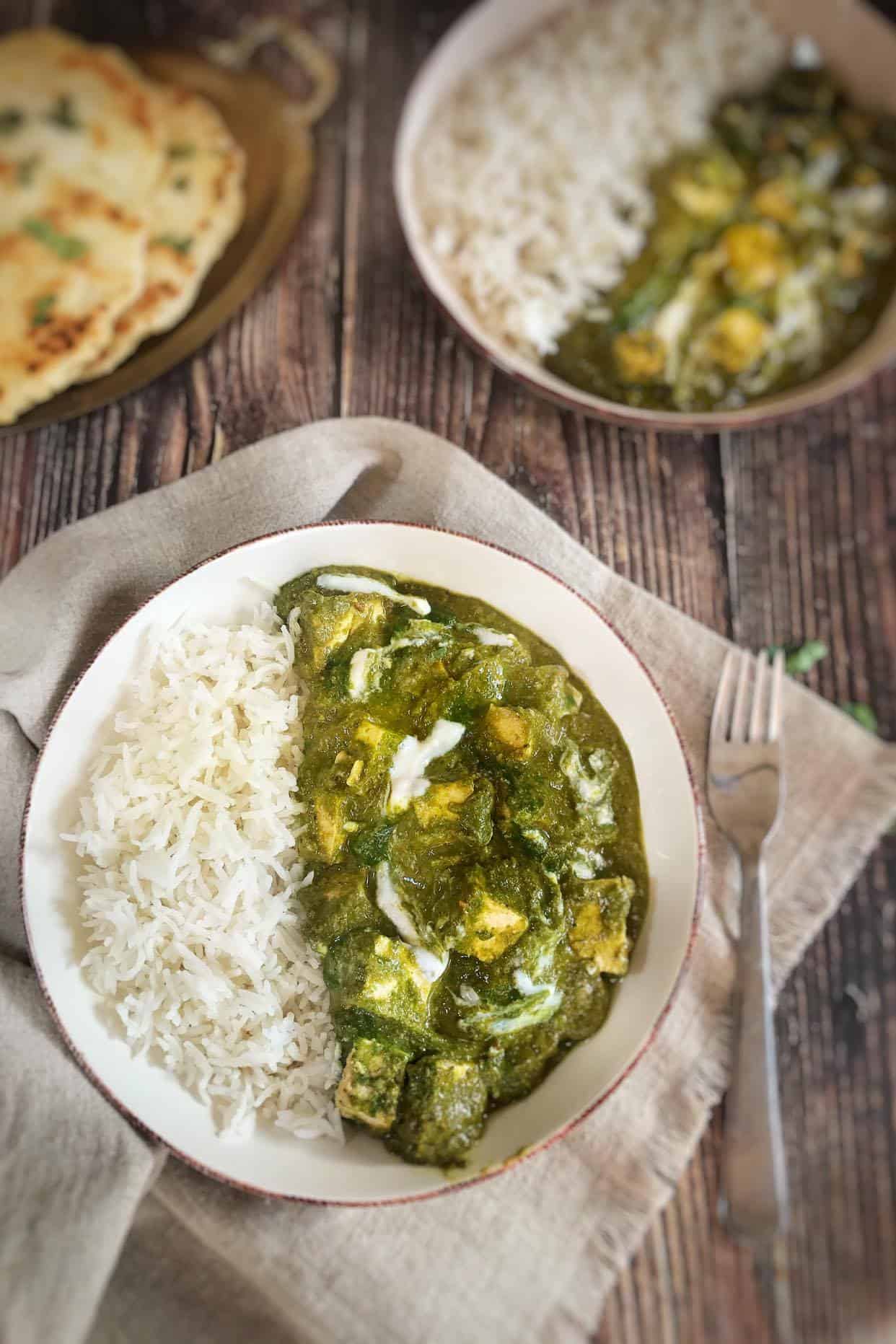 What special ingredients will I need?
In order to make a really delicious Palak Paneer, you will need a few special ingredients. The most important one--and the one you might be least likely to have in your pantry--is dried fenugreek leaves. I absolutely love fenugreek, and I frequently use it to flavor all sorts of dishes, including my favorite Cauliflower & Chickpea Bake.
I'm not sure if you'll find dried fenugreek at your regular grocery store, but you can definitely find it at Asian markets, specialty spice shops, or you can order *fenugreek online. You want to make sure you get Dried Fenugreek Leaves, not the ground fenugreek powder or seeds, as the flavor is totally different. If you've never used fenugreek before, I definitely suggest you give it a try! It's such a wonderful and unique flavor; you'll find yourself sprinkling it into all sorts of dishes.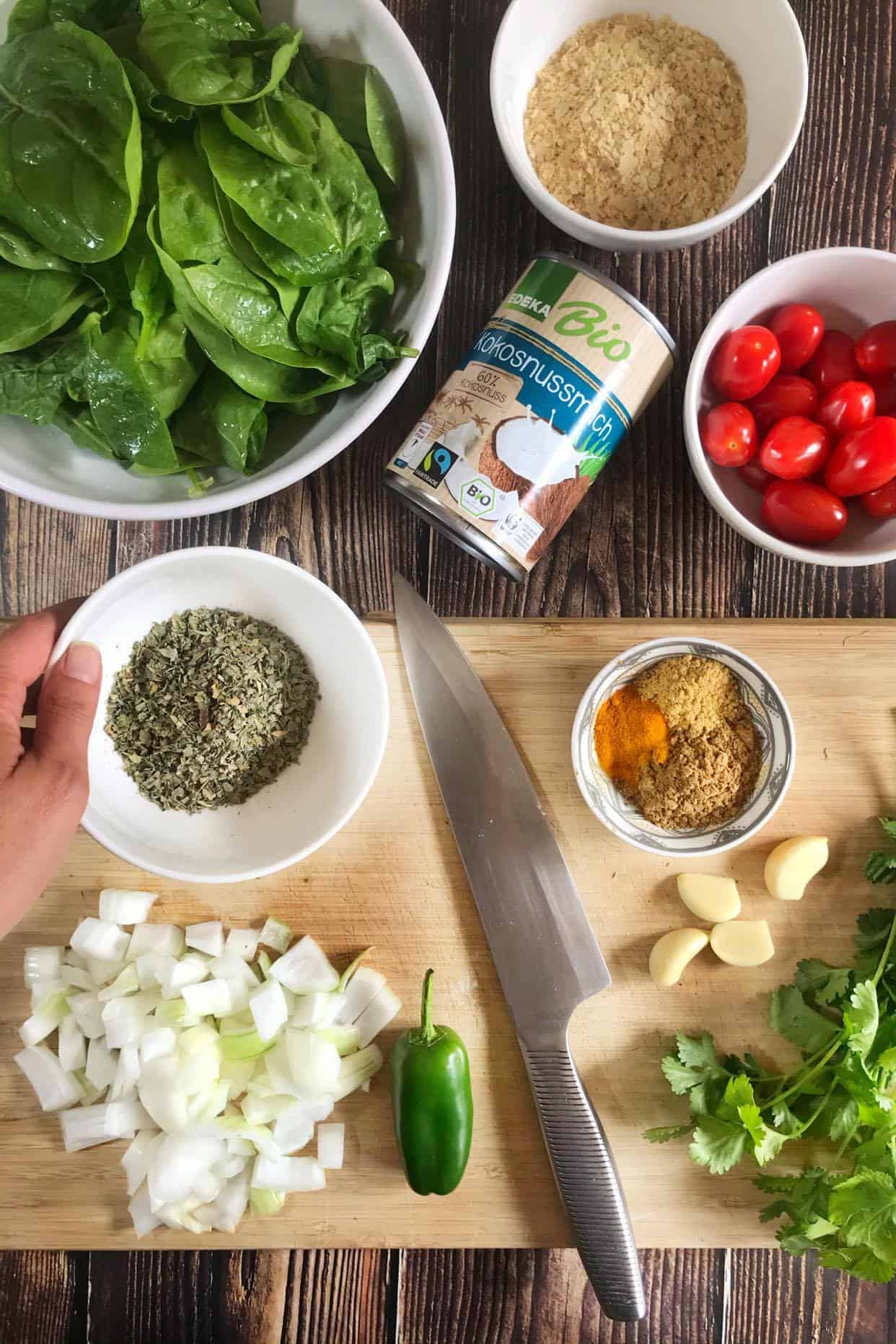 In addition to the fenugreek, I love to make this dish with the fresh tofu that I buy at my local Asian market. If you don't have that available, you can certainly substitute with a medium to medium-firm tofu (should be spongy but able to hold its shape--no silken tofu!).
There are a few other special ingredients that you *should* be able to find at your local grocery store (but can certainly order online), and these include Garam Masala
(an Indian spice mix that should be stocked with the spices), Coconut Milk
(check both your ethnic and organic/natural section), and Nutritional Yeast
(find it in the organic/natural section).
I realize this might seem like a lot of special ingredients, but this is a very special dish, so well worth it! And believe it or not, you'll actually find a lot of other amazing ways to incorporate these items into your normal cooking routine. Other than having to buy the fresh tofu within a day or two of making this dish, I always have my pantry stocked with the other items because they're so delicious and versatile.
How to make tofu paneer
Back when I used to make this with dairy, it was a much more complicated dish because I liked to make the paneer myself. But with this veganized version, I use fresh tofu and save a ton of time. Fresh tofu is absolutely amazing. I buy it at the Asian market around the corner. But if you don't have access to fresh tofu, you can also substitute with medium to medium-firm tofu. Try to use a brand that is spongy but will hold its shape (no silken tofu!).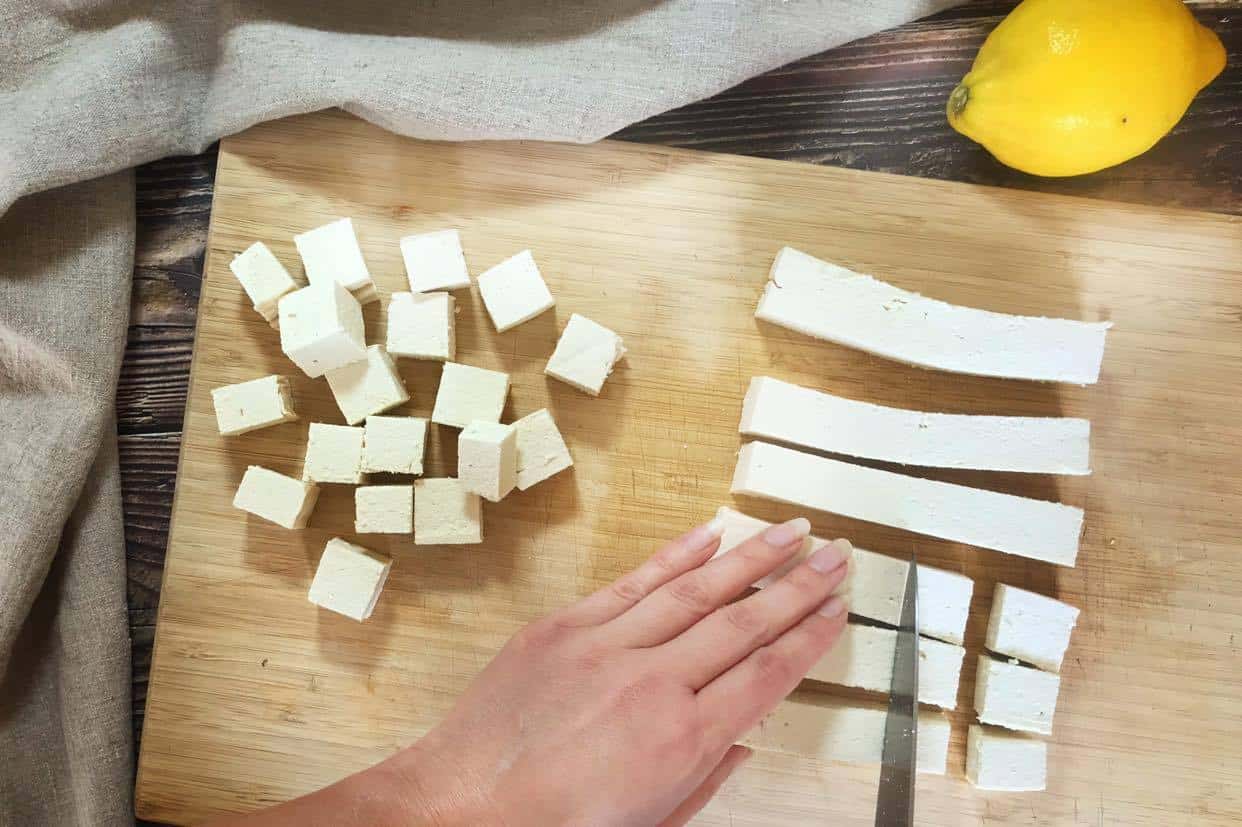 To make the tofu paneer simply combine the ingredients to form a paste, gently fold the cubed tofu into the paste, and then bake for twenty minutes. Alternatively, you could marinate the tofu in the paste up to 24 hours in the refrigerator before baking.
How to cook vegan palak paneer
While the paneer is baking, you just get your rice going, blend up the palak ingredients, and then simmer in a skillet. I use a NutriBullet Pro because I enjoy a creamier consistency (but I had to blend in batches due to the size of the blender cup). A food processor or hand blender can give a chunkier consistency, if you prefer.
(For an even deeper flavor, you can blend the palak the night before and let rest in an airtight container overnight. You don't HAVE to do this, but you certainly won't be sorry if you do!)
After the paneer is done baking, add the palak and simmer another 5 minutes. Serve over rice or with a side of flatbread. OH MY WORD, this vegan palak paneer is AMAZING!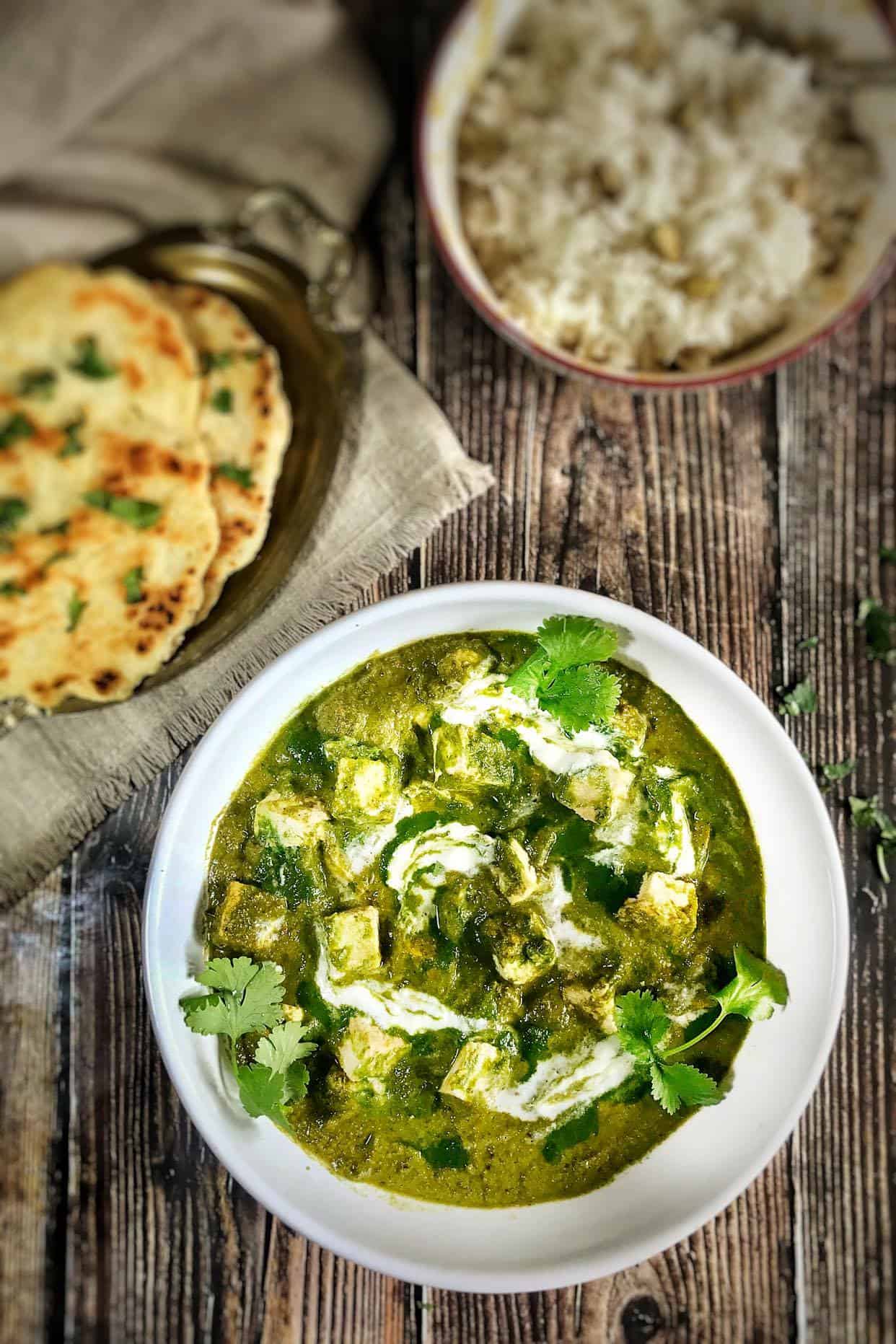 ---
Can I make it ahead?
Definitely! This is a great make-ahead dish because the flavors will deepen and taste even more amazing. Keep the palak mixture and the tofu paneer separate until ready to reheat. To reheat, cook the tofu panner in a skillet over medium heat for 3 to 5 minutes. Remove the tofu and add the palak. Cook, stirring gently for 3 to 5 minutes, or until warmed through. Add the palak and cook for another 2 to 3 minutes. Serve right away with rice or vegan naan.
How to store leftovers
To store the leftovers, keep the vegan palak paneer separate from the rice and garnishes. Store in an airtight container in the refrigerator for up to a week or the freezer for up to three months.
More recipes you'll love:
---
📖 Recipe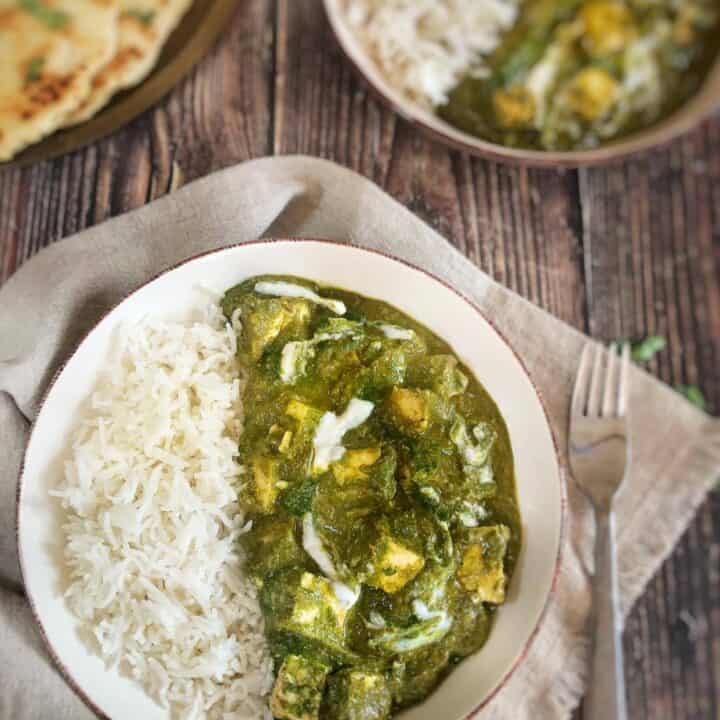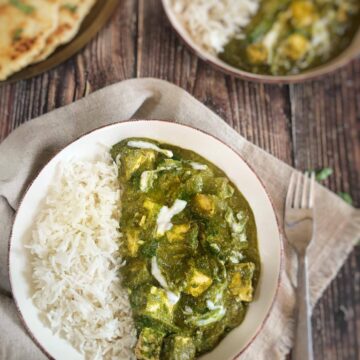 Vegan Palak Paneer with Tofu (Oil-Free!)
This vegan palak paneer combines the rich earthy flavors of fenugreek and garam masala with the bright and colorful taste of the spinach and cilantro. Fresh tofu and coconut milk replace the traditional dairy ingredients. Serve with basmati rice and vegan naan or flatbread.
Ingredients
For the Touf Paneer
500

g

tofu

medium firm (I prefer fresh tofu, if you can find it)

3

tablespoon

lemon juice

1

tablespoon

water

½

cup

nutritional yeast

1

teaspoon

salt

(optional, but recommended)
For the Palak Sauce
3

cups

spinach

fresh (or about 2 cups frozen)

½

white onion

roughly chopped

13.5

oz

reduced-fat coconut milk

½

cup

cherry tomatoes

(or one medium tomato, 1 ½ to 2 roma tomatoes)

1

jalapeno pepper

½

cup

cilantro

(packed)

2

tablespoon

dried fenugreek leaves

2

tablespoon

garam masala

1

tablespoon

fresh ginger

(or ground ginger)

3 to 4

cloves

garlic

1

teaspoon

turmeric

1

tablespoon

lemon juice
Rice
1

cup

basmati rice

5 to 10

green cardamom pods

(optional)
Instructions
Make the Tofu Paneer
Preheat the oven to 400° F or 200° C.

Add the lemon juice, water, nutritional yeast, and salt to a bowl. Stir to combine. This should form a thin paste.

Cube the tofu and add it to the mixing bowl with the paste. Gently fold to combine, being careful not to break up the tofu.

Using a slotted spoon, place the tofu cubes on a lined baking sheet. Try to avoid getting any extra liquid on the baking sheet, as this could cause the tofu blocks to stick and crumble after they are baked.

Place the baking sheet in the oven and cook for 20 minutes. When you remove the cubes they should be lightly crisped on the outside, but still spongy and paneer-like on the inside. Let rest until you are ready to add the tofu to the palak.
For the Palak Sauce
Add all of the palak ingredients to a high-speed blend (for a smoother sauce) or a food processor (for a chunkier sauce). Leave aside a tablespoon or two of the coconut milk to use later as a garnish. Blend until combined.

Pour the sauce mixture into a sautee pan and simmer over low heat for 20 minutes.

Add the paneer tofu and simmer another 5 minutes.

Drizzle coconut cream over the top and serve with basmati rice and a side of vegan naan or flatbread.
For the Basmati Rice
Add two cups of dry basmati rice to a fine-mesh sieve and rinse with cold water until the excess starch is removed (this will keep the rice from getting sticky while it cooks).

Add the rinsed rice with 5 cups of water and 5 to 10 cardamom pods (optional) to a medium pot. **Do not stir the rice while it is cooking.** Just give it a quick swish at the beginning and leave it alone until the rice is fully cooked. When the rice seems done, you can check to see if there is still water at the bottom of the pot by sliding a fork between the perimeter of the pot and the rice, and gently pushing the rice back. If there is no more water and the rice is soft, it's ready to eat.

Bring to a boil and then reduce heat to medium and simmer covered for 15 to 20 minutes, or until the rice is fully cooked. Fluff with a fork and let rest covered until ready to serve. (remove cardamom pods before serving.)
Save this Recipe
Saved!
Notes
For an even more flavorful paneer, mix the tofu with the paste and let rest up to 24 hours in the refrigerator.
If you want fluffy rice, be sure to rinse it before cooking and don't mess with it while it's simmering.
If your water boils off too fast (before the rice is done, you can add ¼ cup warm water to the pot and continue simmering).
If you don't have fenugreek, just double the amount of cilantro.
If you don't have garam masala, you can make your own. Recipes for garam masala differ, but they usually include a variation of coriander, cumin, cardamom, cinnamon, nutmeg, cloves, and black pepper. Use what you have in your pantry to make about 3 tablespoons.
Coconut milk in a can will often form a hard mass at the top. Just break it up with a fork and stir to combine with the liquid.
Cardomom pods are optional. They give the rice a subtle aromatic flavor.
Nutrition
Calories:
445
kcal
Carbohydrates:
57
g
Protein:
21
g
Fat:
14
g
Saturated Fat:
7
g
Sodium:
692
mg
Potassium:
454
mg
Fiber:
7
g
Sugar:
2
g
Vitamin A:
2374
IU
Vitamin C:
23
mg
Calcium:
211
mg
Iron:
5
mg
Want access to my Exclusive Meal Planning Tips & Printables page?
---