This collection features the top 10 Vegan Recipes of 2021 (plus an honorable mention). From mains to side, soups to salads, and more, this list is full of variety and offers a range of flavors. Did your favorite make the cut? These are the Best Vegan Recipes from this year!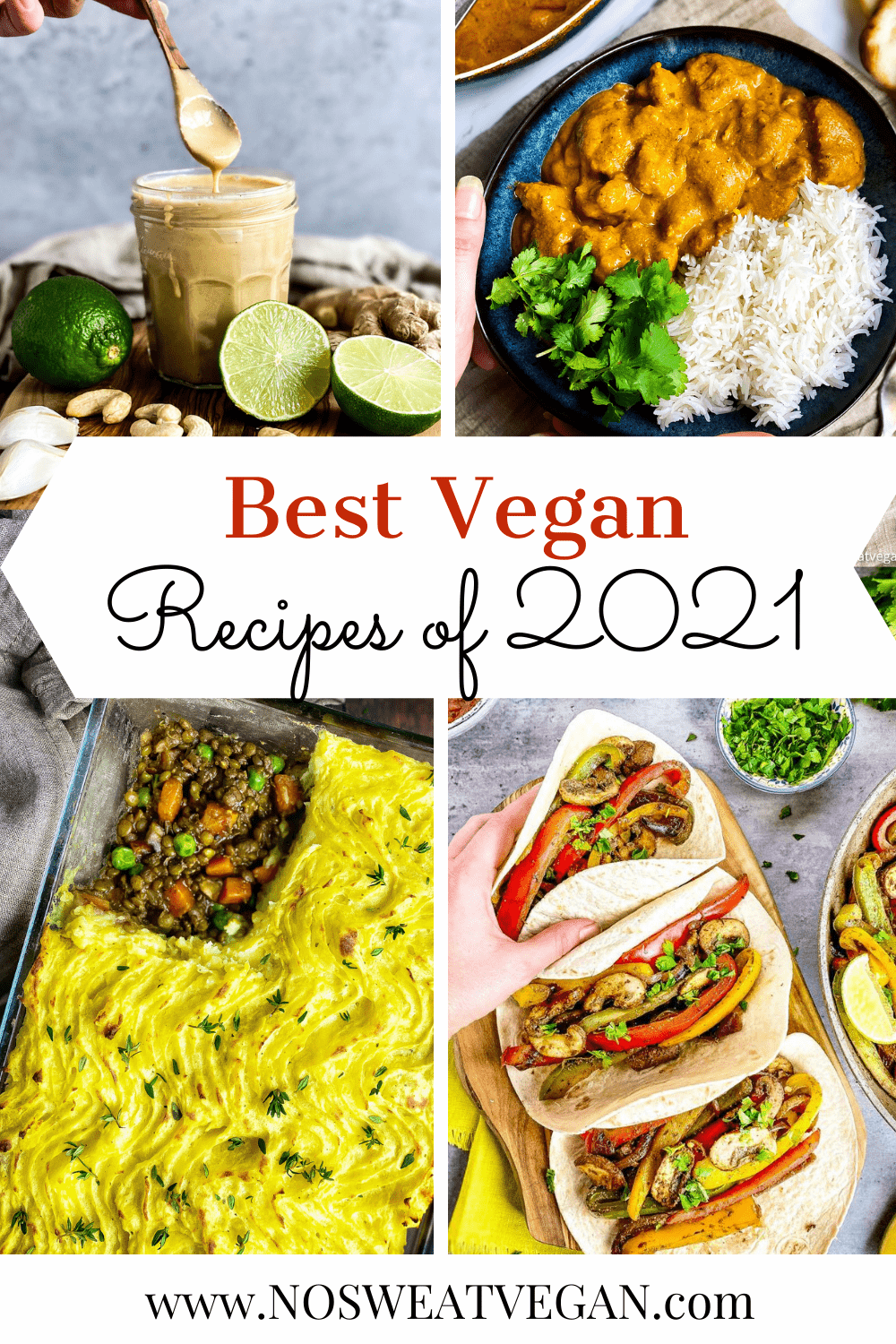 As 2021 comes to end, I've looked back over all of the recipes published on No Sweat Vegan this year. From entrees to desserts, soups to salads and more, I've tried to create a variety of delicious vegan recipes to please every palate. Now that the year is done, I decided to compile a list of the top 10 most-visited recipes of 2021.
Maybe there's a recipe here from the beginning of the year that you missed. Or maybe you're new here and everything is new. Whatever the case, you won't want to miss any of these recipes.
Before I dive into the recipes, I just wanted to offer a heartfelt thank you to everyone who has and continutes to support No Sweat Vegan! I couldn't do this without all of you!
And now without further ado, these are your favorite recipes of 2021!
Jump to:
You'll love these recipes because they're:
Quick & Easy
Vegan / Vegetarian
Dairy-Free & Egg-Free
Easy to make Gluten-Free
WFPB-friendly
Healthy & Delicious!
---
Honorable Mention: Vegan Broccoli Soup
Although this recipe didn't quite break into the top 10 for the year, it wasn't published until October, so the cards were stacked against it from the beginning. That said, people have been loving this recipe, so I wanted to be sure to include it in this list, even if unofficially.
---
10. Vegan Leek & Potato Soup
Last winter I was invited to lunch at a friend's house, and her husband made the most delicious Leek & Potato Soup. It was so simple and satisfying, that I just knew I had to come up with my own version to share with all of you. The secret ingredient in this soup is the leek greens, which are normally discarded. They give this dish its vibrant green color and phenomenal flavor!
9. Lentil Shepherd's Pie
What I love about this dish is just how many veggies and legumes it packs into every delicious bite. The first time I made this, my older son was really resistant to trying it, but after he did, he loved it and had seconds!
8. Mushroom & Veggie Fajitas
It's no secret that I love Mexican food, and these fajitas are an simple, veggie-packed way to fix that craving. Not only are they delicious, but they are insanely quick and easy. This recipe is perfect for busy weeknights. If you prep the ingredients beforehand, you could have this on the table in 10 to 15 minutes.
7. Spicy Korean Tofu
This spicy tofu is flavored by Gochujang, a Korean chili paste that I absolutely love. If you've ever had kimchi, you'll recognize the flavor. There's no way around the fact that this dish is spicy, but you can balance it out with a side of rice and broccoli. Or you can add this tofu to a delicious vegan bibimbap. So cravable!
6. Vegan Broccoli Salad
For this recipe, I was inspired to veganize our much loved broccoli salad recipe. It was surprisingly easy to do! I just need to take the dairy out of the dressing and use a bacon substitute. Both these Vegan Bacon Bits or this Vegan Tempeh Bacon work perfectly. I knew this salad would be popular in the summer BBQ season, but I was pleasantly surprised by how many people continuted to love it through the holidays!
5. Vegan Baked "Feta" Pasta
For this recipe, I was inspired by the trending Tik Tok Pasta that everyone was talking about in early 2021. Instead of using store-bought vegan feta, which would just melt into a puddle of oil, I substituted my own homemade vegan ricotta. The flavor, creaminess, and texture were all just right for this easy and delicious dish. The craze might be over, but if you haven't tried it yet, you have to give this dish a try!
4. Red Lentil Dahl
Red Lentil Dahl is one of those comfort food dishes that you just want to dive into. It's perfect for cool winter days, and the seasonings can be adjusted depending on how spicy you like it. Pair it with basmati rice for a simple yet delicious meal the whole family will love.
3. Vegan Butter Chicken
I used to love Butter Chicken, so I knew I had to veganize it. To do make the "chicken," I created a Tandoori-spiced tofu (similar to the method used in my classic tofu nuggets). The sauce combines coconut milk and cashew butter for a rich and decadent, yet healthy and plant-based dish.
2. Cashew Ginger Salad Dressing
This oil-free salad dressing uses cashews, fresh ginger, and lime juice for a distinctively fresh and delicious flavor that's perfect for topping salads or using as a dip. I particularly love it on this Thai Salad with Sesame-Crusted Tofu!
1. Air Fryer Summer Squash
This Air Fryer Summer Squash was the most popular new recipe that I published in 2021!
I tested this recipe several times and discovered that the best way to air fry summer squash (or any veggie with high water content) was at the highest temperature. That way you can still get nice browning without completely turning your dish to mush.
If you liked this one, be sure to check out the rest of my other air fryer recipes. The air fryer is one of my favorite kitchen gadgets. It can save you time and gives you another option when you don't want to turn on your oven.
If you've been thinking about buying one, I highly recommend my Ninja Foodie Grill, which is the perfect size for my family of four. For more models, styles, and price points, check out this review of the best Air Fryers of 2021.
Related recipes
---
Want access to my Exclusive Meal Planning Tips & Printables page?
Did you try this recipe? Have a question? Just leave a comment below and I'll get back to you ASAP!